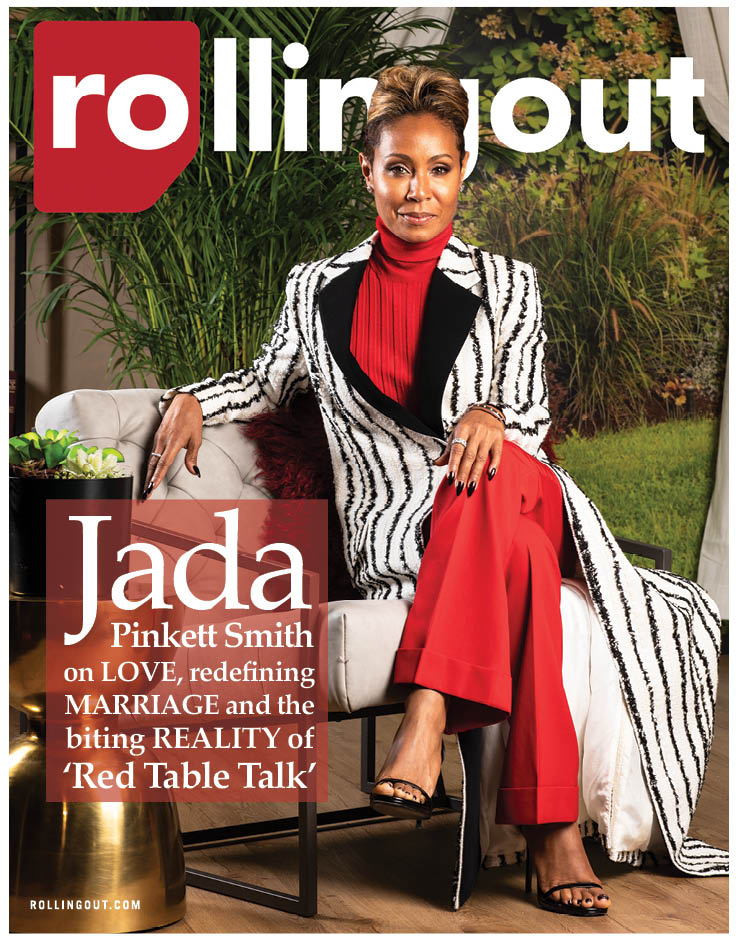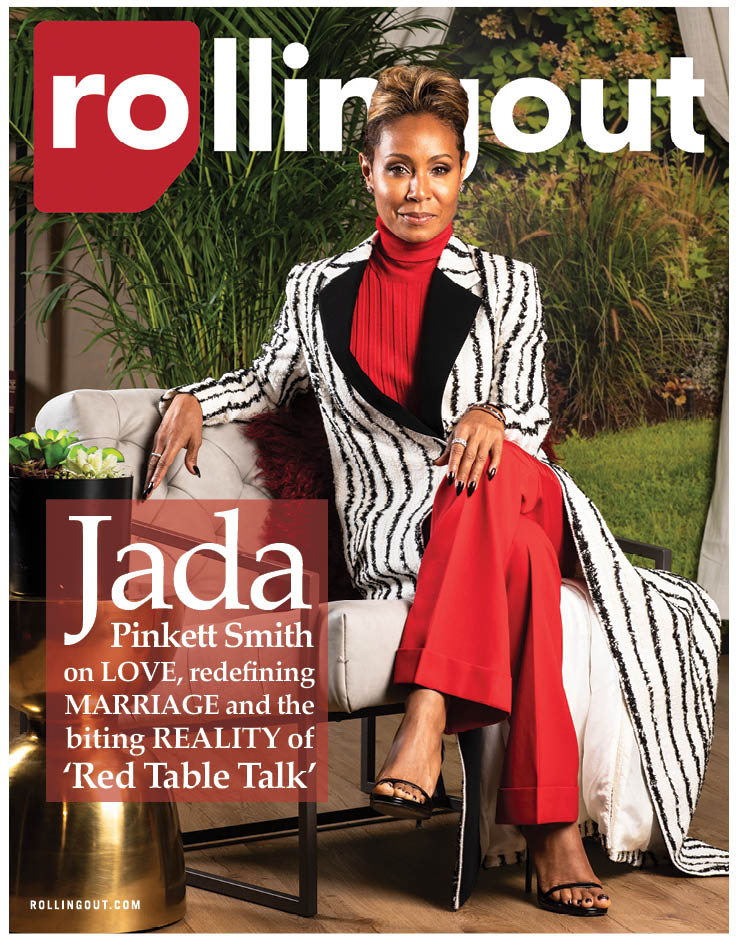 With the debut of
RED TABLE TALK
, Actress-Musician JADA PINKETT SMITH has added an additional job title to her resume',
Facebook TV Talk Show Host,
and she covers a recent issue of
ROLLING OUT Magazine
!!!
Here are some interview interludes:
On her concept behind RED TABLE TALK that she actually tapes at her home in MALIBU, CA:
"I think for me, the seven years of transformation I've been going through, when you do a lot of healing and you get less fearful of sharing your story, you actually want to share it because you realize that part of going through things is sharing."
On the challenges facing her during the first season of Red Table Talk:
"Instead of keeping things close to the chest, I know for me, when I reached out to people who were encouraging me to give out the real … that changed my world. Three women specifically reached out to me when I was going through difficult times. It literally changed the trajectory of my life and kept me from making some big mistakes. And I was like Gama, 'We gotta do this more often … we gotta get to the red table.' Because she has come through so much, I've come through so much, and even Willow, at her young age, just because of the life that she's been given. The challenge for me was to be able to put myself out there like that and not be afraid of the judgment. That was challenging."
On how she and husband WILL SMITH have decided to redefine their marriage:
"People are struggling in their relationships, and Will and I both felt like we're in a place now that we can and we should share our story," Pinkett Smith said. "I know in my life the most powerful gifts I've been given are women's testimony specifically … I can never tell anybody what they should be doing in their life or what their relationship should look like. And that's one of the reasons why I wanted to redefine the line and call it a life partnership and not a marriage. Because Will and I really do honor the ideas of marriage, and I never want anybody to think that they need to be in something that doesn't look like they want it to look. So I was, like, we're going to call it something else."
On after her father ROBSOL PINKETT passed away in 2010, she began
redefining her perceptions of both her father and her husband:
"When my father died, I realized — and it was maybe a year and a half later of sitting and meditation and prayer — I couldn't believe that I had allowed my father to die without seeing him as a man. Meaning, I could only ever relate to him as my father," she shared. "And because he had failed as my father, he failed as a man. And he had so much to offer me outside of being my father if I had seen him as a human being. He wasn't a man that came to this planet to just be my dad, he was a man first. It was a revelation, and I felt like I was doing the same to Will as a husband. And he's not just a husband."
-
CCG