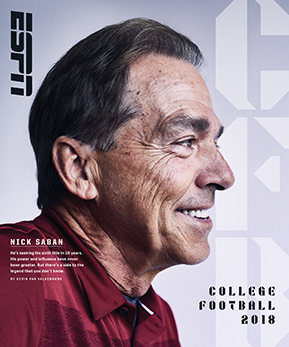 2018 CFP Champion ALABAMA CRIMSON TIDE Head Coach NICK SABAN is the cover story for the
2018 ESPN COLLEGE FOOTBALL PREVIEW ISSUE
!!!
Observer t LOS ANGELES RAMS Quarterback
JARED GOFF Goes HOLLYWOOD
, go behind the scenes to find out that
NICK SABAN Is MORE Than A SCOWL
, get a wider perspective on how
The SABAN EFFECT Has SCULPTED COLLEGE FOOTBALL
, and; so Much MORE from the new issue of
ESPN The MAGAZINE
.
-
CCG