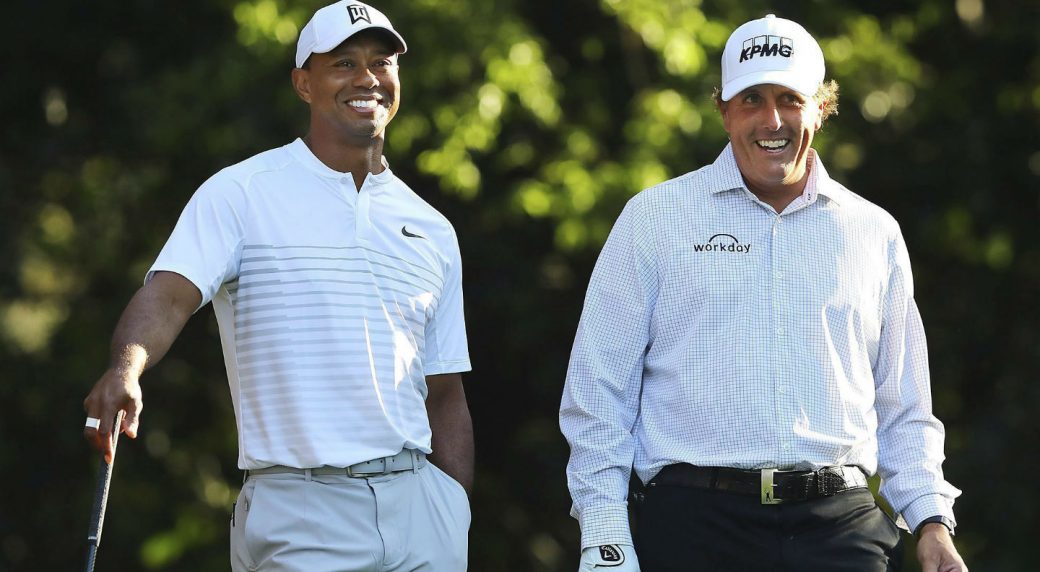 Reports are in that plans are being made for a
$10 MILLION WINNER-Take-ALL GOLF GRUDGE MATCH
between PGA Legends TIGER WOODS and PHIL MICKELSON!!!
The match almost took place in LAS VEGAS on Tuesday, July 3, but; the details were not able to be consummated in time to make it happen o that particular date.
However;
Team TIGER
,
Team PHIL
, and ALL concerned parties remain committed to the cause of creating the
GREATEST GOLF GRUDGE MATCH Of ALL TIME
.
Back in April, the seeds were planted at the
MASTERS 2018
, when TIGER and PHIL went head-to-head at a wildly talked about practice round.
About a month later at the
PLAYERS CHAMPIONSHIP 2018
, the two were paired together.
PHIL remarked to the press;
"The excitement that's been going on around here, it gets me thinking: Why don't we just bypass all the ancillary stuff of a tournament and just go head-to-head and just have kind of a high-stakes, winner-take-all match. Now, I don't know if he wants a piece of me, but I just think it would be something that would be really fun for us to do, and I think there would be a lot of interest in it if we just went straight to the final round."
TIGER countered;
"I'm definitely not against that. We'll play for whatever makes him uncomfortable."
GOLF reports;
The groundwork was first laid for their proposed $10 million match four years ago in a sterile press room in Scotland. In the charged moments following the United States's loss at the 2014 Ryder Cup, Mickelson put his name on the line by calling out the mismanagement of U.S. captain Tom Watson and the bungling bureaucrats at the PGA of America who had enabled him. Woods didn't play in that Ryder Cup but he readily signed on to the Ryder Cup Task Force, which was hastily assembled after Mickelson's comments to reform the Americans' culture of futility. Tiger and Phil were the dominant voices on the Task Force, and this meeting of the minds began a long-overdue

détente

between golf's biggest stars.
In early 2015, when Woods was suffering through the chip-yips, Mickelson reached out and offered to help him. Given their previous frostiness, it was a gesture of deep empathy. Throughout 2016, Tiger and Phil maintained a steady correspondence while exchanging ideas about that year's Ryder Cup, where Woods would serve as a vice captain and Mickelson the team leader. That week at Hazeltine, Phil knew his reputation was at stake, and he was deeply moved by Tiger's activist support.
The friendship continues to blossom. At this year's WGC-Mexico City, where Mickelson spent the entire week around the top of the leaderboard, Woods texted him encouragement every night and heartfelt congratulations after the victory. Of course, their correspondence is not always so syrupy. In private, both Mickelson and Woods are preeminent trash talkers, though Phil has often found himself stymied.
An initial match in Las Vegas — Shadow Creek is the likely venue — is just the beginning of their shared vision. Mickelson says he and Woods hope to play a couple exhibitions a year, around the world. Sometimes they could partner up — depending on how the Ryder Cup goes, it's easy to envision Tiger and Phil taking on two top Europeans (a match with Rory McIlroy and Ian Poulter as the opposition could be particularly juicy). Woods and Mickelson are both shrewd businessmen, and they are trying to set up this new venture so they essentially own the matches and thus will get a chunk of the TV revenue, merchandising, and sponsorship dough.
ESPN: GOLIC & WINGO
Hosts MIKE GOLIC and TREY WINGO chop it up and break it down.
-
CCG
PHOTO