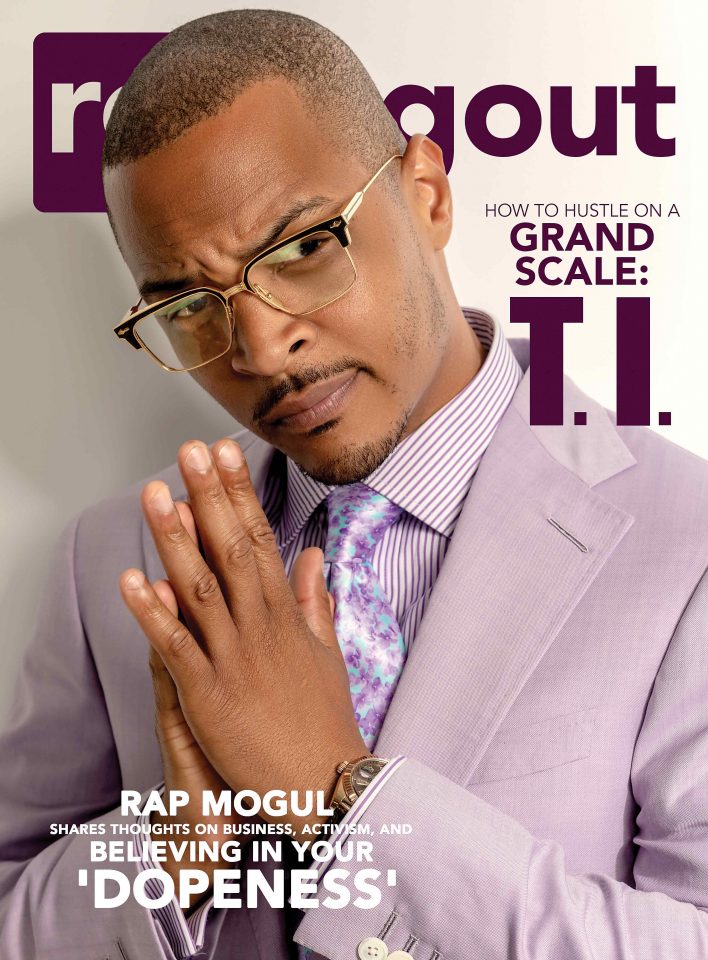 Atlanta-native
GRAND HUSTLE RECORDS
CEO-Rapper-Reality TV star CLIFFORD
T.I.
HARRIS Jr. cover the new issue of
ROLLING OUT Magazine
!!!
T.I.
is launching
THE GRAND HUSTLE
, a
BET
doc-series which chronicles him searching for the next great businessman. The winner will receive a position at
GRAND HUSTLE RECORDS
and an accompanying six-figure salary.
Here are a few interview interludes:
On the mission of THE GRAND HUSTLE:
"It is accurate to say I'm teaching them things because I'm taking them through challenges and allowing them to learn things about themselves that they didn't know.
We just felt like it would make great television to see which education is more valuable. Is it the street hustlers or the college students? For me, I think work ethic is much more valuable. But who actually gives you the better work ethic is what the show is about."
On his work ethic:
"I always saw the big picture, but I knew that there were several applications of skill that had to be executed properly in order for it to be made a reality. I knew it wasn't just going to turn on. I knew that one opportunity would lead to the next opportunity and then the next and the next one. I actually thought I would have been a lot farther by now. But, you know, I had a couple hiatuses. But I feel that God's plan is perfect. I'm right where I'm supposed to be, doing what I'm supposed to be doing. I feel humbled and fulfilled all at the same time that I'm able to still be here doing what I love to do for a living in so many different aspects of entertainment and business."
On boycotting the NFL:
"I made a conscious decision because of the blatant disregard of our civil rights and our right to peaceful and silent protest.I t's not about kneeling during the national anthem. It's really about bringing attention to the lives of our brothers and sisters and children that are being lost out there at the hands of racist White policemen with no accountability. And if you as a corporation don't see value in that, then I don't see much value in your corporation. I love the Atlanta Falcons, and I love football just like everybody else, but you gotta affect the finances of the NFL in order for them to make a change."
On his real estate initiative, BUY BACK The BLACK:
"I'm from there. It's home," T.I. says. "I think the answer to poverty for a Black man living in the Black community has always been, 'I'm going to get rich and move the hell out.' But I've noticed a trend. I've noticed a trend [in] the neighborhoods and the communities that were segregated in the 1960s and '70s. They've been slowly trying to get us out of those neighborhoods for some reason. They must have made a mistake by putting us there. The land must now be more valuable than they anticipated. And now that we've been living there and occupying those spaces, why would we be so quick to just up and leave? So rather than uproot my whole family's history, I am going to build from right here and buy as much property as I can.
-
CCG