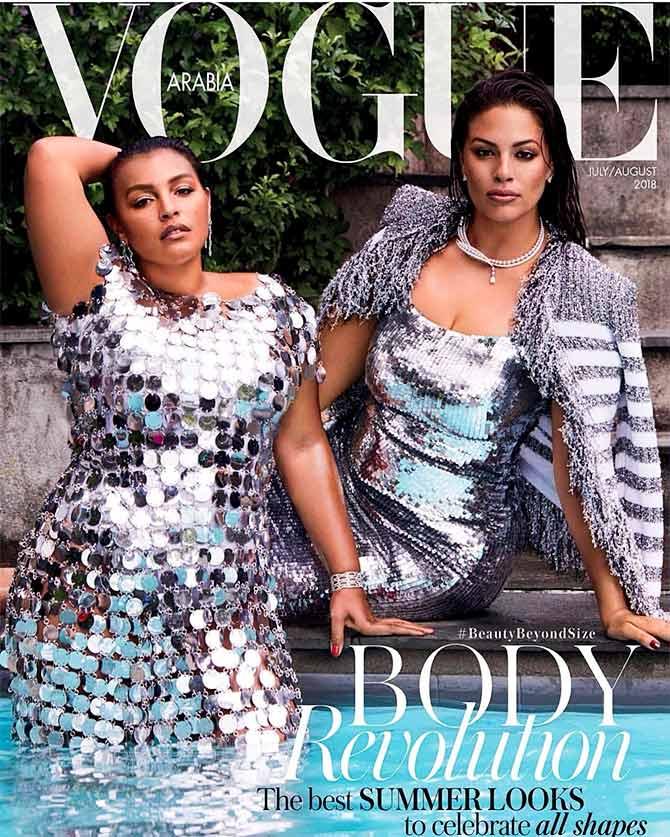 PLUS Supermodels
LONDON, ONTARIO, CANADA native PALOMA ELESSER and LINCOLN, NE native ASHLEY GRAHAM are the cover stories for the July/August 2018
BODY REVOLUTION: #BEAUTYBEYONDSIZE Issue
of
VOGUE: ARABIA Magazine
!!!
Here are a few interview interludes:
ASHLEY GRAHAM on even as a child, being very confident within herself:
"My mother told me that when I walked into a room, I would greet every single person – even at three years old. t was more of an emotion that I would give people, and it would leave them feeling good about who they are," she says. "I think that's what I'm doing today; letting women know that they are worthy, that they are beautiful, and that they can be happy with who they are in their skin. I guess it's my destiny, ever since I was a child."
AG - On her parents enrolling her in modeling school
stage 12, and; her leaving the Midwest for NEW YORK CITY at age 17:
"They did it because they wanted me to find passion in something, and sure enough, modeling became a lifestyle that turned into a career. 100% I would do it all over again from 12. I had a really normal childhood. I got bullied. I went to prom."
At 17, Graham left the Midwest for New York City, and set off to do "whatever it took" to succeed in the fashion industry.
"I was a party girl, out every night, but I would still make it to a 7am call time and work the room. I was the first one on set and the last to leave. I made everyone know that I wanted to be there and that I wanted to
work hard. I strove for perfection – even though I don't think it exists."
PALOMA ELESSER o being scouted for PAT McGRATH - GOLD 001:
"I didn't know a lot about fashion, but I knew enough that if Pat calls, you go. I was unprepared for that shoot, but she just wanted to catch who I was. Imagine, this legend asking me how I do my liquid eyeliner."
PE - On how how her feelings about her body and self-image have evolved:
"The feelings that I have about my body today aren't very different from the way I felt about it in the first grade. What has changed, is the way I navigate those feelings."
While attending affluent, primarily white schools, she quickly learned that she was unique – on many levels.
"My hair, my skin color, my home life… But my body isn't just my shape, it's my essence. I was still combating a lot of early, negative self-talk. On the inside, I felt astray. I don't feel good, so I'm going to be the funny one, or the smart one. If I can't fit into any of the clothes, well, I'm going to be the most resourceful one."
Her family never faltered to compliment and uplift her.
"They told me that I was beautiful, but also that I was intelligent and kind, and special in ways that were separate of how I looked. Now, when I see little girls, I don't say, 'Wow, what a pretty little girl,' but, 'You look like you're really nice to your brother,' or, 'You look like you're super smart,' because I've realized how much those words influenced me in a positive way.
AG - On the transformative power of words:
"Becoming confident comes from within. It's a journey. It's something you have to want and you have to fight for to get. I wasn't taking care of myself, I had gained a lot of weight, and I had agents telling me that I wasn't going to make it because I was getting too big. My mom said, 'You are not moving back to Nebraska, because your body is going to change someone's life.' She told me to transform the way I speak to the woman in the mirror with words of affirmation. I created my own. 'I am bold. I am brilliant. I am beautiful. I am worthy of all. I love you.' You don't believe it right away. But as you say it over and over and over, the woman in the mirror becomes an energetic light who can empower others."
PE - On how the
fashion industry, which can be very unyielding, appears to remaking positive changes:
"The adage, 'This is fashion, darling,' doesn't hold anymore. It doesn't have to hurt. It doesn't have to make you, or the reader, or the model, feel bad. At school, I was always the weird one. But this is a whole industry of weird ones; a big mashup of the so-called freaks."
She does see change, however, and acknowledges that girls around the world can have opportunities through fashion.
"And you don't have to be somebody's daughter,"
AG - On though she and PALOMA are from very different backgrounds, they do share much more in common than either had imagined:
"Especially when it comes to our faiths and how dedicated we are, to our marriages, and to building our businesses. I asked every question about her hijab and what it meant to her, and she wanted to talk about it. This is what we tell people in America – just because you don't understand something, it doesn't mean that it's wrong. But while we got to be very open, Noor never asked me, 'Why do you have your breasts out?' and I also never asked her, 'Why don't you have your breasts out?' There was mutual respect. Just in a different body or circumstance. Share your story. There might be someone sitting right next to you who is going through the same thing."
PE - On the questi
on, "Are women putting too much emphasis on looks?"
"Absolutely. This constant hamster wheel of analyzing the way we eat, how we shop and look – it's exhausting. If, on the outside, we are showing the world it's never enough, how are our bodies ever going to be enough? What I rely on, is knowing that my friends are kind and wise; it doesn't matter what they look like. We women need to treat ourselves the way we treat our peers."
-
CCG