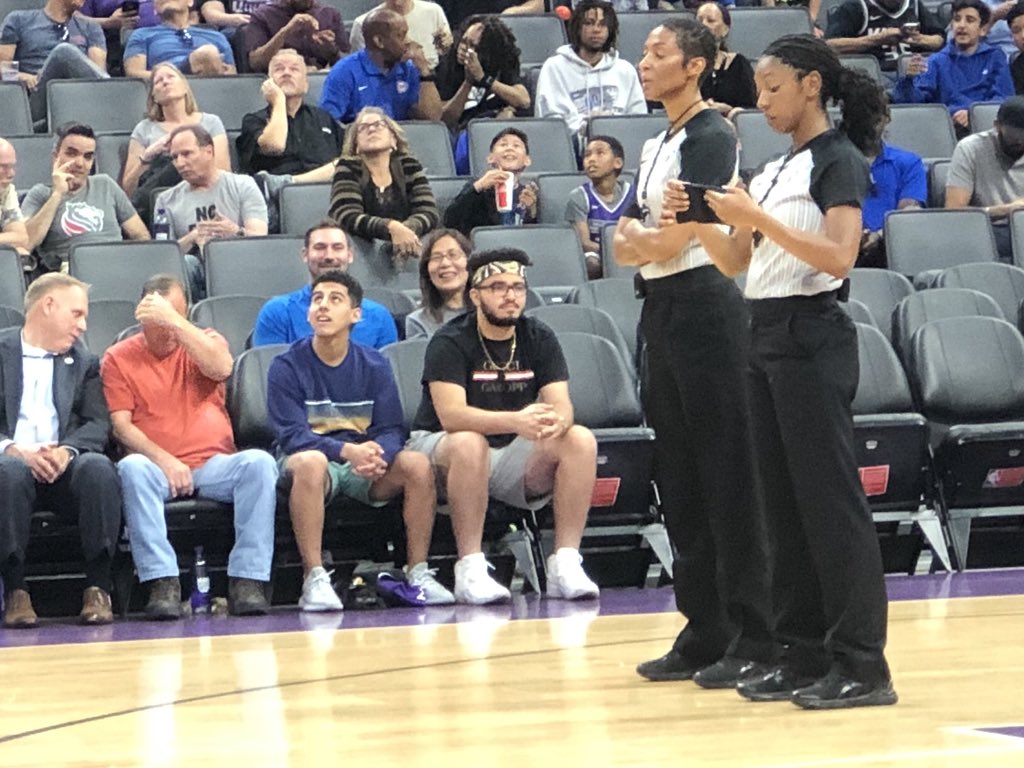 CCG CONGRATULATIONS
goes out to NBA Referees ANJELICA SUFFREN and DANIELLE SCOTT for on Tuesday, July 3, becoming the
FIRST TWO WOMEN To EVER JOINTLY REFEREE An NBA GAME
!!!
Tuesday, July 3, 2018, during an
NBA SUMMER LEAGUE 2018
game between the LOS ANGELES LAKERS and MIAMI HEAT was the very first time in NBA History for two women to referee the same NBA Game, and; BOTH were BLACK WOMEN.
ESPN: The UNDEFEATED
Senior Writer MARC J. SPEARS tweeted;
First time I've ever seen two black women referee an NBA game of any kind. Violet Palmer would be proud Danielle Scott and Angelica Suffren reffing at the California Classic Summer League Lakers versus Heat. @TheUndefeated
HUFF POST: SPORTS
reports;
Retired NBA Referee VIOLET PALMER

broke the NBA's gender barrier

in 1997 when she and DEE KANTER were hired. Palmer was the first woman to officiate an NBA game ― on Oct. 31, 1997, between the Vancouver Grizzlies and the Dallas Mavericks. She was also the first woman to ref an NBA playoff game ― between the Indiana Pacers and the New Jersey Nets on April 25, 2006.
VIOLET PALMER retired from the league in 2016.
-
CCG
First time I've ever seen two black women referee an NBA game of any kind. Violet Palmer would be proud Danielle Scott and Angelica Suffren reffing at the California Classic Summer League Lakers versus Heat.

@TheUndefeated pic.twitter.com/0gyXL4DW7J

— Marc J. Spears (@MarcJSpearsESPN) July 4, 2018
BOSSIP