Wednesday afternoon, July 4, in NEW YORK CITY, a woman protesting the separation of migrant families attempted went out o the iconic
LIBERTY ISLAND
and attempted to climb the
STATUE Of LIBERTY
!!!
CNN
reports;
Authorities had tried to talk the woman down but she refused to leave. For nearly three hours, she crossed the base of the statue, at times sitting in the folds of the statue's dress and under Lady Liberty's sandal. The woman was identified as Therese Patricia Okoumou by a law enforcement source close to the investigation and another source who knows her.
The woman was part of a group of protesters and had declared that she wouldn't come down until "all the children are released," a source with the New York Police Department told CNN.
About 16 officers with the New York City Police Department's
Emergency Service Unit
-- a team trained to perform some of the most dangerous rescues in the city
--
took part in the rescue/apprehension effort,
NYPD Officer BRIAN GLACKEN said;
"At first, she wasn't friendly with us, but we took the time to get a rapport with her so that took a while,"
She just kind of mentioned the kids in Texas. I guess the whole debate that's going on about that. In the beginning, she threatened to push us off, push the ladder off, but we stayed with her,"
At first she was being a little combative, then she was willing to cooperate with us. She actually apologized to us for having to go up and get her,"
Her name is THERESE PATRICIA OKOUMOU. She is a naturalized U.S. Citizen from the DEMOCRATIC REPUBLIC Of The CONGO. She is affiliated with the U.S. organization RISE And RESIST.
RISE And RESIST
Organizer MARTIN JOSEPH QUINN said;
"She climbed without our knowledge. It was not part of our action,"
However; RISE And RESIST said via statement;
... they supported Okoumou and that members are "working to secure the best legal representation" for her.
RISE And RESIST Board Member JAY WALKER said;
"We thought we wanted to do something on our Independence Day, a day that obviously is meant for reflection on the ideals on which this nation was founded. This country has posited itself as a beacon. Right now, we have a government that is actively turning its back on those ideals,"
At one point, Okoumou walked back and forth under Lady Liberty's sandal and then sat down and appeared to unfurl a small flag or banner.
TIME reports she spent Wednesday night in jail. Thursday, she made her first court appearance at a Manhattan courtroom that was packed with activists, and; was released without bail after pleading NOT GUILTY to misdemeanor charges of TRESPASSING.
Once outside the courtroom, she spoke with the press.
THERESE PATRICIA OKOUMOU stated;
"When they go low, we go high, and I went as high as I could. No children belong in a cage."
Speaking at a rally in MONTANA, President DONALD TRUMP referred to her as a
CLOWN
.
TRUMP said;
"You saw that clown yesterday on the Statue of Liberty. You see that guys that went up there. I wouldn't have done it."
"I would have said, 'Let's gets some nets, and let's wait till she comes down. Just get some nets.'"
-
CCG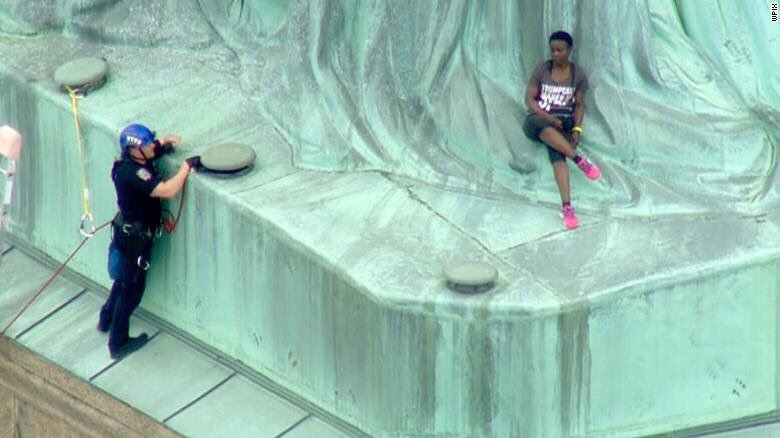 PHOTO