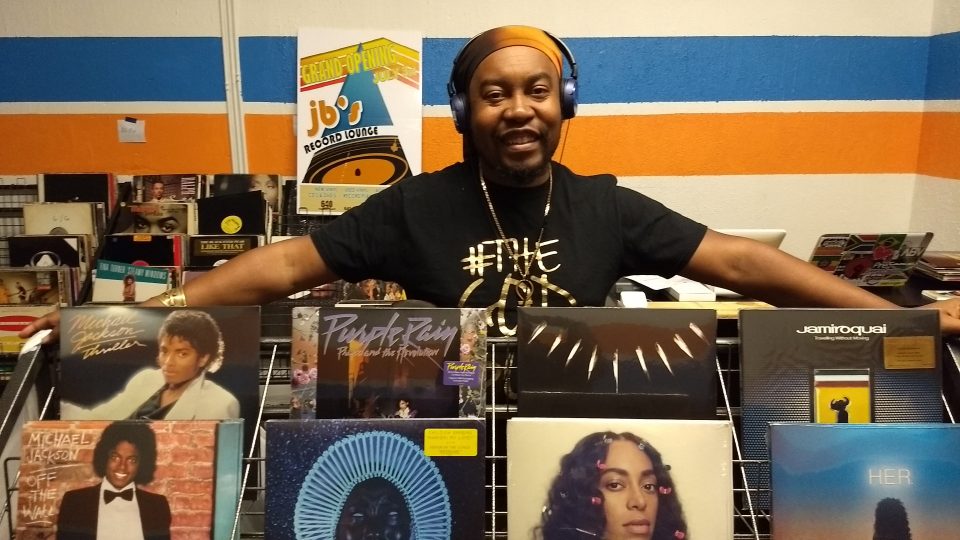 MEMPHIS-native TENNESSEE STSTAE UNIVERSITY-educated Entertainer-Educator-Entrepreneur
JONATHAN BLANCHARD
has just recently bestowed upon himself the job title of
Record Store Owner
!!!
JONATHAN BLANCHARD
just recently had the grand opening for his
brand-spavin' new
record store
JB's RECORD LOUNGE
which is conveniently nestled within the walls of the
640 WEST COMMUNITY CAFE'
located at 640 Evans Street SW, Atlanta, GA 30310, in
Historic West End Atlanta
.
ROLLING OUT Magazine
reports
Blanchard's primary objectives are to sell product, while providing an outlet for indie artists from the community to perform, and to provide a space for progressive Black people to network.
The record store is located at 640 Evans Street. This local business emerged as a partnership between Blanchard and Jay White, owner of 640 West Community Café. While Blanchard occupies a separate space in the café, he has access to the café's stage and other amenities and the two will collaborate on events and other forms of entertainment. Blanchard believes that this relationship will benefit both parties involved and the community at large.
JONATHAN JB BLANCHARD stated;
"I recall walking into local eateries, and seeing posters for concert series with artists I'd never heard of. I would ask myself, 'Where are our venues?' The bigger question, however, is who is controlling and exploiting African American music, culture, and labor? I fear that in our ambition to dissolve into the dominant culture, we have offered up our institutions as ransom — be it music, music halls, the music circuit, once referred to as the 'chitterling circuit' and in other industries."
JB emphasized;
"I expect JB's to provide an undeserved community with a fresh yet familiar form of entertainment," said Blanchard who believes records "make people stop and talk to one another, and talking to one another forms community bonds."
-
CCG