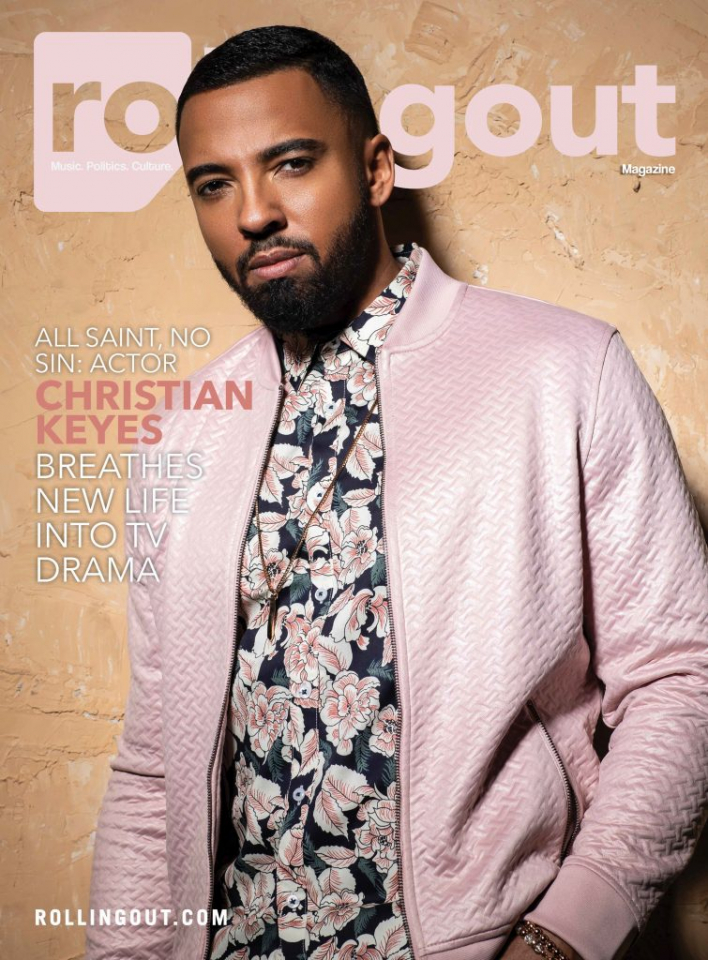 DETROIT-native Actor CHRISTIAN KEYES can currently e seen starring in several TV series such as
SAINTS & SINNERS
,
SUPERNATURAL
,
In CONTEMPT,
and; is the cover story for a recent issue of
ROLLING OUT Magazine
!!!
Here are a few interview interludes:
What advice would you give to your younger self?
To forgive earlier. I carry too much anger and resentment toward people who have messed me over earlier in my life. I was bitter for a long time and wasn't able to appreciate certain beautiful things, moments and people. I had very bad trust issues and nobody needs to carry that around. Mrs. Keyes had stopped beating us years ago, but I resented and hated her. Once I took my power back and forgave her, that situation held no more weight with me. If anything, it made me lighter, because now I can go talk to these foster kids and detention center kids and change their lives. I would tell 15-year-old me to try to forgive her, love her, pray for her even though she is flawed, we all
Who would be your five-person cast for a superhero movie?
I would have Meryl Streep be the Charles Xavier kind of character. She would be the wiser, more seasoned character. I would have Denzel Washington in there, because I love his work and he's honest, always brilliantly honest. I would have my son in there as the budding teenager just finding out he has powers, that would be fun and organic. I would have Sidney Poitier, I've always loved his stuff. I would have him play the villain because he was always a standup guy. I would love to see him as this pristine, likable bad guy. Clearly, I would like myself in there somewhere if I'm writing this I would like to be in the cast. I'd also like Whitney [Houston], she was very good. She was honest and I loved her work as an actress. I'd like to give her some superpowers like maybe a Storm kind of character or something. She and Mrs. Streep would be fun to watch.
What advice do you have for the young creative talents of this generation?
I can't even attempt to be good let alone great at what I want to do if I don't study those who were great and honest first, and who made a career out of this. I study every great African American singer, but I'm also aware of the Meryl Streeps, Anthony Hopkinses and Paul Newmans. You can only tell so many stories about so many things in life and different cultures tell them differently. I think that's beautiful and different. When we talk about a relationship falling apart in R&B and soul, we talk about it one of three ways. Country talks about it three more ways. Alternative rock talks about it three different ways. I like to listen to all of that because it makes me a better writer. This new generation is made up of creators, artists, believers and magicians; I feel like they would have deeper more genuine respect for their craft if they researched the people they standing on the shoulders of right now.
What do you feel is the biggest risk you've ever taken?
The biggest risk I've ever taken is packing up my whole life and moving to Los Angeles in 2006. That was 12 years ago and I was unsure of what was going to happen. I had never done any real TV or film. I was wildly successful in the theater world and there was no guarantee that I was going to have any luck out here or any success out here. It was just in my spirit. I was in Grand Rapids, Michigan, and had to tell myself no one is coming here to look for a younger
Will Smith
. You need to be out there where the work is. You need to get out there and fight where the risks are. That was the biggest risk I've ever taken and I thank God every day that it paid off.
-
CCG