The
2018 NBA DRAFT
takes place tomorrow, Thursday, June 21, 2018, at the
BARCLAYS CENTER
in BROOKLYN, NY!!!
Courtesy of the hard-working folks over at
SPORTS ILLUSTRATED Magazine
, here are the
CCG TOP 10
from your official
SPORTS ILLUSTRATED - 2018 NBA DRAFT: FINAL TOP 100 PROSPECT RANKINGS
:
1. DEANDRE AYTON - ARIZONA (Photo above)
Elite physical tools, soft touch at the rim and a promising jump shot make Ayton the draft's likely top selection. His sheer size and strength presents a matchup problem for most any defender, and he may be the most athletic 7-foot prospect to come along this decade. Ayton checks essentially every offensive box for his position: he has soft touch, can face up or play with his back to the basket, his midrange shot projects nicely to the perimeter and he's also a sound passer out of double-teams. While Ayton struggled defensively this season, he was frequently asked to defend forwards in Arizona's scheme, surrendering some of his physical advantage and hampering his opportunity to consistently improve as a team defender.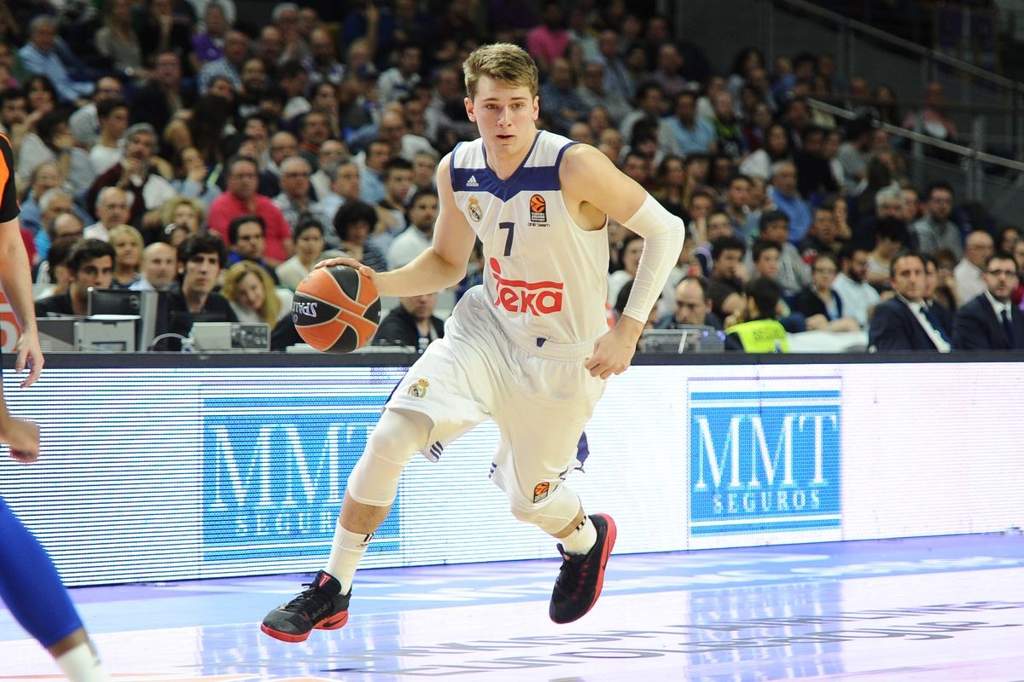 2. LUKA DONCIC - REAL MADRID
A prodigious playmaker and basketball savant, Dončić will be the most accomplished player in the draft bar none. He enters with an unprecedented résumé for a 19-year-old, having just led Madrid to a Euroleague title and winning Final Four MVP and also winning Eurobasket in 2017 with his native Slovenia. Though not a traditional point guard, Dončić is comfortable with the ball in his hands, makes his teammates better as a passer and he reads the floor beyond his years. His outside shot can be inconsistent but his stroke is projectable enough. He may benefit from playing alongside a quicker, attack-minded guard, but his team will want to empower him as a playmaker to get the most out of him. He'll face an adjustment to the speed of NBA defenses, and it's yet to be seen if his lack of elite explosiveness and burst will make things more difficult at the NBA level.
3. JARANN JACKSON Jr. - MICHIGAN STATE
With a projectable frame, above-average mobility and a fast-developing skill set, Jackson put his considerable potential on display over the course of an inconsistent but nonetheless impressive freshman year. His shot blocking numbers (5.5 per-40) were off the charts, and teams are intrigued by his ability to protect the rim and defend in space. He shot 39.6% from three, though his mechanics leave a bit to be desired, and has nice touch around the rim with either hand, continuing to develop perimeter skills at an impressive rate. Jackson is more lanky and agile than he is bouncy, but some of his issues keeping up with physical opponents in traffic and committing too many fouls should be mitigated as he gets stronger.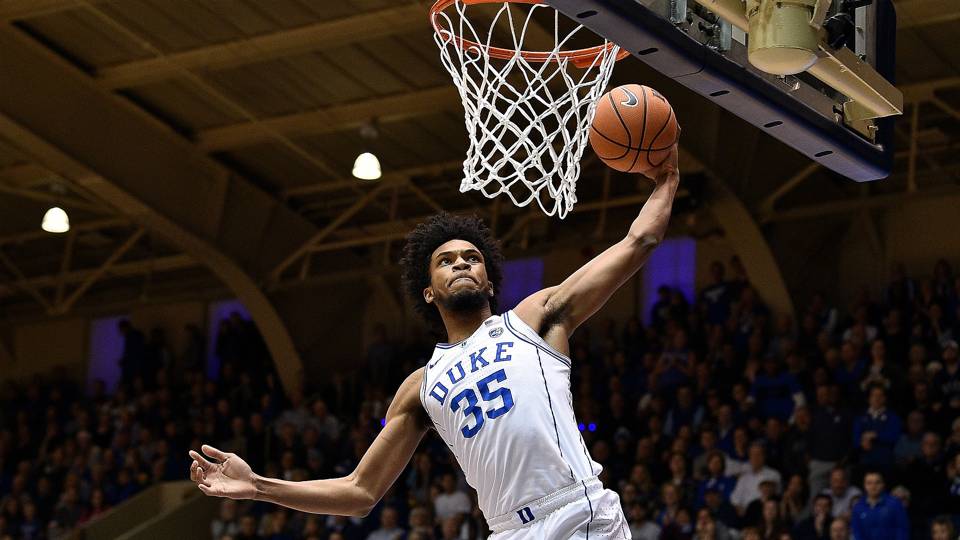 4. MARVIN BAGLEY III - DUKE
An athletic leaper and high-energy presence on the inside, Bagley was one of college basketball's most productive players after reclassifying out of high school to accelerate his pro timeline. He's an impressive talent at his size, moves fluidly and utilizes his quickness and multiple-jump burst to rebound, score in the paint and manufacture easy baskets at an elite clip. It's hard to argue with his numbers, and with more shooters and playmakers around him, Bagley's life should get even easier. There's a lot of room for improvement: he's extremely left-hand dominant as a scorer and sorely needs to expand his skill set, including a jump shot that must improve for him to really thrive as a four-man. Defensively there's some fear he may end up stuck between positions, as he's not much of a shot-blocker and looked lost at times. But he still has a lot of room to grow.
5. MOHAMED BAMBA - TEXAS
Bamba boasts rare length and verticality that should translate to serious defensive impact, and in terms of upside he belongs in this top group of prospects. A massive 7'10" wingspan allows him to contest, alter or block most any shot within his area, and he has enough mobility as an athlete to add a level of intrigue on top of that if he can learn to cover even more ground. If he can pack more muscle and core strength onto his slender frame, he could be an All-NBA defender. Bamba's offensive game is unfinished, but he has some shooting touch and developing skills around the basket, and should be able to threaten as a lob-catcher based on his tools. His skills have improved, but he'll have to make it translate into game situations.
6. WENDELL CARTER Jr. - DUKE
A skilled, well-rounded post player, Carter was a productive, stabilizing force at Duke, and is widely seen by teams as a safe bet to play in the NBA for a long time. He's a natural rebounder and a better athlete than he gets credit for, able to contest shots effectively and unafraid of playing through contact. Carter's offensive role at Duke was less prominent than he was accustomed to, but he's a polished post scorer and has become a respectable jump shooter, too. What may hold Carter back long-term is a lack of elite explosiveness and foot speed as he occasionally struggles to gather off two feet and score in traffic, as well as defending ball screens.
7. MICHAEL PORTER Jr. - MISSOURI
Porter has made some physical progress and has been transparent with teams about his medical information following the back surgery that derailed his college career before it started. Risk and all, he remains a possible top-five pick. His package of skills at his size makes him a threat to score at any time, a capable perimeter scorer with the size to shoot over most defenders he'll face. That combination creates an opportunity for Porter to evolve into a team's top option down the line, provided he can stay healthy. The talent is there, but scouts have long nitpicked his defensive approach and playmaking skills, neither of which has ever been considered a strength. He needs to mature somewhat off the court as well and faces a big adjustment.
8. TRAE YOUNG - OKLAHOMA
A potent perimeter shooter and playmaker, Young displayed, and more importantly sustained, serious ability as the fulcrum of Oklahoma's offense. His deep shooting range and intelligent use of ball screens open up room for his creative dribble penetration, and turning the Sooners into an elite offensive team for a large stretch of the season was no small feat. Young's change of pace and variety of moves help offset a lack of elite physical attributes, though he will need to keep working on his body as evidenced by the way he wore down a bit toward the end of the season. It's unlikely Young will be a helpful defender given his lack of size, but if he's placed within the right system and has enough help around him, his talent should be able to outweigh his weaknesses.
9. KEVIN KNOX - KENTUCKY
One of the youngest players in the draft, Knox brings a bundle of intriguing tools and is beginning to get used to his body. He put together a solid year at Kentucky while functioning mostly as a spot-up option off the ball, and his impressive frame and improving set of skills suggest he'll be able to do more than that at the next level. He's built well enough to play both forward spots, with some natural shooting touch, enough athleticism and some rebounding ability. Knox's handle has to improve for him to become a quality scoring option, and he can appear somewhat stiff in change-of-direction situations. Still, as he continues to learn and figures out how to impact the game more effectively on a nightly basis, there's an intriguing ceiling here that's clearly worth developing.
10. MIKAL BRIDGES - VILLANOVA
With a 7-foot wingspan working in his favor, Bridges couples solid defensive instincts with quality three-point shooting, making him a fairly safe bet to provide value in the modern NBA. His length and anticipation enable him to naturally force turnovers and make plays on the ball, and Villanova had him defend four positions in various situations over the course of the year. He needs to keep improving his defending on the ball, but the versatility coupled with the strides he's made as a jump shooter are bankable. While he sometimes struggles to create his own shot off the dribble he should be able to thrive in a supporting role alongside a quality playmaker or two.
The NEXT 10:
11. MILES BRIDGES - MICHIGAN STATE
12. SHAI-GILGEOUS ALEXANDER - KENTUCKY
13. COLLIN SEXTON - ALABAMA
14.LONNIE WALKER - MIAMI
15. ROBERT WILLIAMS III - TEXAS A&M
16. ZHAIRE SMITH - TEXAS TECH
17. JEROME ROBINSON - BOSTON COLLEGE
18. KEVIN HUERTER - MARYLAND
19. DONNIE DIVINCENZO - VILLANOVA
20. AARON HOLIDAY - UCLA
-
CCG