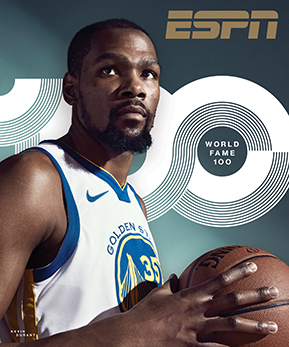 Defending NBA World Champion GOLDEN STATE WARRIORS Forward #35
KEVIN DURANT
occupies the #7 spot and is one of 4 cover stories for the
2018 WORLD FAME 100 ISSUE
of
ESPN The MAGAZINE
!!!
Here are a few interview interludes from
KEVIN DURANT'S GROWING EMPIRE
:
ESPN: How much smarter of a businessman are you than you were, say, two years ago?
DURANT:
I have mentors like Ron Conway [early-stage Google and PayPal investor] and Ben Horowitz [co-founder of Silicon Valley venture capital fund Andreessen Horowitz] and good friendships with guys like Chris Lyons [chief of staff for Andreessen Horowitz]. I mean, you just go to dinner with these guys, hang out with them. You start to meet these types of people at games. It's a little easier being here than saying, "Let's meet up when I come in from Oklahoma."
How do you best learn business?
You have to remove the ego of it and realize that you don't know it all. I want to learn more about this life and this business and this world. So I've got to ask questions, and I've got to have an open mind to it all. Your brain kind of functions a little different as you get older
I know you have a lot of investments. I know some are structured differently from others. How does that work?
Yes. The only thing we aren't doing is endorsement deals. There's nothing wrong with them, but time is the most important thing to me. And when you endorse a product, a lot of your time is taken away.
You've said you'd like to own an NBA team.
I wish I had the money. It's crazy. Obviously, the financial part is definitely going to be the hardest part. I've been part of two great organizations. I know the game inside and out and I know the players. And I feel like these NBA franchises just change lives. They change cities. I would love to do that. All the aspects of owning a team, I would love to be involved in -- from the financial and marketing side to the team-building to the camaraderie to the coaching.
That's interesting, because I feel like people say you're fake -- when you feel you're being real.
Fake is what runs the world right now. Narratives are what matter. Perception is what matters. So when you've got the majority of the world worrying about perception and what they look like, then the people who don't care about that stuff seem fake to them.
-
CCG