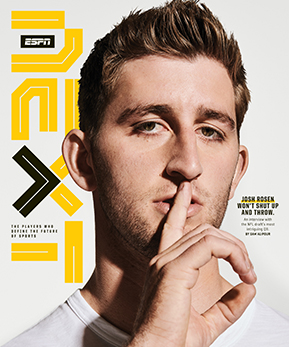 Former UCLA BRIUNS Quarterback #3 JOSH ROSEN is preparing for the upcoming
2018 NFL DRAFT
; says,
I want to be the winningest QB in the history of the NFL...,"
and, he covers the
NEXT ISSUE
of
ESPN Magazine
.
Here are a few interview interludes:
The Mag: Soon you'll be an NFL quarterback. How does that sound?
JOSH ROSEN: It's a dream. Always has been. It's a loaded term: NFL quarterback. Face of the franchise. What does it mean?
Ready for that responsibility?
I'm excited for it. I don't think I'm ready for it, but I'm as ready as I can be. A lot of it is trial by fire. And what happened to me in college, which people may call "knocks," has prepared me for the NFL fire.
Who's the best QB in this draft?
I'm the best QB in the draft. A lot of guys are flashier, but I think I'm the most efficient, monotonously consistent QB in this draft. Rodgers has some flair, but if you watch Tom Brady, Peyton Manning, Drew Brees, there's nothing that's explosive or Johnny Manziel-like. It's just quarterbacking.
What are your football goals?
I want to be great -- in everything I do. As far as football, I always looked up to Kellen Moore of Boise State. I thought it was the coolest thing that he was the winningest QB of all time. I thought that was a cool word: winningest. So I want to be the winningest QB in NFL history. I want to win the most games and most championships. I'd say six titles, but if Tom Brady gets six, I'll say seven.
How would you describe your leadership style?
I'm not rah-rah. I want to develop individual relationships to understand how certain people react. Does he respond to a kick in the butt, or does he need encouragement because he's self-critical? I take the time and effort to get the best out of every individual, not out of fear but out of love.
Your high school coach said you're also curious about religion, and while you're Jewish, you attended Mass every Sunday.
That's right. I went to a Catholic school, and it was cool to learn. You have to have an open mind. It'd be naive to think you're just born into the right religion that will get you into heaven. My opinion will evolve and grow. Where do you sit on it?
I'm Muslim by heritage, and I used to attend Mass too, but it was partly to impress a Catholic girlfriend. Now I'm agnostic.
[Laughs] Same. But agnostic and atheist are loaded words -- people get scared, like, "Whoa!" Look, I don't know, and I don't think it's possible to know. Don't tell me how to live my life, but I'd love to hear about how you live yours.
Since we're getting all deep and everything, what do you want out of life, Josh?
I want to be happy, but happiness is a weird thing. You can't be happy all the time. You have to fluctuate. I want to find purpose. One of the reasons I left school early is I felt like I was chasing a bunch of different things: trying to get A's in class, being good on the field, networking professionally. Right now, I want to be the best QB that I possibly f---ing can be. When the NFL decides I suck, I want to be the absolute best at the next thing in my life.
-
CCG