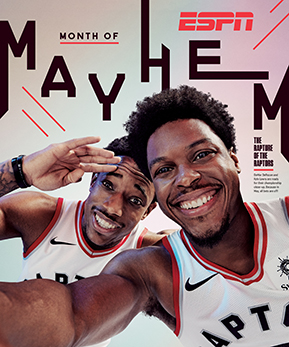 TORONTO RAPTORS Point Guard #7 KYLE LOWRY and Shooting Guard #10 DeMAR DEROZAN are the cover story for the
MONTH Of MAYHEM
issue of
ESPN Magazine
!!!
Here are a few
ESPN: The regular season you guys just put in the books is a pretty big departure for the NBA. Usually if a team hasn't gotten quite where management wants it to go, they rip up the roster. This team, you guys kept the roster and changed the playbook. Now that you've seen that evolution through a season, how do you think it went?
DeMAR DeROZAN:
I think you gotta withstand the test of time, you know? You gotta go through them dog days sometimes, to be built even stronger. And I think that's what we did. You gotta give the credit to the front office, believing. And it's a testament to us, sticking to our game. And one that continued to get better.
interview interludes:
So you guys evolved during the regular season. You got the No. 1 seed. How much does it matter if you don't have the playoff success you've been so focused on?
KL: Nothing else matters.
DD: No. We're playing for everything.
KL: Yeah, waste of a year for us.
A waste of a year?
KL: I mean, not a wasted year, but it's a disappointing year. I mean, the playoffs --
DD: It's a waste of a year.
KL: Yeah.
DD: Period. You know, we put in all this work, and you want to compete for that championship. Anything less and you go into the summer upset, thinking, "Man, gotta do this all over again?"
You listen to radio and TV up here and the feeling is that you guys are not getting the respect you're due from the rest of the NBA, that people are skeptical of how the Raptors will do in the playoffs. Do you guys feel that?
KL:
At the end of the day, we've been to a conference final. We've been to a second round. We've played the fifth-most playoff games in the last how many years. I mean, sometimes we haven't shot the ball well, but our teams have had some success in the playoffs. Personally, I don't pay attention to what people say. I just look at it like, "All right, whatever."
DD:
Yeah, people are crazy. At the end of the day, that's just my conclusion. Like --
KL:
People are crazy.
DD:
I'm fine with us getting everything that we get the hard way. Nothing comes easy for us. Every success, individually and teamwise, that we had, nothing has been handed to us. And you know, you find more appreciation with it. Because we know the odds that we fight every single night.
If you guys are the team in the NBA Finals and you are repping Canada as a country and this city, Toronto, in particular, what do you think that would mean to people here?
KL:
Everything. I think the country would just embrace us even more. And at the end of the day, we're playing for not just us, but we're playing for all the small cities across Canada, all the big provinces and territories.
DD:
Even in the States, people come up to me and say, "Man, you know, I'm from Toronto." Everywhere we go, no matter where we at, it's like, you got people comin' up to you sayin', "I'm from Canada, I'm a Raptors fan." Growin' up, I wouldn't know nobody from Canada like that. [Laughs]
Right now, with LeBron and Cleveland looking more vulnerable than they've looked in a while, does it feel to you guys like this is it? This is your window? This is your time?
KL:
I think we felt like that for a while now. We just haven't executed it.
DD:
Yeah, as long as you have that opportunity, you gotta understand, they don't come around too often. Now we have an opportunity. This could be our last; we gotta treat it like our last. So to answer your question: most definitely, without a doubt.
KL:
That was a lot of explanation just to say "most definitely."