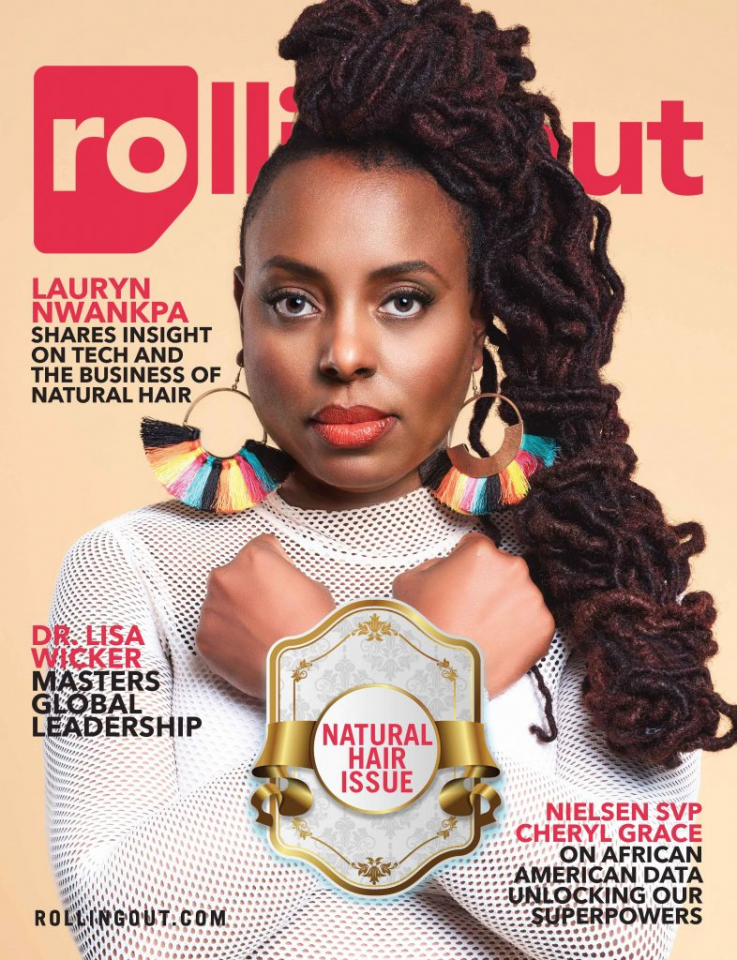 Chocolate-Covered
NEW ORLEANS-born Singer-Songwriter-Actress LEDISI has recently-released single
ALL THE WAY
that currently is doing very well, is preparing for her
LET LOVE RULE TOUR
with fellow songbirds TWEET and MELANIE FIONA, and;
Lets Love Rule her Physical, Mental, and, Spiritual Energy
as she is the cover story for the
NATURAL HAIR ISSUE
of
ROLLING OUT MAG
!!!
Here are some interview interludes:
On her Natural Hair Journey:
"This hair is a lot. I started cutting it because I wanted a little more freedom. Locs get really heavy the more they grow. I think it's harder to maintain natural hair."
On her current hairstylist:
"My hairstylist, he's so great. I love him. He's in L.A., I've been working with him for about a year now and my hair has grown so fast," she revealed. "He lets my hair grow; he doesn't cut it all the time. He knows how to do
every
style. His name is Sir Tony. If my locs feel too heavy, he helps me out with that. I love the color he chose for me. He knows how to make sure I'm not doing too much damage to my hair."
On those hair creatives along the way who have helped her to design her hair evolution:
"I don't like everybody touching my hair. It depends on who has growing hands and who's going to take care of your hair. You need people that care about your scalp and the root of your hair more than how it looks. You have to have a connection that feels good with people touching your hair. I started experimenting with styles because I felt like no one was doing a lot of styles with curly hair. Then, I had a loctician, Michelle, she owns Loc Mamas in Atlanta.
"She started doing my hair and telling me I need to color it and give it more vibrancy. She would give me these African updos and she showed me how that can be a crown. And showed me that your hair is your accessory and should add to the attitude of who you are. I loved it, but then I wanted to be more Hollywood with my hair, make it do things that regular hair does — a wig does.
"People think 'locs can only be in one style. I tried another hairstylist in D.C. — that I love — who was awesome with color. Her name is Tika Shefield [of Epiphany Salon]. She started playing with more colors in my hair, like blondes.
The Truth
album days, that was her giving me more fire and orange and bronzes. I was going color happy. She taught me about the healthiness of hair and then I moved to L.A. and met Sir Tony."
On some of her current Black History Makers:
"Definitely Michelle Obama for being authentic in one of the highest positions in the world and holding onto her family, her love and her intelligence. Seeing that is just so inspiring," she said.
"Another history maker I love because she's like a sun is
Oprah Winfrey
. All of the universe is whirling around the sun. That reminds me of Oprah, the lessons she teaches in all different forms, from a literal sense, to music, to visual arts. She keeps shining light on different things we need to hear from. It's like it never stops. Her journey just keeps going and the older she gets, she's more refined.
"Black women are amazing. We'll stand in the fire to get it done. We'll just do it because it has to be done."
"
Yara Shahidi,
I just love her. She's just blazing with this fire to be a voice of her generation. You can tell she listened to her elders, but she's also had her own voice. I love seeing that same energy from a different generation.
-
CCG