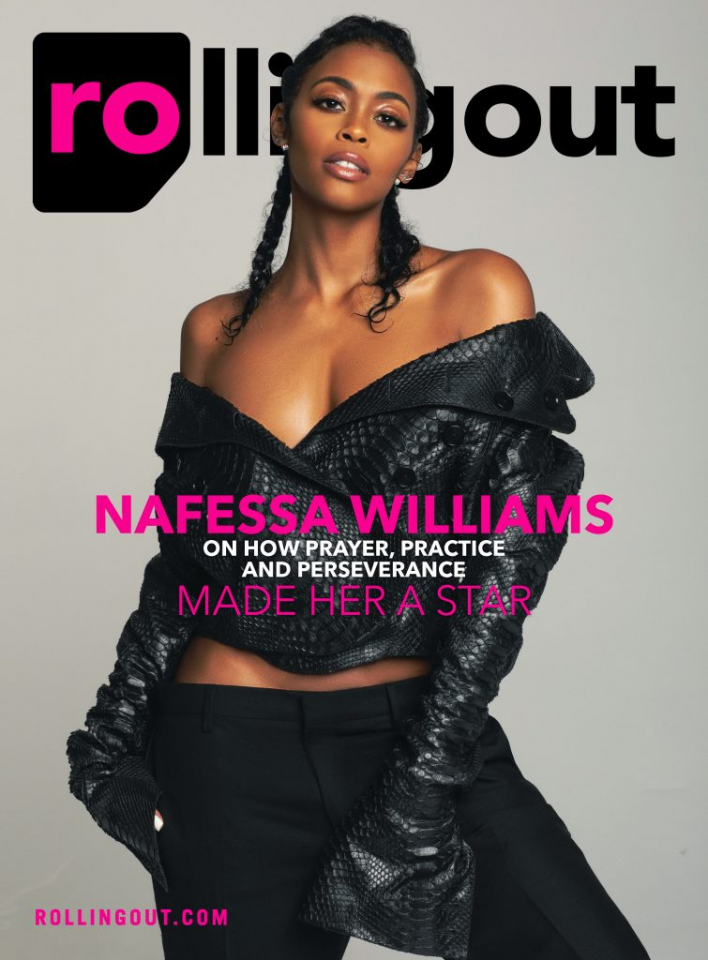 NAFESSA WILLIAMS portrays
ANISSA PIERCE/ THUNDER
on CW network superhero series
BLACK LIGHTNING
, and, she covers the new issue of
ROLLING OUT Magazine
!!!
Here are a few interview interludes:
When you first became inspired to pursue the arts?
I remember being about 6 years old and wanting to be Rudy Huxtable. "The Cosby Show" was such a huge inspiration for me. I was just a kid who fell in love with TV and film. I would write my own TV guide in my homework books so I wouldn't forget to watch my favorite TV shows. I was also inspired by Lisa Turtle on "Saved By The Bell" as well as Ashley Banks on "Fresh Prince of Bel Air." I was inspired by the Brown girls on TV who looked like me. I would say, "Hmmm, if they can do it, so can I."
How did you handle the no's that eventually began to lead to studios saying yes?
Before moving to LA, I was expecting and looking forward to the no's, as I know it's a realistic part of the process. I understood that after so many no's a yes — written uniquely for me — would eventually happen. I celebrated the no's as well as yesses. It wasn't always easy. There were some days I was ready to walk away from it all, but I stayed focused and very consistent along my journey.
Both critics and fans appear to equally love "Black Lightning's" approach to superheroes. How has that response changed your life?
My role is very impactful in the LGBTQ community, which has led me to be an advocate. Young lesbians, young Black lesbians, in particular, have reached out to me saying how "Thunder" makes them feel normal and how inspired they are by the character. I believe our duty in life is to empower and inspire and I can honestly say I'm walking in my purpose with this role.
Describe the community of Black women actresses in Hollywood. Does it feel like a big family, or does the limited amount of roles cause more friction between actresses?
You know, honestly, I believe what's for you is for you. When you fully understand that concept, there's no need to compete or create friction. I like to surround myself with other actors who share that similar mindset. It does feel like a family; we support each other and celebrate each other's success. Female empowerment is the new wave.
How do you stay centered? How do you find your happiness within an ever evolving, ever chaotic entertainment industry?
My spirituality, my relationship with God, is what keeps me centered. Knowing that my successful journey has already been written keeps me calm and centered. I believe gratitude leads to happiness. It's also crucial to keep honest and real people in your circle. Also, finding balance in such a chaotic industry is key.
What is your superpower?
My superpower is speaking my dreams, the things I want, into existence. I believe there's power in what we speak, so I've trained myself to speak of only the things I desire to have and encourage others to do the same.
-
CCG