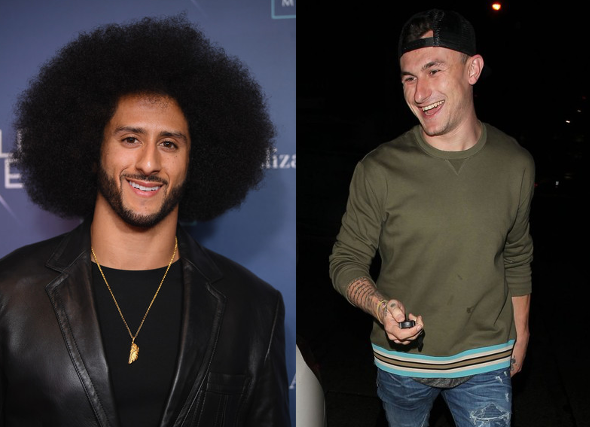 Chocolate-Covered
CARI CHAMPION used her
brand-spankin' new
platform as host at
ESPN: SPORTSNATIOPN
to address the
BATTLE Of The UNEMPLOYED NFL QB Controversy
of COLIN KAEPERNICK vs JOHNNY MANZIEL!!!
Much of mainstream media has been collectively flaunting the throbbing bulge in their pants over NFL Quarterback JOHNNY MANZIEL and his highly-publicized
NFL Comeback Tour
, while the same d*mn time; all but completely ignoring the efforts COLIN KAEPERNICK to remain in top form in hopes of returning to the league.
Nicknamed
JOHNNY FOOTBALL
, the HEISMAN TROPHY-Winning TEXAS A&M AGGIE never quite rose to the lofty NFL levels expectation as demonstrated during his days of wearing the
Maroon and White
. Coupled with his off-field personal and legal issues, MANZIEL only started 8 actual NFL games before bouncing out of the league.
COLIN KAEPERNICK however; served five seasons with the SAN FRANCISCO 49ERS, had NO off-field legal issues, and; has been an unsigned free agent since the ending of the 2016 - 17 season.
Do BOTH deserve another opportunity to take snaps in the NFL???
Yours Truly CCG says YES!!!
Are we witnessing
NFL HYPOCRISY
at its most egregious???
CCG says YES!!!
CARI CHAMPION chops it up and breaks it down.
-
CCG
THEYBF