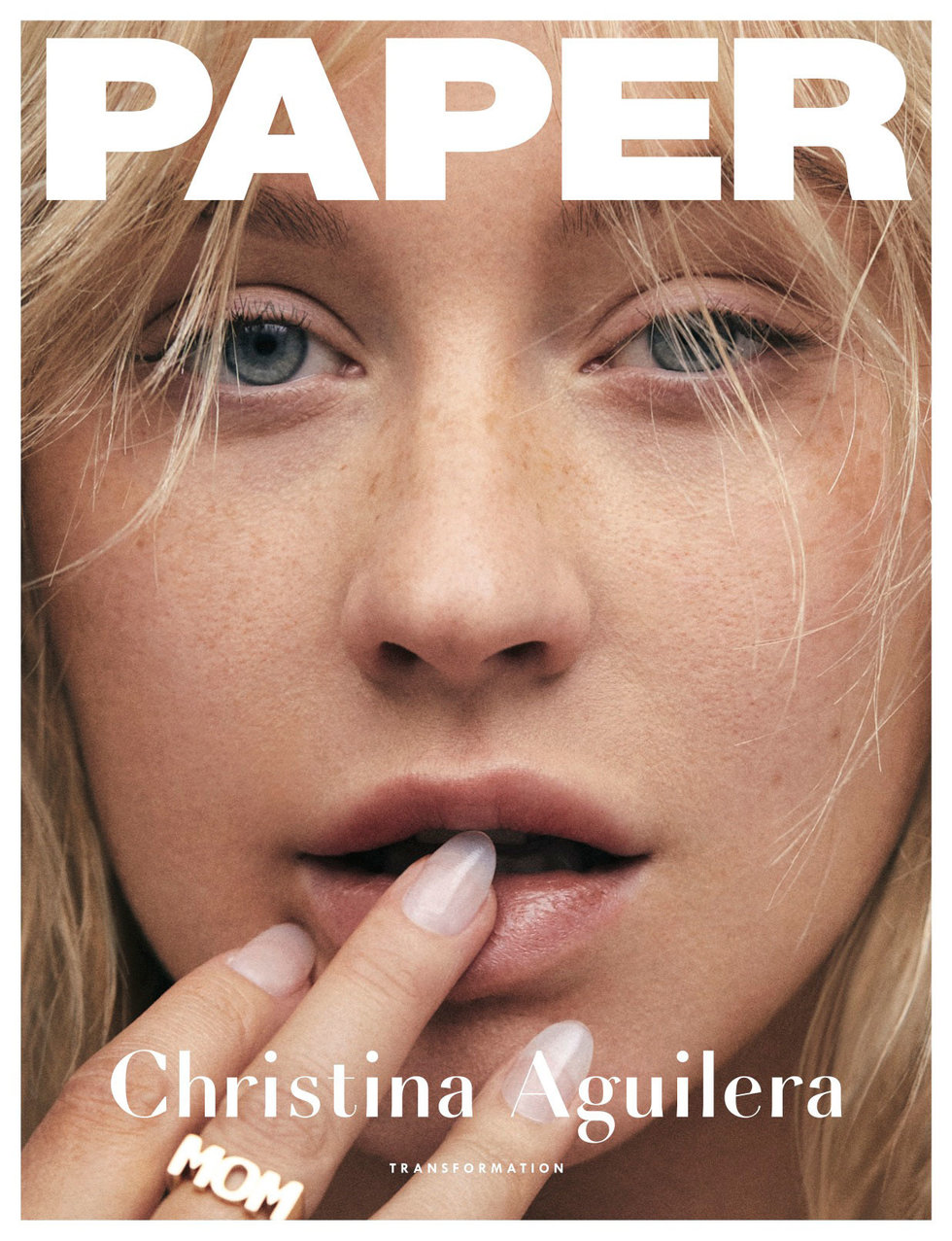 37-year-old STATEN ISLAND, NEW YORK CITY-born Singer-Dancer-Actress-RealiTV Star CHRISTINA AGUILERA is the cover story for
TRANSFORMATION Issue
of
PAPER Magazine
!!!
Here are some interview interludes:
On if her new toned-down look means she is done with the more dramatic esthetics:
"I've always been someone that obviously loves to experiment, loves theatrics, loves to create a storyline and play a character in a video or through stage. I'm a performer, that's who I am by nature. But I'm at the place, even musically, where it's a liberating feeling to be able to strip it all back and appreciate who you are and your raw beauty."
"I mean, I'm a girl that likes a beat face, let's not get it twisted."
On the residual effects of growing up in a household where she was a witness to domestic violence:
"I watched my mom have to be submissive, watch her Ps and Qs or she's gonna get beat up," she recalls. One of two things can happen if you grow up in that type of situation, she says. "You can either be, unfortunately, so damaged by it that you take a turn for the worse, or you can feel empowered by it and make choices to never go down that route."
"I hate when people say, 'Why doesn't she just leave?' There's psychological damage and mental abuse that comes with being in a situation like that. A lot of people don't have the ability to vocalize it themselves or have the know-how to get out."
On being excited for new artists in entertainment, and; empowerment for women:
"They don't have as much backlash when they come out on the scene. And I did. It was a very interesting and controversial time for me."
"Either women are not sexual enough or we're not fulfilling enough of a fantasy for you, but then if we're overtly sexual or feeling empowered in a certain kind of way, then we're shamed for it."
"Madonna had to go through it in her day, and she paved the way for my generation to come up. And paying it forward, now a younger generation is coming up and I'm loving what I'm seeing. It's so incredible."
On future advice for her children:
I don't want to inject too much upon her as to how I'm choosing to live my life and what I've done in my career. just hope I can allow what I'm doing to influence her to be her own person. That's truly what I hope for her." (She'll also let her daughter dye her hair a crazy color if she wants to.)
"I really want to make sure my children are both very confident in the sense that they know who they are and that they won't be easily swayed by outside opinion."
-
CCG