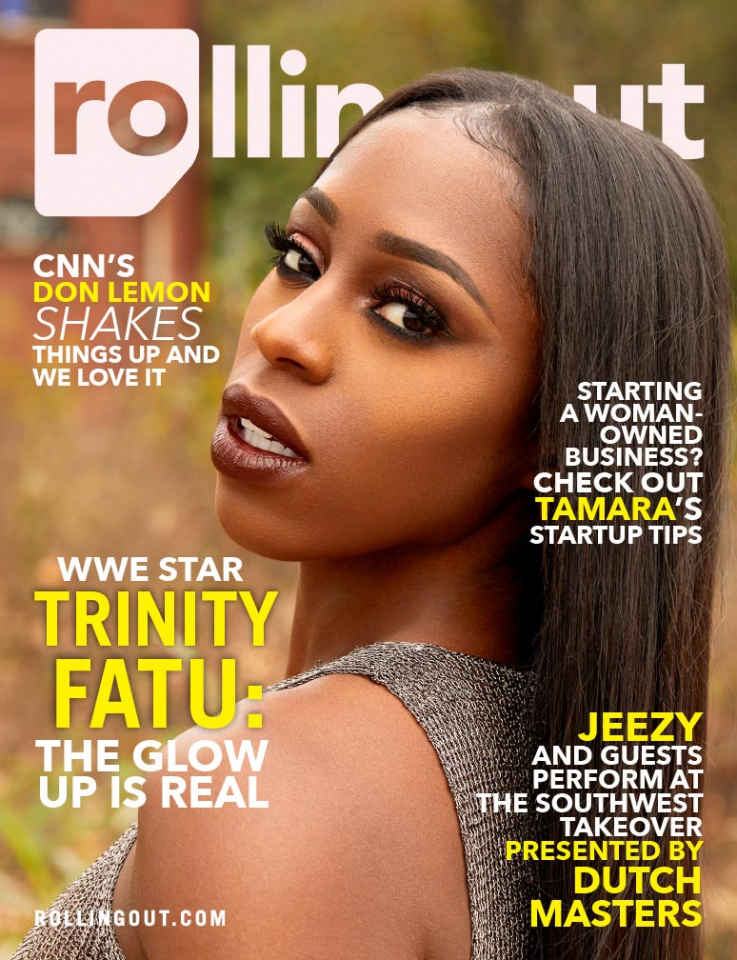 Chocolate-Covered
SANFORD, FL-native
WWE
Superstar TRINITY FATU is a former
ORLANDO MAGIC DANCER
who wrestles under theme of
NAOMI
, and, is the cover story for the new issue of
ROLLING OUT Magazine
!!!
Here are some interview interludes:
How did you become a professional wrestler?
I actually saw a live show when I was 21, and I thought that it was the coolest thing I'd ever seen. I was amazed by the women at the time. They had a six-girl tag match, and I was just blown away. Right then, I knew that it was something I wanted to try and experience. Then, from there, I got a tryout, and I've been here ever since.
Just how passionate are the fans?
It's amazing because wrestling is global. No matter where we go in the world, it brings in the same love and response everywhere. It brings in so many different diversities, and people from different walks of life. It doesn't matter if you're old, young, male, female, [there are] so many people who can relate to wrestling because it's so colorful. There are so many characters, and so many stories that people can relate to. Also, it's entertaining.
Were there risks involved when you initially decided to take the leap into professional wrestling?
I took a huge risk. At the time, I was an Orlando Magic dancer, and I was going on my third year. It was then when wrestling was introduced to me. I took a chance, packed up all my stuff, and moved away from home. My mom was wondering what was going on with me because since I was 8 years old, I trained in dance classes, won numerous awards in tap, jazz, ballet, hip-hop, and modern, so my mom thought I was going to go to Alvin Ailey and have a career in dance. I did too, but when I saw wrestling, all that changed. I moved to Tampa, [Florida], then started from scratch. The first couple of months were really tough because I was doubting myself. The physical strain it puts on your body was hard. From the body slams to bumps, they say it's like a mini car accident every time we get hit.
How has it been trying to make a name for yourself as a Black woman in such a diverse industry?
Just knowing the history of WWE, I know there haven't been a lot of African Americans that have come through and been successful. But there are women who have done amazing and inspired me. I think it's been more challenging as a woman because it is a male-dominated industry, and it's been that way for a long time. I feel like the great thing about WWE is that if you're talented and can connect with the audience, you will get there.
What is it about you that you believe makes people connect with you??
I think I come off very real. All my characters are real. Instead of me creating a persona, I used the personas and experiences that I already knew in my life. That's what got me to my championship. I am now the two-time Smackdown Women's Champion. I am the longest reigning Smackdown women's champion, and I am the first African American Smackdown women's champion. So, I think the Glow is about believing in yourself, it's about positivity, and it's colorful, exciting, fun, and it's me.
-
CCG