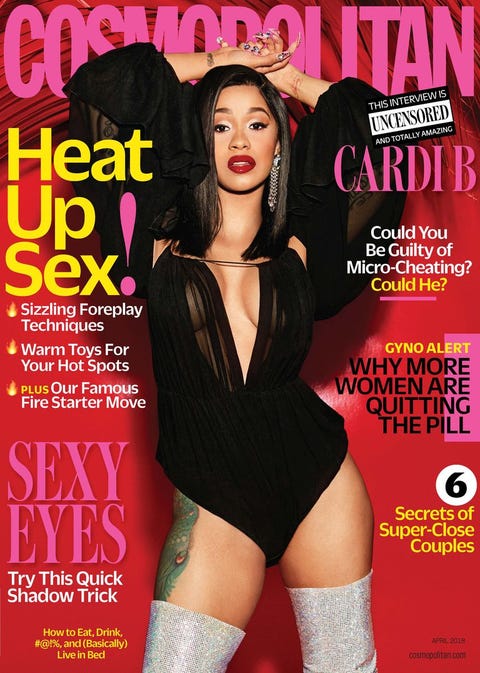 BRONX-born
TRINI-DOMINICAN
Rapper CARDI B is the cover story for the April 2018 issue of
COSMOPOLITAN Magazine
!!!
Here are interview interludes:
On refusing to change — for anyone:
"Everybody got different beliefs and different religions and were raised differently, yet you also supposed to be careful you don't offend somebody. Everybody gets bothered about everything. Everybody got a fucking opinion about you. If I change myself, then I'm going to lose myself, and I won't be who makes me happy."
On her pole-dancing days and respecting strippers: "
People say, 'Why do you always got to say that you used to be a stripper? We get it.' Because y'all don't respect me because of it, and y'all going to respect these strippers from now on … Just because somebody was a stripper don't mean they don't have no brain."
Here are 5 of the 8 UNFORGETTABLE THINGS That YOU LEARN OVER LUNCH With CARDI B:
1. For the last time: Cardi B does not regret stripping.
"Why not make a few thousand dollars? Why not? I owed so much money to fucking BMCC [Borough of Manhattan Community College] and I paid it off—not with no Instagram money, not from no Love & Hip Hop money—I paid that shit off stripping. I got my first apartment [as a stripper]. You know how hard it is to get an apartment in New York? This ain't no f*ck*ng down south, $500, $400 rent sh*t. I was living in an apartment [where] there was mice running around that still cost me $1,100. And I still got that sh*t—19 years old—want to know how? Stripping.
2. Stripping made her strong.
"It is a talent. You want to know something? I know for a fact a lot of these females, they cannot do the pole dances that I used to do or they don't have the body strength that I have from dancing. A lot of these females, they don't even know how to f*ck*ng walk five blocks with their heels on and I work for eight hours straight with heels on—seven, eight inches, every day
3. She's used to people being mean to her on the Internet.
"People clearly treat me better now because I'm famous and they want to suck d*ck, but … at the end of the day people still talk sh*t on me online. When I was a stripper people used to talk sh*t about me, used to call me a stripper—now, to this day, they call me a stripper, so it's like, whatever. I don't give a f*ck … I can't even do anything about it."
4. Yeah, haters can still get her down.
"I've always been very popular, and the people that never liked me, I knew why they didn't like me. So when I see people that don't like me and I don't know the reason, it sometimes bothers me. It really hurts me. Or when people say mean things about me, yeah it hurts me, because I'm not used to that. Sometimes, I'm feeling like I get a lot of hate, then when I see people getting my name and my face tatted, it reminds me that I'm also extremely loved.'
5. She's had to cut some friends out of her life.
"When I be with my friends, I just say what I want to say, I talk how I want to talk, and I do what I want to do—just chill, in a New York apartment, somebody's house, and be myself. And none of my friends judge me, none of my friends give a f*ck, none of my friends treat me different. Some have treated me different. It's not that I've seen them treat me different, it's just, like, I see the intentions … like, I see that a lot of people use me for clout.
-
CCG