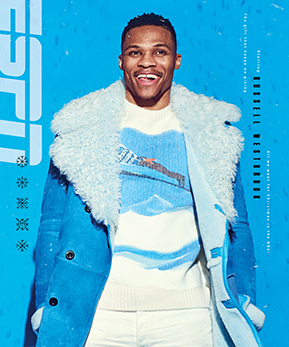 OKLAHOMA CITY THUNDER Point Guard #0 RUSSELL WESTBROOK covers the new
ALL I WANT For CHRISTMAS Is The NBA ISSUE
of
ESPN The MAGAZINE
!!!
Here are some interview interludes:
ESPN: Has becoming a daddy changed you?
Russell Westbrook: I think the moment we knew we were having Noah was the moment it changed me. For the good, obviously. You start to think about the things that best benefit him. Everything in life revolves around him.
Do you look at your job differently now that you're a dad? Are some things less important, more important?
Yeah, you know what, it's a balance. I like to get to the gym early. I get here first and work on my game. But Noah wakes up really early, and I might have been gone on the road for six or seven days, and he hasn't seen me in a while. Then I'm staying at home. Which is OK, because that's more important to me than anything. That's just something I've had to get used to.
You're a pretty big routine guy. Has all this been hard?
For me, family's the most important thing. So regardless of if anybody needs anything, or anything happens, if something's going on in my family, I always put that first.
Important basketball question: How has your newfound dad strength been an advantage this season? Or has it kicked in yet you think?
You know what, I don't know if it has...
It looked to me like you came into training camp a little bigger, though.
Yeah, I definitely did. That was either dad strength or me being on my ass, one of the two. But I don't know if it's fully kicked in yet. My son only goes to a few games, but I feel like when he comes, I get excited that he's there. Although he was asleep yesterday.
You're a superhero to a lot of kids. They've got your jersey on, some try to dress like you, they look up to you. But as your son gets older, how do you think you'll balance that?
For me, I think it's more important to be a father to him rather than for him to look at me as a superhero for what I do. My dad's a superhero, but not because he plays basketball but because he's the best dad in the world. That's the thing I want to accomplish.
What does the word "legacy" mean to you? Is it what you accomplished on the basketball court or --
I think in life, I think there's so many great things you can do in the world to help other people, to impact different communities, to impact the world through basketball. This is a great platform, and I can use it to do other things, whether it's through education or Christmas or Thanksgiving, whatever it is.
Do you like being kind of a mysterious figure or do wish people had a better idea of what you're really like?
Yes and no. I want half and half. I only say that because I'm a private person, I don't like everybody in my business. But I also don't want people to just see me on the court and believe that's who I am. That's what happens to me all the time. So they think, 'Oh, Russell's an a-hole -- I don't know him but he looks like an a-hole.' Right? First, I'm not. People that know me, they'd look at you like you were crazy. Like, 'He's a what?' But the problem is, when people see me here, the stuff people hear on TV just from basketball, that's the only part that I sometimes try to give people. That's why social media, I think, is great for me. People get a chance to see what I do just on a normal basis, because they only see me on a basketball court.
-
CCG