The new
2018 FORD MUSTANG GT FASTBACK
has to be one of the most thrilling, straight-from-the-factory, road-focused vehicles that's ever been badged by Ford, a performance evolution of mind-blowing proportions!!!
In fact, the latest so-called "refresh" of the American-born thoroughbred is touted as the fastest production Mustang GT ever built, with a 0-to-60 mph time of under four seconds, making it quicker than a Porsche 911.
The numbers, however, don't even come close to giving you a true sense of that what it's like to wheel the latest take on Ford's iconic Pony Car. Of course, the stats do heighten the anticipation you get when you first approach the new Mustang GT and see that "5.0" badge glistening in the sun, seeming to bask in all the glory of its newfound performance capabilities.
Still, it's not until you actually push that start engine button and hear the exhaust note growl that the numbers begin to morph into something tangible.
The experience quickly shifts into something far more exhilarating the second you come up on some desolate stretch of road and get the urge to mash down on the accelerator, feeling all that power race through your chest.
One. Two. Three.
That's just about right when it hits you (in the midst of rattling off a string of profanities that would likely make even Howard Stern a bit uneasy): This thing really is fast.
We're talking mind-bending quick, something akin to being comfortably strapped into a rumbling rocket ship, then suddenly realizing: It's all up to you to keep this beast in line.
The 2018 Mustang is also equipped with a new Drag Strip mode that makes the car's straight-line acceleration even faster (when activated), a feature that diehard track enthusiasts will find handy on those quarter-mile runs.
FORD
Mustang Vehicle Engineer Manager TOM BARNES says the formula for improving the car's quickness was pretty simple—find the most effective ways to increase the car's power, while keeping the everyday practicality of the vehicle intact.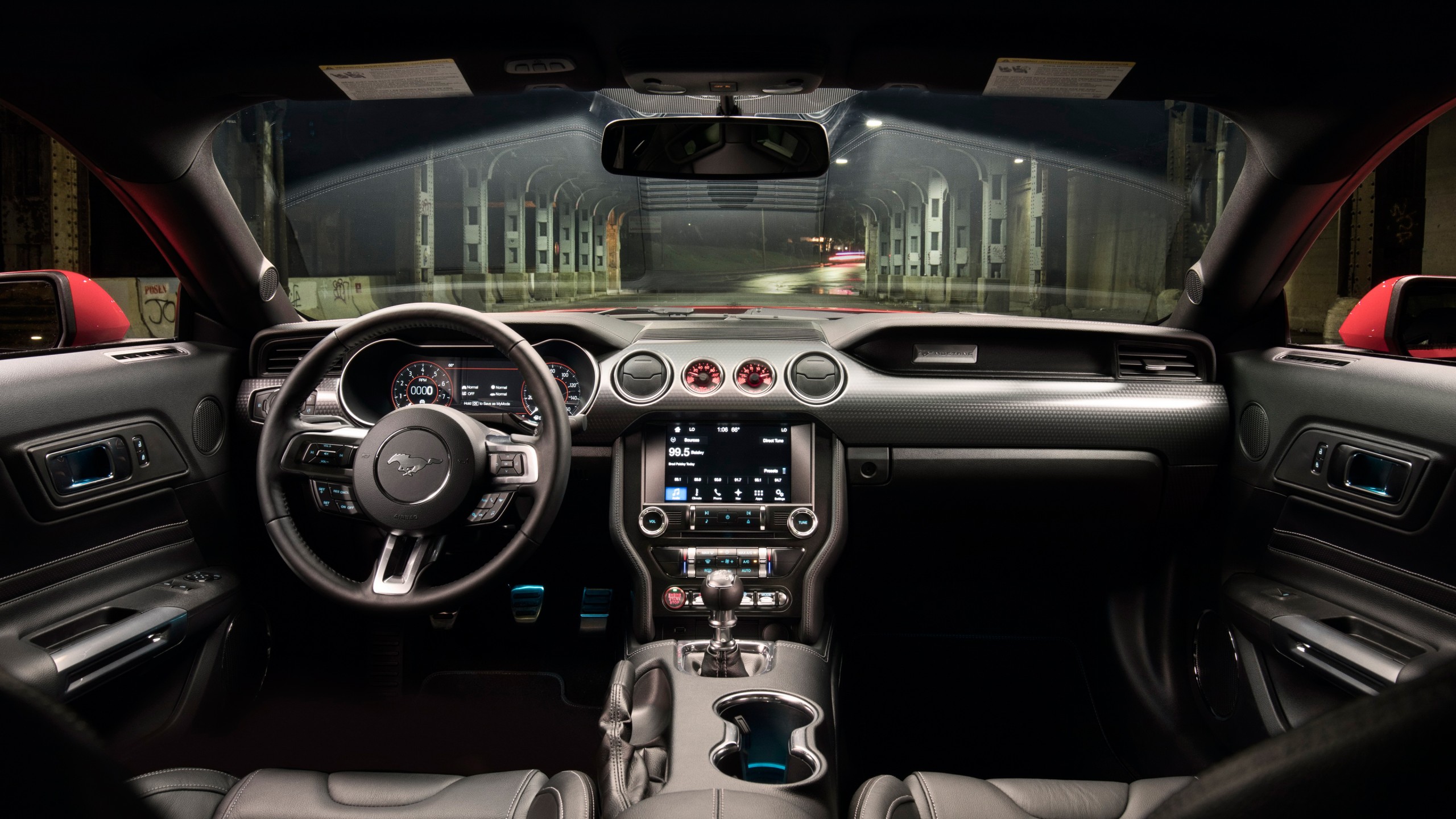 TOM BARNES says;
"One way to do that is you up the engine power and the torque, and we did that. Another way is to raise the max RPM, and we did that. We are up to 460 horsepower from 435, 420

lb.-ft

. of torque from 400 and our max engine RPM is 7,500 vs. 7,000."
The new Mustang GT's 911-beating quickness is also due to a new high-tech 10-speed automatic transmission. But don't worry, Ford hasn't ditched its six-speed manual, knowing that there are still a lot of people who prefer the more traditional stick in a sports car. However, the thing you realize after driving both models is that the new optional 10-speed automatic Mustang GT is just so much faster shifting than most us would ever be able to pull off in a manual transmission.
BARNES continues;
"The 10-speed automatic transmission…has a really wide span of gears, meaning the first gear, second gear are high ratios, so it really gets you off the block," says the senior Ford engineer. "It's our latest design and it shifts faster than anything we've ever had."
The four-cylinder EcoBoost-powered Mustang has also gotten a performance upgrade with an increase of 30
lb.-ft
. of torque, giving it a total output of 310 horsepower and 350
lb.-ft
. of torque. But, let's be honest: The Mustang GT (which starts at a little over $35,000) is really the one you want, unless you live in a place like New Zealand where the import taxes and fuel duty associated with a V8 engine can cost you $20,000 or more over the price of an EcoBoost Mustang, which now starts at around $25,500 in the U.S. After all, 310 horsepower and 350
lb.-ft
. of torque is more than enough for most.
Of course, regardless of how fast a car is and how much power it has, the trick is being able to control it all, which is another area Ford worked on improving when engineering the new 2018 Mustang
BARNES elaborates;
"On the GT, the first thing we did is we added new tires. That, by itself, gave us better longitudinal grip, better lateral grip, better wet-cold performance," says Barnes. "Then, on the suspension, we now offer MagneRide, which is a suspension technology that basically adjusts the shocks 1,000 times a second, with sensors at each wheel, reading all sorts of things—steering wheel angle, what you're doing to the accelerator or the brake."
It's those kind of performance enhancements that you really come to appreciate when powering the new Mustang GT through one of those never-ending, winding stretches of canyon road, high in the mountains, where even the slightest mistake can have some pretty serious repercussions.
One of the biggest new in-vehicle tech features on the Mustang is Ford's first 12-inch all-digital LCD instrument display, which features 26 color options and displays for up to eight gauges. The screen can also be personalized, offering different views for the car's various driving modes, including normal/snow/wet, sport, and track/drag. A new Mustang MyMode feature also enables drivers to save their favorite settings for suspension and steering and exhaust note preferences, including a "quiet" mode, a feature that the neighbors will likely appreciate.
The cosmetic changes to the Mustang are a lot milder than the performance upgrades, with only a few new design cues like a remodeled hood and grille, LED taillamps and a new front splitter and optional performance spoiler, which also help to enhance the car's handling capabilities.
-CCG