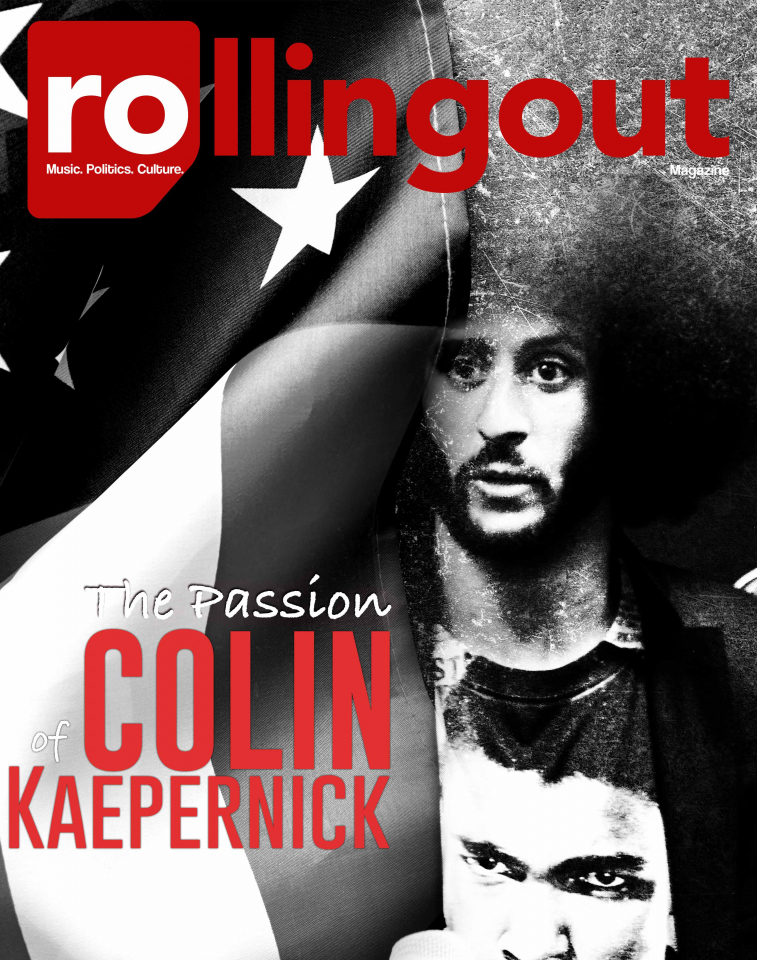 Free Agent NFL Quarterback/Activist COLIN KAEPERNICK covers the new issue of
ROLLING OUT Magazine
!!!
Here are some interview interludes:
On his decision to wear a t-shirt featuring the face of MUHAMMAD ALI to the team press conference following the game where he first kneeled during The STAR-SPANGLED BANNER:
"I wore the [Muhammad] Ali shirt to pay homage, He fought a very similar fight and we are trying to do what's right for the people. To be able to have someone like that come before me is huge. He paved the way for many. People remember Ali for his stance on social justice more than they remember him for boxing. I can't let him die in vain. I have to carry on and fight the same fight until we accomplish our goal."
On facing fury and wrath similar to MUHAMMAD ALI when ALI refused induction into the U.S.MILITARY:
"I think the message carries weight because people realize what's going on. It's something that needs to be addressed. People's lives are being taken and affected by this on a daily basis. More and more conversations are happening that need to happen. It is important to address the issue and create change."
Earlier during this 2017 NFL Season, President DONALD TRUMP was in HUNTSVILLE, AL, speaking at a campaign rally for ALABAMA Republican LUTHER STRANGE.
President TRUMP said;
"Wouldn't you love to see one of these NFL owners, when somebody disrespects our flag, say, 'Get that son of a b—- off the field right now. Out, you're fired."
WHITE HOUSE Press Secretary SARAH HACKABLE SANDERS later defended TRUMP, saying;
"I think it's always appropriate for the president of the United States to defend our flag, to defend the national anthem and to defend the men and women who fought and died to defend it."
On witnessing an awakening of Americans, understanding the consequences of his actions, and; a more conscientious definition of PATRIOTISM:
"I think people are beginning to realize what's going on. I knew the consequences for what could come with this, and I was prepared for that … I don't understand what's un-American about fighting for liberty and justice for everybody. This country says it stands for equality. I see it as very patriotic and American to [hold] the United States to a standard that it says it lives by."
-CCG