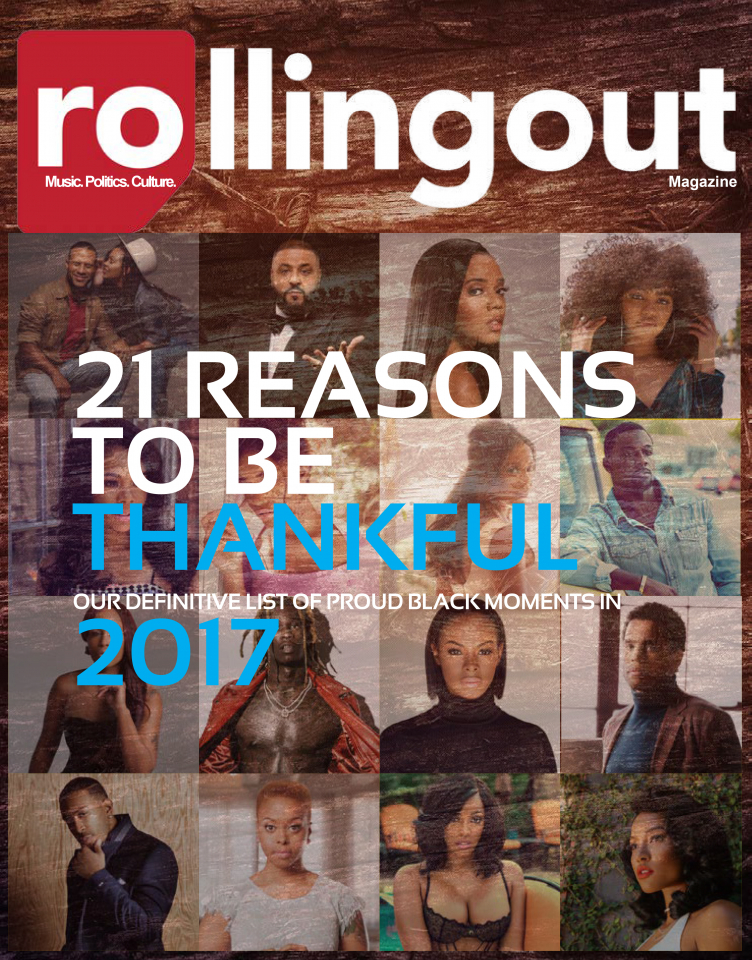 HAPPY THANKSGIVING THURSDAY 20177
!!!
The really good folks at
ROLLING OUT Magazine
decided to gift us with their official list of
21 REASONS To BE THANKFUL - PROUD BLACK MOMENTS In 2017
.
Check out the
THANKFUL TOP 10 Of 2017:
We are thankful that Issa Rae continues to have bouts of insecurity …
Some of the sharpest writing on television in 2017 came from the mind of Issa Rae. Even though we're team Lawrence all the way, Issa still holds a special place in our hearts. Will season three hurry up and get here already?
We are thankful that Donald Glover is down for his home city, ATL …
Deservedly so, Donald Glover cleaned up on the awards circuit for his critically acclaimed show "Atlanta." We're thankful that his creativity is being allowed to shine through is a way that is so refreshingly unique. He can also make a mean song too, which we're definitely not mad at.
We are thankful for family reunions … (photo of Xscape, photo of 112)
Some of our favorite R&B groups of the '90s have all come back strong, much to the delight of fans everywhere.
Xscape
's internal drama aside, it's been amazing to see them on stage together, as well as to hear
112
's impressive new album.
We are thankful for the breast cancer survivors who are still here fighting the good fight …
Cancer sucks. But the survivors are some of our most honored warriors. Breast cancer hits the Black community especially hard, so we're always incredibly thankful for the warriors who looked cancer in the face and said: "not today."
We are thankful that scandal hasn't toppled some of our best and brightest …
Some of the biggest names in politics and entertainment have been toppled in 2017 by scandal. Perhaps it's a war of attrition, but we're thankful that none of our best and brightest have been beset by some of the gross scandals that have dominated news cycles for the better part of 2017.
We are thankful for our natural hair …
There was a time when Black women were ashamed to embrace the beauty of their natural hair. #nomore
We are thankful that Tyrese gets to see his daughter again …
His social media rants aside, you can't knock a Black man for trying to spend time with his daughter. We're thankful that Tyrese is going to get that opportunity again.
We are thankful that the Obamas continue to lead, despite a huge moral vacuum left at the top …
You don't truly realize what you had until it's gone. I believe this country is finally starting to realize that that, despite the hell they put the first Black presidential family through. And despite all of that, they still continue to exude the hope for a better day. Lesser people would have become hardened and shown America the middle finger on their way out of the White House.
We are thankful that Regina Hall packed her bags and took a girl's trip … (photo of Regina Hall)
Damn, that was a good movie. We need more opportunities to just let our hair down and tell fun stories.
We are thankful that he's not Black, he's OJ …
Yeah OJ is out of prison, and to be honest none of us really care. But his statement, which was crystallized in Jay-Z's "Story of OJ" provided a much-needed conversation about self-hate and racial identity within the Black community this year.
PEACE, LOVE, And; BOUNTIFUL, BEAUTIFUL THANKSGIVING THURSDAY BLESSINGS;
-CCG