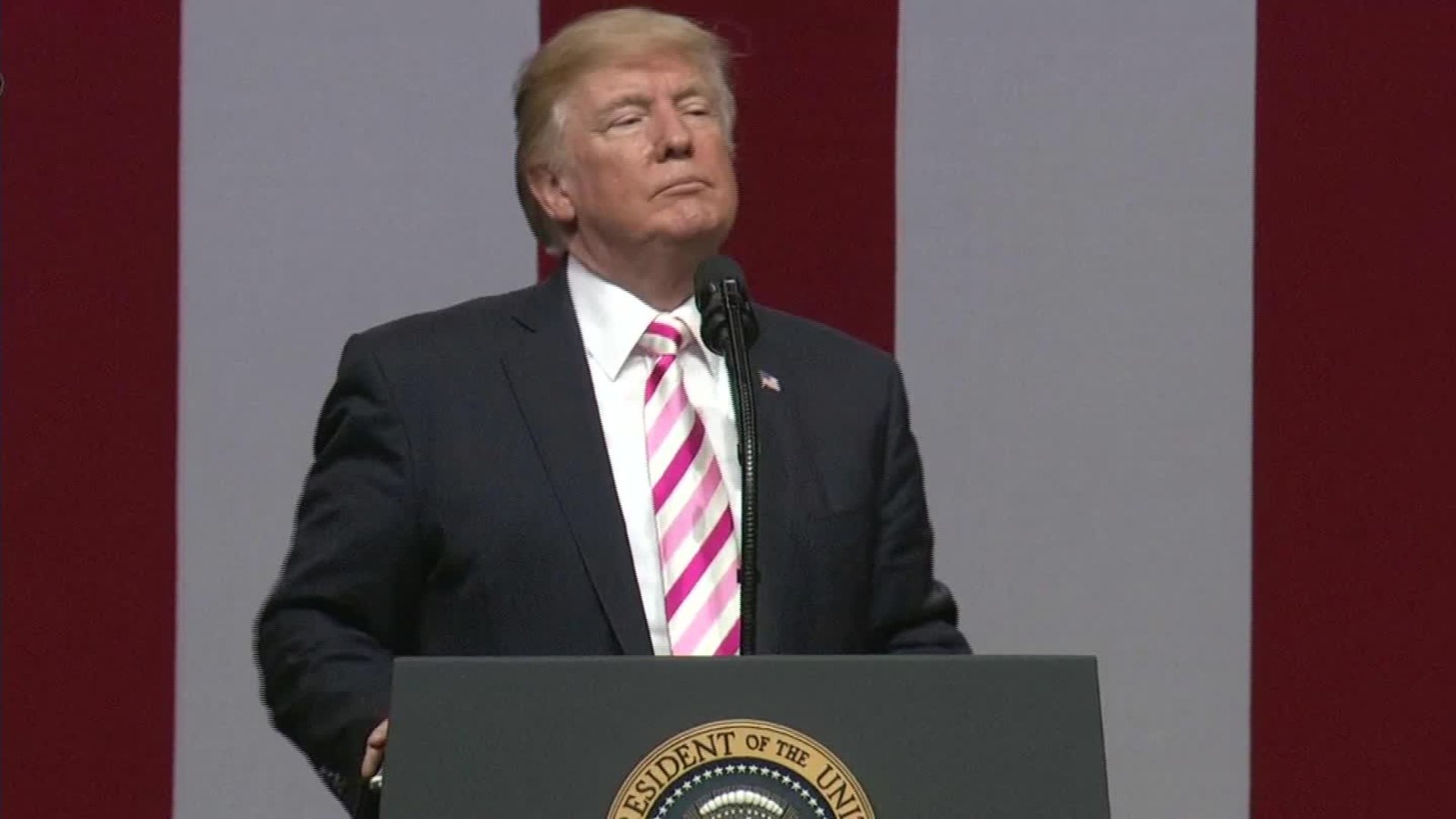 Friday evening, President DONALD TRUMP was in ALABAMA to speak at a rally in support of Republican ALABAMA Sen. LUTHER STRANGE who is facing a run-off election this coming Tuesday, September, 26!!!
During his speech, POTUS $45 launched a blistering attack upon NFL Players who have chosen to sit or kneel during the presentation of the
STAR-SPANGLED BANNER
.
GUARDIAN
reports President DONALD TRUMP said;
"Wouldn't you love to see one of these

NFL

owners, when somebody disrespects our flag, to say, 'Get that son of a b*tch off the field right now. Out! He's fired. He's fired!'" the president said at a rally at Huntsville's Von Braun Center in support of Republican senator Luther Strange, who is running in a special GOP primary election next week to remain in the Senate seat vacated by attorney general Jeff Sessions.

You know, some owner is going to do that. He's going to say, 'That guy that disrespects our flag, he's fired.' And that owner, they don't know it [but] they'll be the most popular person in this country.

The NFL ratings are down massively," he said. "Now the No1 reason happens to be they like watching what's happening … with yours truly. They like what's happening. Because you know today if you hit too hard: 15 yards! Throw him out of the game!

They're ruining the game! That's what they want to do. They want to hit. They want to hit! It is hurting the game.

But do you know what's hurting the game more than that?" he said. "When people like yourselves turn on television and you see those people taking the knee when they're playing our great national anthem. The only thing you could do better is if you see it, even if it's one player, leave the stadium.

I guarantee things will stop. Things will stop. Just pick up and leave. Pick up and leave. Not the same game anymore, anyway."
Early Saturday morning, NFL Commissioner ROGER GOODELL issued a statement on President Trump's statements
ROGER GOODELL said;
"The NFL and our players are at our best when we help create a sense of unity in our country and our culture. Divisive comments like these demonstrate an unfortunate lack of respect for the NFL, our great game and all of our players, and a failure to understand the overwhelming force for good our clubs and players represent in our communities."
NFLPA Executive Director DeMAURICE SMITH said about the union;
"will never back down when it comes to protecting the constitutional rights of our players as citizens as well as their safety as men who compete in a game that exposes them to great risks".
Since TRUMP made that heinous statement,
DEADPAN
reports
The SPORTS WORLD Is DRAGGING DONALD TRUMP
with professional athletes from multiple disciplines posting their displeasure with COMMANDER-In-CHIEF #45.
-
CCG
— Bryan Armen Graham (@BryanAGraham) September 23, 2017
The behavior of the President is unacceptable and needs to be addressed. If you do not Condemn this divisive Rhetoric you are Condoning it!!

— Richard Sherman (@RSherman_25) September 23, 2017
— Husain Abdullah (@HAbdullah39) September 23, 2017
When will people learn that fear won't make someone sit down. It quite possibly will make more stand up for what they believe in.

— Chris Conley (@_flight17_) September 23, 2017
So Trumpster is more mad at "son of a bi!@&" athletes than he was the neo-nazi's in Charlottesville. How am I not surprised?

— Lance Moore (@LanceMoore16) September 23, 2017
Something is really wrong with him. It's 2017 and this guy is really the president of the United States! He's not my president! ✊🏾✊️✊🏻

#Unity https://t.co/K94eSLyEid

— Earl Wolff (@Ewolff28) September 23, 2017
Only validates

@Kaepernick7

bringing social injustice to light, he kneeled hoping it'd bring attention to what he believed in... Has it not?

— cameron jordan (@camjordan94) September 23, 2017
It's amazing that the most divisive person in this entire country is the President of the United States...he says whatever he wants

— Torrey Smith (@TorreySmithWR) September 23, 2017
U bum

@StephenCurry30

already said he ain't going! So therefore ain't no invite. Going to White House was a great honor until you showed up!

— LeBron James (@KingJames) September 23, 2017
— Kelechi Osemele (@KOseven0) September 23, 2017
A

#POTUS

whose name alone creates division and anger. Whose words inspire dissension and hatred can't possibly "Make America Great Again"

— Kobe Bryant (@kobebryant) September 23, 2017
— Eric Winston (@ericwinston) September 23, 2017