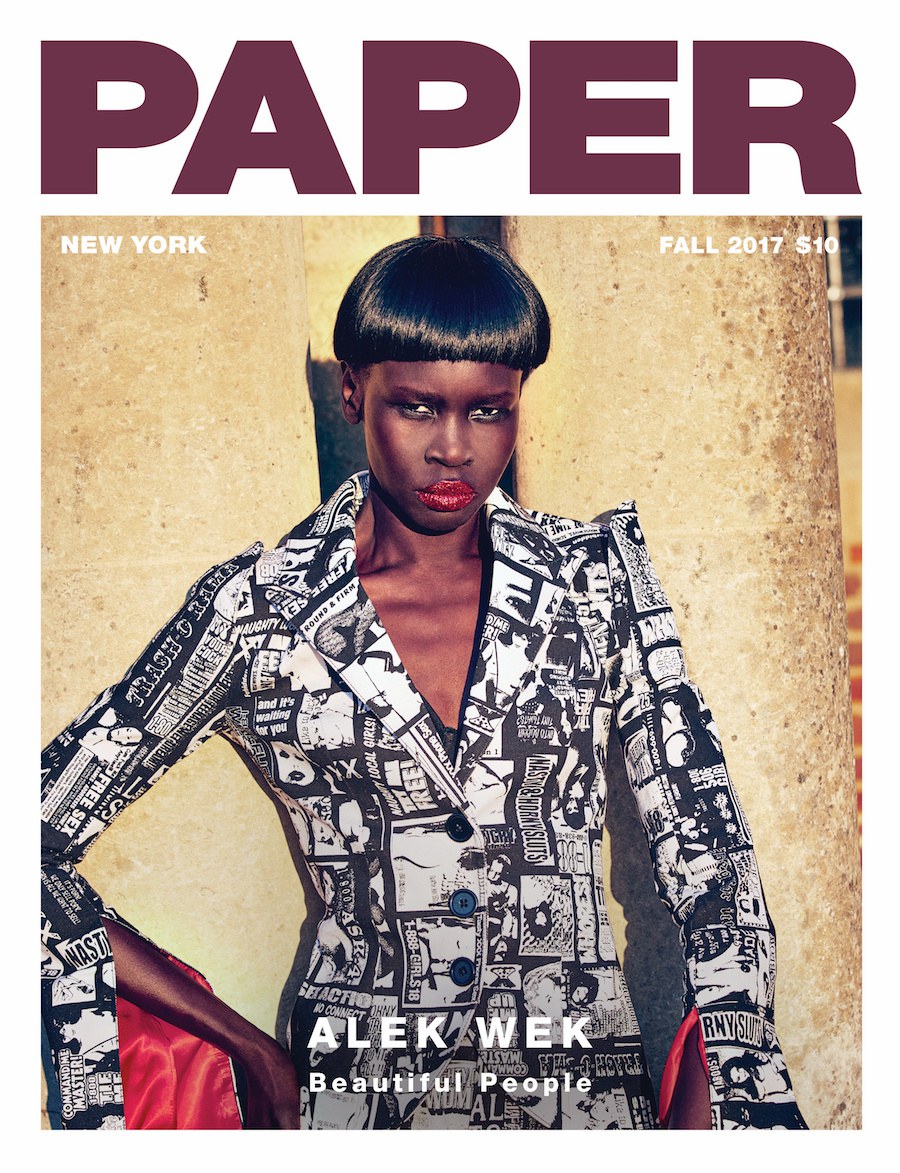 Chocolate-Covered Supermodels SOUTH SUDASN nativel
ALEK WEK
and SUDAN-descended MELBOURNE, AUSTRALIA-born
NYADAK "DUCKIE THOT" THOT
are two of the six Cover Stories for the Fall 2017
BEAUTIFUL PEOPLE Issue
of
PAPER Magazine
!!!
Here are some interview interludes:
ALEK WEK:
On working with Photographer ELLEN Von UnWERTH during the early days of her modeling career:
"Ellen shot me the first time I arrived in New York," Wek recalls. In those days, Wek remembers being the "literally the [only model] with my features from South Sudan on the runways."
On the strides that fashion appears to be taking towards diversity and inclusivity:
"The consumers are speaking up. If you're going to go buy something that doesn't represent you, I can't imagine you'd feel comfortable wearing it."
On posting on social media:
"I haven't mastered posting yet. I don't know how to crop [photos] so I'm always like, 'Go back! Go back!' It's so foreign to me."
She is particularly dismayed with how people "manipulate with Photoshop" to "make themselves look completely different than they do in person."
On people measuring their self-worth in terms of "hits" or "likes" on social media:
"If you mislead people" to get a "hit" (or "like") on social media, Wek says, "you're not going to be trusted, and it's not real. You're kidding yourself. You might as well focus your energy on putting something out there that's exactly who you are. The hits don't make you who you are," she says. "
You are the hit
."
DUCKIE THOT:
On getting her start in modeling after competing in AUSTRALIAN RealiTV Modeling Competition, AUSTRALIA'S NEXT TOP MODEL:
"Uh-huh, no I didn't. I knew I wanted to be a model before that show, and I knew I wanted to be a model after I did it." She follows this declaration with a pause, and then, through intermittent laughter, jokes, "Duckie learned! Duckie taught herself!"
On after leaving ANTM, learning that there was NO DEMAND for BLACK MODELS in AUSTRALIA:
"I literally got nothing. I didn't understand why, but I wasn't getting any work. I think it was a very confusing part of my life for me. I was just this little [black] girl in Australia just being like, 'Oh yeah, I want to do modeling,' but [while also] being in a country that doesn't promote black models. It was kind of like a mindfuck all in itself anyways, so I didn't really get how far I was going to go with it."
On what inspires her creativity:
"When I was meeting with Tim [Walker], we had coffee -- so it wasn't the usual standard model booking. He pulled out this big thick book of all his ideas that he had scrapped out. I don't even know for how long, but it was a huge mood board. With the way my mind thinks, and the way he was really explaining what he wanted, [it] made me want to get that booking even more. He just had this vision that nobody has ever had before, and he was running it all by me. I loved that. When people run things by me and talk to me, that's a whole different side of Duckie. That's when my creative side comes out."
On what we can next expect from DUCKIE THOT:
"I'm not giving away my secrets because I have plenty of things to come. I'm sure you'll be shocked by what realm Duckie ends up in next. It will throw people off. I think it's going to add something completely different to my character.M
odeling is not the full stop for Duckie."
-
CCG