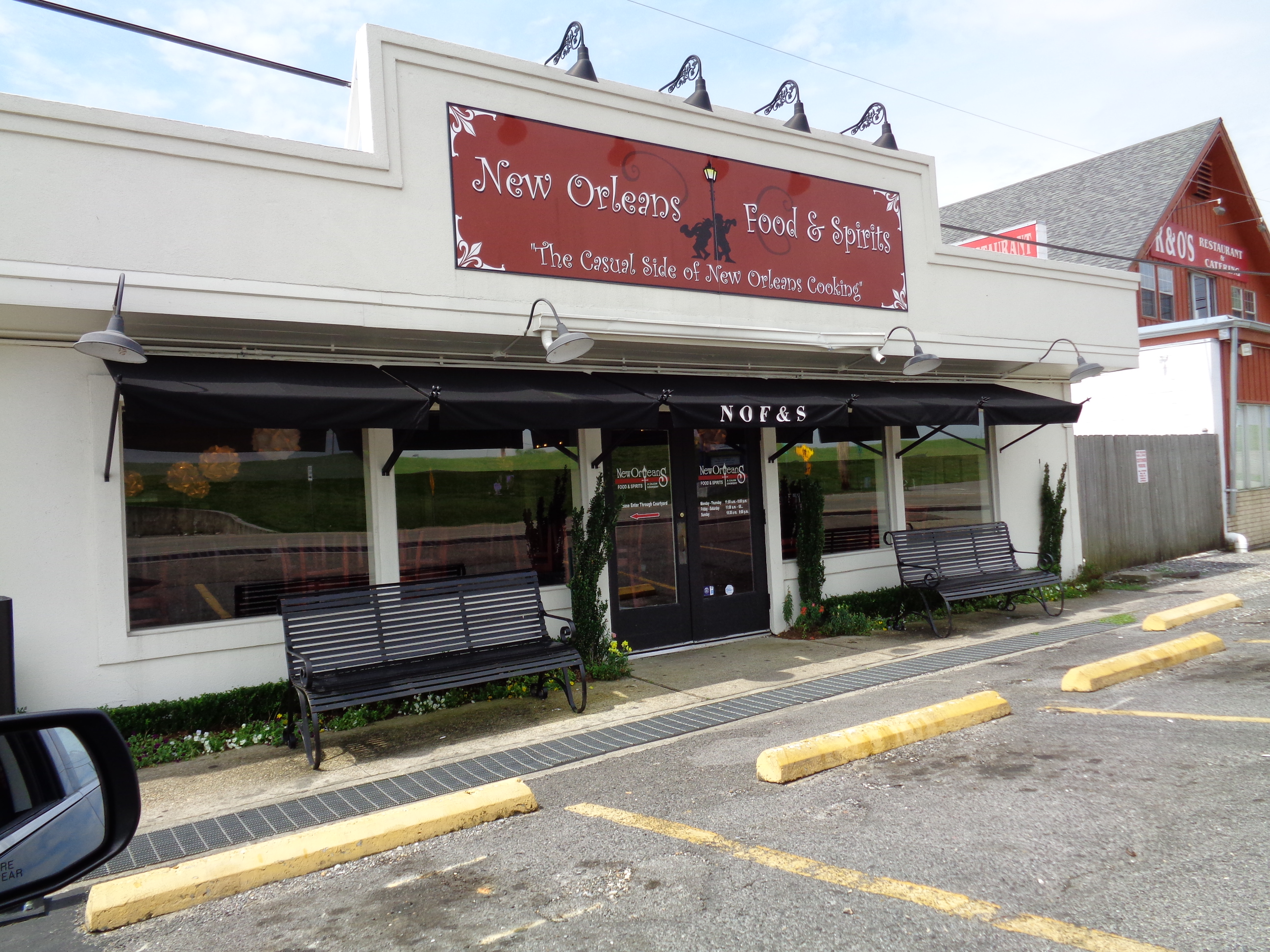 While Yours Truly CCG was enjoying the people, places, things, sights, and sounds of his hometown of NEW ORLEANS, on Friday, August 4, at about 3:30 PM CST, decided to use
Facebook
to reach out for suggestions on from where one could dine on a good
NEW ORLEANS PO-BOY SANDWICH!!!
A wonderful friend whom CCG had not seen in many years reached back with this suggestion. Because she lived near Dad's home, Ya Boy had the rare BLESSING of having a beautiful dinner companion for the evening.
NEW ORLEANS FOOD & SPIRITS
210 OLD HAMMOND HIGHWAY
METAIRIE, LA 70005
504.828.2220
MONDAY - THURSDAY: 11:00 AM - 9:00 PM CST
FRIDAY - SATURDAY: 11:00 AM - 10:00 PM
SUNDAY: 11:00 AM - 9:00 PM
Conveniently located in the
BUCKTOWN
neighborhood of the city of METAIRIE, and;
just across the parish line
from the city of New Orleans,
NEW ORLEANS FOOD & SPIRITS
is a great location for a multitude of affairs - from a casual dinner between friends, to a family gathering, to a dressed-up night on the town, to a place for a gentleman to pop the question to his lady.
We arrived at about 6:45 PM, and were immediately seated directly adjacent to a lovely glass wall that allowed for an excellent view of the courtyard. The house was buzzing with activity and appeared to be at about three-fourths capacity full.
NEW ORLEANS FOOD & SPIRITS MENU
is a smorgasbord of
Traditional New Orleans - Creole - Cajun Cuisine
accented with contemporary cosmopolitan flair. Location dictates that they are heavy on the seafood, yet; they also have a fine offering of steaks and chops.
VOODOO CRAWFISH ROLLS
Because my lovely friend had previously visited, she suggested the
VOODOO CRAWFISH ROLLS
(photo above) as a shared appetizer.
OMG...
Melt in your Mouth, Not in your Hands...
OOPS; does somebody else use that line???
It's an Egg Roll, no; it's Crawfish Étouffée, No; it's Crawfish Étouffée inside of an Egg Roll, NO; it's a VOODOO CRAWFISH ROLL!!!
Oh My SWEET LITTLE CREOLE BABY JESUS!!!
SEAFOOD GUMBEAUX
CCG decided to go with a cup (small size) of SEAFOOD GUMBEAUX (photo above) and a BLACKENED CATFISH PO-BOY (photo below) for dinner.
Gumbo NICE!!!
The foundation of a really satisfying gumbo is found within the
ROUX
. This particular roux was a nice even brown with a textured thickness right between chicken soup and beef, was well-seasoned to a good old-fashioned New Orleans spicy kick, and; contained generous portions of shrimp and crabmeat.
The Blackened Catfish Po-Boy was a skillet-hot, well-seasoned, flaky-tender, evenly-blackened 7-ounce Catfish Filet accented with a slice of Swiss Cheese on 8-inch cut French Bread loaf spread with Remoulade Sauce.
For those like CCG who enjoy their po-boys fully-dressed, your garnishing of lettuce, tomato, and pickle are presented on the side.
SWEET!!!
BLACKENED CATFISH PO-BOY with REMOULADE SAUCE
The evening only contained one slight misstep. My friend ordered Potato Salad that did not arrive with her meal. Due to the increased dinner crowd, she had to wait.
Other than that moment, the young lady that was our server was EXCELLENT.
GOOD FOOD, GOOD FRIENDS, GOOD CONVERSATION, GOOD LOCATION, GOOD SERVICE, GOOD TIMES!!!
-
CCG
PHOTO