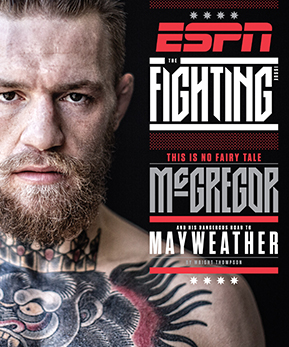 Unless you really have been completely under a rock for the entire
Summer 2017
, then you do know that DUBLIN, IRELAND native UFC MMA WORLD Champion CONOR McGREGOR will face undefeated GRAND RAPIDS, MI native 49 - 0 WORLD BOXING Champion FLOYD MAYWEATHER in what has been dubbed
MONEY FIGHT 2017
, and; is already expected to be the biggest revenue-grossing event in the entire history of sports!!!
The MONEY FIGHT will take place in just 10 days on SATURDAY, AUGUST 26, 2017, at T-MOBILE ARENA in LAS VEGAS, NV.
The really good folks at
ESPN The MAGAZINE
have chosen CONOR McGREGOR to cover the tale of the tape which helps us to understand why
FLOYD MAYWEATHER'S SPARRING PARTNERS THINK He Is UNBEATABLE
, and; travel the timeline of
The MONEY FIGHT - MAYWEATHER vs McGREGOR: HOW WE GOT HERE
.
-
CCG