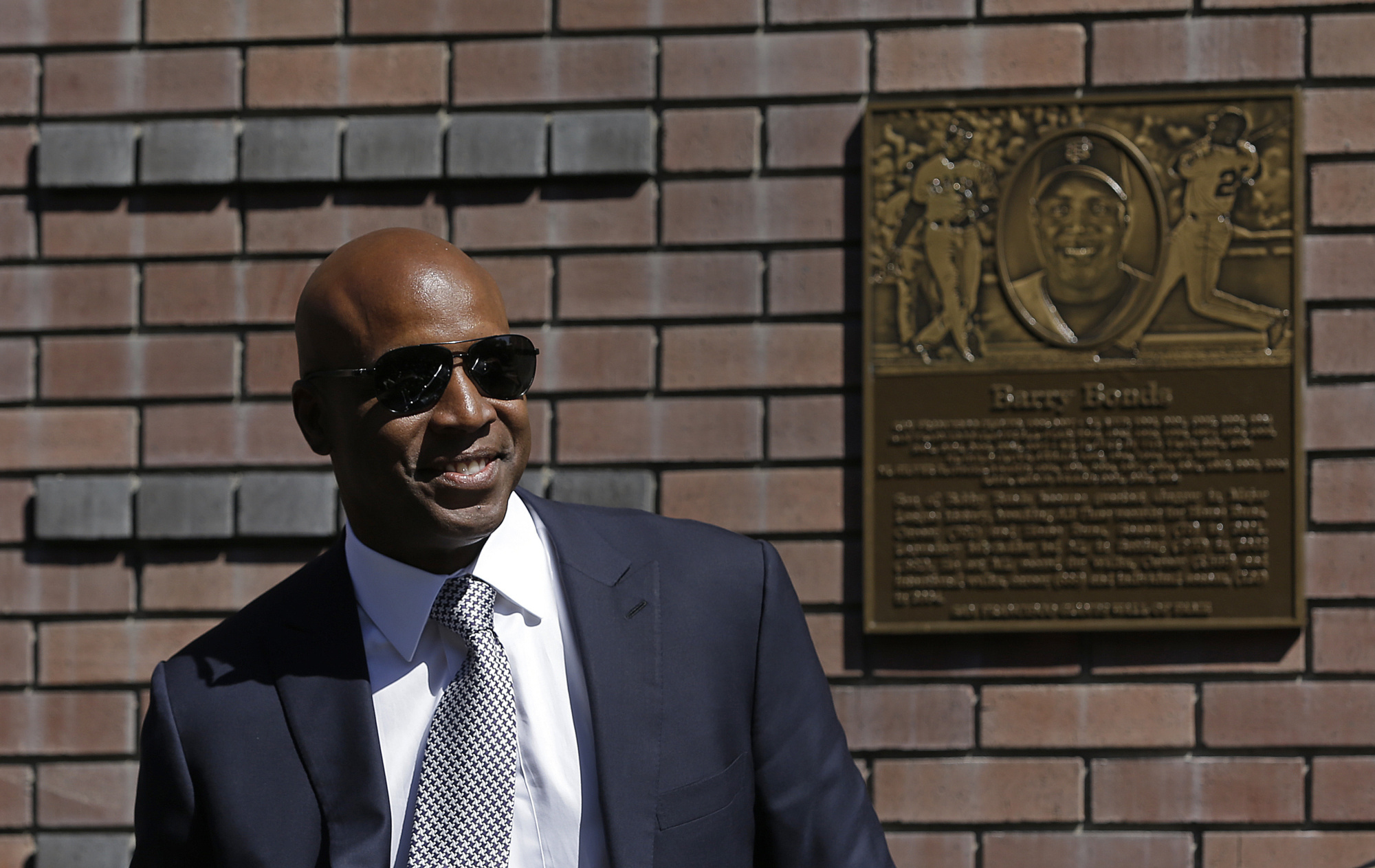 CRAZY COOL GROOVY CONGRATULATIONS
goes out to legendary SAN FRANCISCO GIANYS Left Fielder # 25 BARRY
HOME RUN KING
BONDS for on yesterday, July 8, being honored by the GINATS, and; having a plaque honoring him added to the
SAN FRANCISCO GIANTS WALLOf FAME
!!!
BARRY BONDS
began 21-year MLB career inn1986 with the PITTSBURGH PIRATES. In 1993, he war traded to the GIANTS, with whom he remained until his retirement as an active MLB Player in 2007.
Here are some of the records held by
BARRY BONDS
:
Home runs in a single season (73), 2001
Home runs (career) (762)
Home runs against different pitchers (449)
Home runs since turning 40 years old (74)
Home runs in the year he turned 43 years old (28)
Consecutive seasons with 30 or more home runs (13), 1992–2004
Slugging percentage in a single season (.863), 2001
Slugging percentage in a World Series (1.294), 2002
Consecutive seasons with .600 slugging percentage or higher (8), 1998–2005
On-base percentage in a single season (.609), 2004
Walks in a single season (232), 2004
Intentional walks in a single season (120), 2004
Consecutive games with a walk (18)
MVP awards (7—closest competitors trail with 3), 1990, 1992–93, 2001–04
Consecutive MVP awards (4), 2001–04
National League Player of the Month selections (13—2nd place: 8 – Frank Thomas; 2nd place (N.L.) – George Foster, Pete Rose and Dale Murphy)
Oldest player (age 38) to win the National League batting title (.370) for the first time, 2002
BARYY BONDS is the 49th SAN FRANCISCO GIANT to be added to the GIANTS WALL Of FAME.
-
CCG