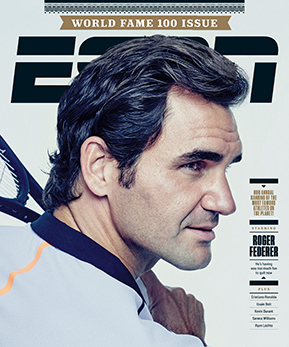 TENNIS World Champion ROGER FEDERER
Is HAVING TOO MUCH FUN To QUIT NOW
as he covers the
2017 WORLD FAME 100 ISSUE
of
ESPN The MAGAZINE
!!!
Who are the MOST FAMOUS ATHLETES On The ENTIRE PLANET EARTH???
ESPN Director of Analytics BEN ALAMAR devised a formula that combines endorsements with social media following and internet search popularity to create the 2017 ESPN WORLD FAME 100 rankings. (Note: NA means either an athlete doesn't have an official account for a social media site or an accurate endorsement figure could not be confirmed.)
Check out the full list of the 2017 ESPN WORLD FAME 100.
-
CCG