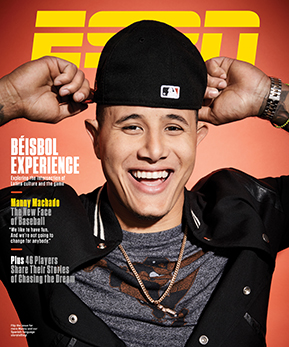 DOMINICAN- AMERICAN MIAMI native BALTIMORE ORIOLES Infielder #13 MANNY MACHADO is
GOING AGAINST The GRIND
as he covers the new issue of
ESPN The MAGAZINE
!!!
Here are some interview interludes:
On how he plays the game with such an abundance of joy and happiness:
"We think of it as out with the old and in with the new. We just like to have fun and go out there and enjoy ourselves. Always a smile on our faces, just playing the game that we love."
On his beginnings and playing "low-budget travel ball":
"We thought we were big leaguers with our Big League Chew gum, the eyeblack -- we had flair. We liked to show emotion, and a lot of people didn't like that. We were mostly Latin, speaking to our parents in Spanish and our teammates in English. Our parents got into fights a bunch of times. Brawls. There were some good ones, some
real
good ones. Well, bad ones, actually. I remember there were a lot of bats involved. A lot of blood. It was bad."
On how he more strongly identifies with fellow Latin teammates and opponents:
"I talk to everyone, but most of the people I hang out with are Latin. We all mostly stick together." The fraternity is strong. On the first day of his first road trip as an Oriole, a Rangers clubhouse attendant handed him a plate of Latin food. "Nelson Cruz sent this over," he said. It happened the next day, and the day after that.
That bond, and a desire to honor his family's heritage and the memory of his late grandfather, led to his decision to play for the D.R. in the World Baseball Classic in March. He saw it as an opportunity to learn more about his culture and play in the expressive, celebratory and nonjudgmental way he remembered as a child. "We were out there celebrating like Little League," Machado says. "People hate us sometimes because we just like to have fun, no matter what. We lose -- we're having fun. We're not going to change. The younger generation, that's how we play. If we're going to suck, we're going to suck, but we're going to go down how we do it. We're always the same, no matter what."
-
CCG