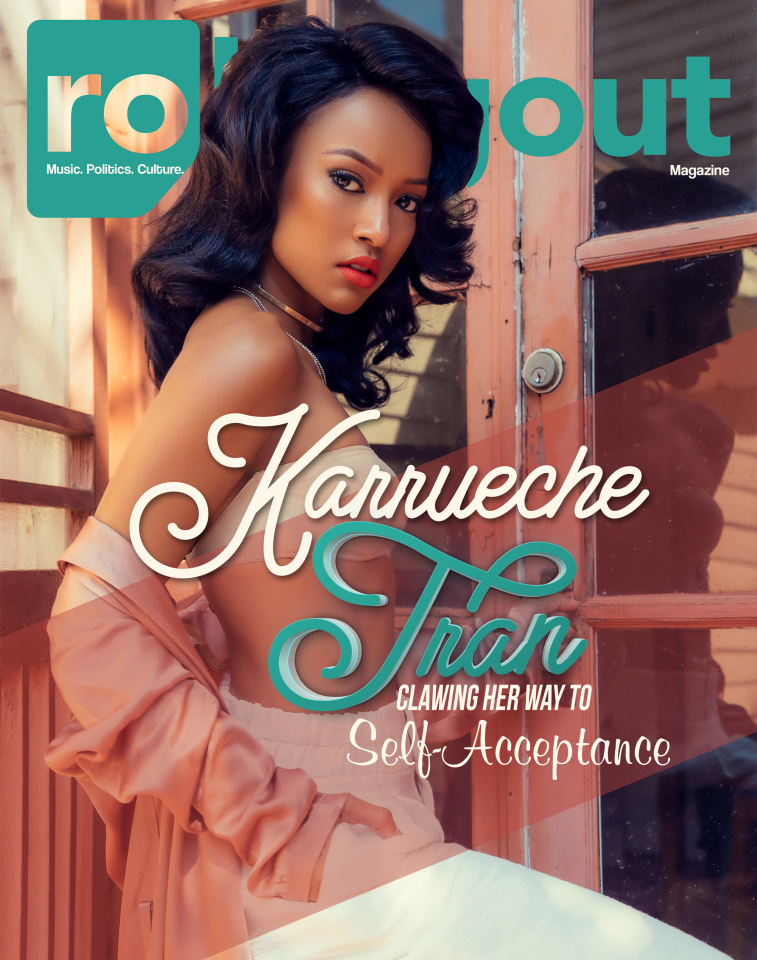 Actress/Model KARRUECHE TRAN is
CLAWING Her WAY To SELF-ACCEPTANCE
as she covers the new issue of
ROLLING OUT Magazine
!!!
Here are some interview interludes:
Favorite song right now:
"Love Galore" by SZA and Travis Scott
Last book read:
Broken Flowers: And Other Stairways to Heaven by Robert M. Drake
Must see movie:
It
Favorite thing to cook:
Enchiladas, truffle mac and cheese
Next goal:
A big movie like Columbiana or The Fast and the Furious.
To your 20-year-old self:
"Stay in school. I was in community college for graphic design. I want to go back."
On starring in new TNT series CLAWS:
"I have had plenty of auditions that I have been on and gotten call backs but they go with someone else. I usually self-tape but for some reason, I wanted to go in for this role. I went in there, auditioned, showed my talent and did what I needed to do. It wasn't given to me. It wasn't a favor. And it's an amazing feeling that shows I am on the right path."
On how for her, acting has such therapeutic value:
"In real life, I am more emotionally unemotional. I have a lot of emotions and things I have been through but I don't show them. I keep a lot of stuff bottled up, so I feel like acting –– in a sense –– is like therapy. It's a way for me to release these emotions that I felt. And I love it. Acting is not easy at all. There are people who have been doing this for years and years and years. I am just getting started and building my way up."
"I got to work on myself through a role like Virginia. I can create and be fun and she's a hot mess and extra, like you said. And I have this crazy wild side within me, so I get to let that side out –– that ratchet side. Being a part of this project is huge for me. I am so happy."
On valuing her friendships:
"I have friends that I have had since middle school, which is great because you have all of these years of growing together and going through things. Even with Christina, we recently became best friends over the past four or five years but the way we bonded is we are two girls who identify with one another; we've been through the same situations and we like to have fun. I respect that and I care about that, especially in this industry where there is so much phoniness out there. I cherish having genuine friendships."
On the value of finding time to give back:
"For me, philanthropy and volunteer work is something I have always done even before whatever you want to call this fame stuff. I look at my life and I feel like I am blessed to be in this place and afford this and that and take care of my family. It's important to support your community even if you don't have money. You can volunteer your time. Having the spirit of giving back to someone who is not as privileged as you forges healing.
"I don't know if I would be where I am without giving back. I'm trying to promote positivity and love in this day and age, especially with social media. People forget it's OK to be kind to one anther. People find the negative in anything. It's okay to smile, to have a conversation –– it's the little things the things money can't buy. I think people forget that love is a universal feeling. It's not just love between partners, but love within your body. Whether you are walking down the street or going to work or hanging with friends, it's exuding that air and kind embrace. That's free. You don't have to pay for it. You just have to be willing."
On the value of SELF-CARE:
"Anyone out there dealing with low-self esteem, you have to learn to love yourself. You have to look at yourself in the mirror and learn to take care of yourself and make you happy. Whatever situation you go through, as hard and as tough and dark as it may seem, there is a light at the end of the tunnel somewhere down there. Be patient. Be confident. Have faith. Everyone wants a now resolution but it takes time to get over things."
-
CCG