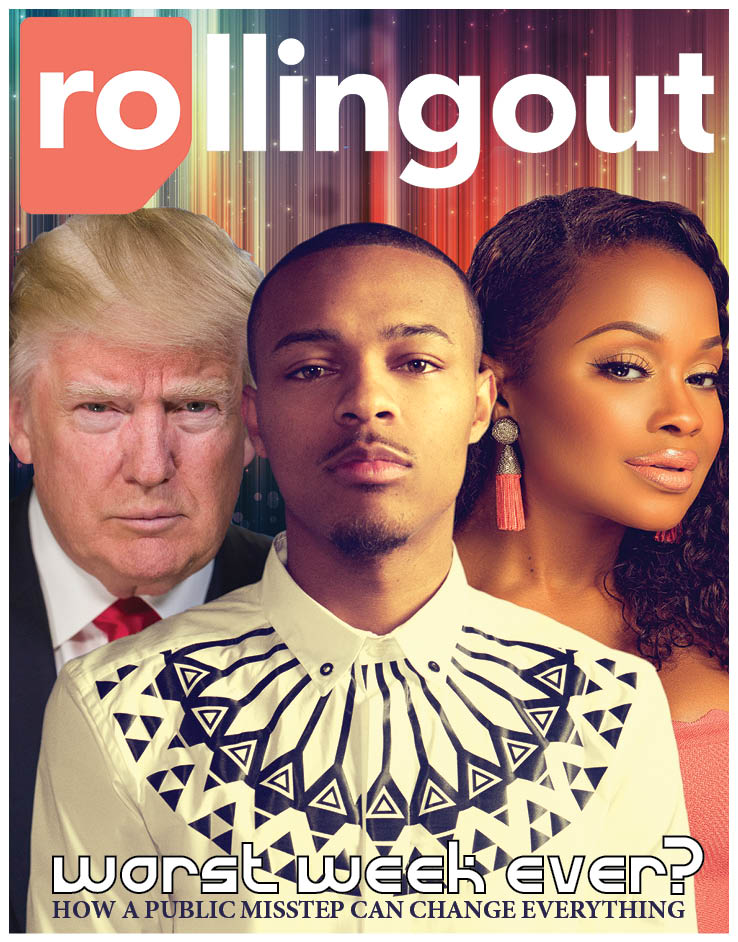 This past week has had us to be enraptured by an abundance of celebrities who have had both their private and public mistakes to go ballistic, and; end up as fodder for the world wide web.
The really good people at
ROLLING OUT Magazine
have chosen to highlight a few for
WORST WEEK EVER - HOW ONE PUBLIC MISSTEP Can CHANGE EVERYTHING
.

POTUS #45 DONALD JOHN TRUMP:
The What:
In my initial draft, there was a very specific Trump-related incident that I wanted to address. But before I could even formulate the words, our "president" had done at least three other things. Simply put, he tires me.
The Aftermath:
I still don't want him as my president.

BOW WOW:
The What:
In an attempt to flex on the world super hard, Bow Wow posted a photo of a private jet, along with quotes suggesting that this was his mode of transportation for a New York press run. But that fanciful tale was quickly and hilariously debunked when a "fan" outed him just moments later aboard a commercial flight.
The Aftermath:
It's been a rough few days for Mr. Wow, as he's officially become a trending topic for all the wrong reasons. Just do yourself a favor and Google #bowwowchallenge, and we promise it will be well worth it.

PHAEDRA PARKS:
The What:
This one had been brewing for quite some time. As the "Real Housewives of Atlanta" season unfolded, an ongoing storyline was Porsha Williams accusing Kandi Burruss of attempting to drug her in order to engage in a threesome with Burruss and her husband Todd Tucker. It wasn't until the final installment of what felt like a yearlong reunion special that the truth finally came out: it was Phaedra Parks who actually started the rumor. Needless to say, all hell broke loose.
The Aftermath:
For all of the goodwill Parks established over time, it appears this one act could have erased it all in the blink of an eye. Reports have it that she is being relieved of her "RHOA" peach, and may also be hit with a big fat lawsuit, compliments of Burruss. Double ouch.

STACEY DASH:
The What: The Clueless actress apparently has this thing where she, uh, you know, comes across as if she hates Black people. Like when she said Black History Month should be eliminated.
And Black networks. And award shows that only celebrate Blacks.
The Aftermath: The International Caucus of Black Folk held a vote and officially revoked her membership card. We're not entirely sure if she'll ever be able to gain re-entry, but we'll table that discussion for another day.

TYRESE GIBSON:
The What: The always outspoken actor-singer took it upon himself to hop on social media to share his unsolicited opinion that weave and cosmetic surgery are the primary reasons that a lot of women are single.
The Aftermath: He. Got. Dragged.
-CCG