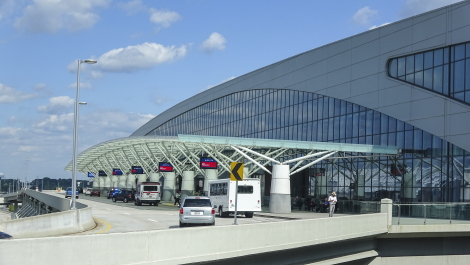 What is deal with all of these recent incidents of
foolery
at our nation's airports???
This time, it was NOT an issue of an overbooked flight, or; inflight panic over a malfunctioning plane, or; even a mass panic over an active shooter in the airport.
THIS time it was a case of a woman who lost her mind, stripped naked, and; chose to display her private parts at
HARTSFIELD-JACKSON ATLANTA INTERNATIONAL AIRPOT (ATLANTA AIRPORT)
.
The woman purchased an airline ticket in cash and shortly thereafter was heard to say, "whew Jesus" and then began to take off her clothes.
A video posted to Twitter shows the unidentified woman strip naked and then parade around the terminal.
The woman was heard shouting;
"Hey everybody … Hey every f—ing body, look at how f—ed up my p—-y is and I don't give a f–.'"
She then bends over and spreads her butt cheeks to the shock of airport travelers. Airport police arrived a short time later and took the woman into custody without incident. She was then transported to Grady Hospital for psychiatric evaluation.


!!! WARNING!!! NSFW!!! EXPLICIT CONTENT!!! #NSFW!!! WARNING!!!
-
CCG
ROLLING OUT