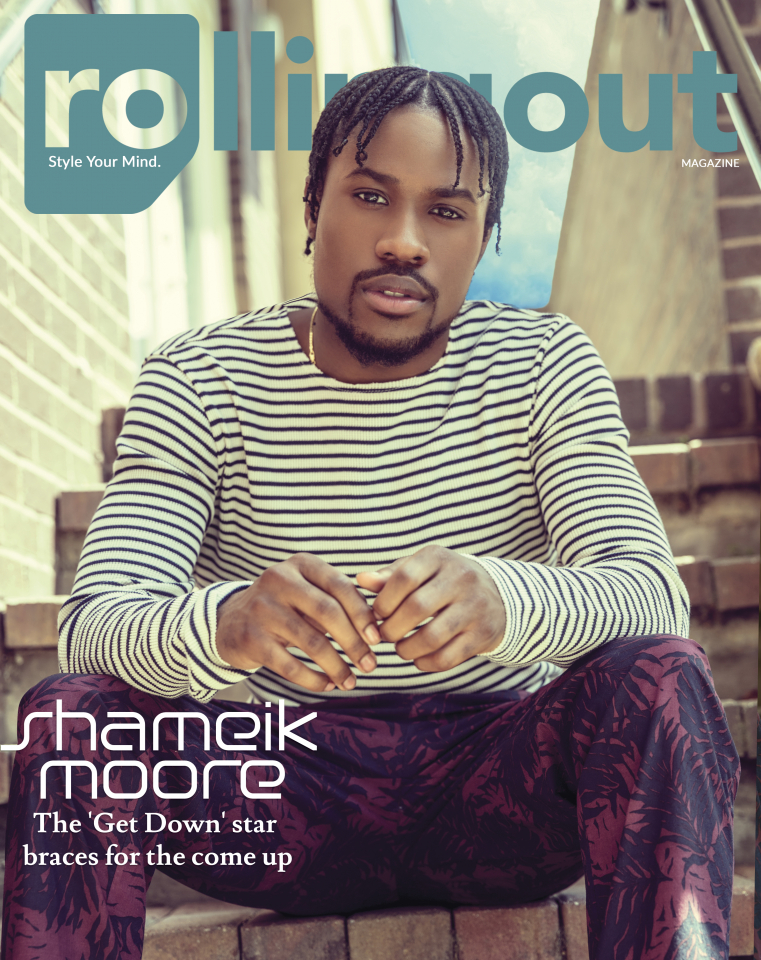 NETFLIX series
THE GET DOWN
star SHAMEIK MOORE covers the new issue of
ROLLING OUT Magazine
!!!
Here are some interview interludes:
I think we're all excited about the return of "The Get Down" on April 6. But how are you feeling, now that the world gets to experience more of Shaolin Fantastic?
I'm excited because I think it's a great show. It's very dramatic, and the plot just continues to elevate. It's the same characters — they've just grown a bit since it's a year later in their story. When you see it, though, you'll understand why it took so long for us to come back, because it's very well done.
How has it been playing Shaolin Fantastic? It feels like a real opportunity for you to show more of your versatility as an artist.
The whole process has been great, but I think the real skill of a great actor is to not be acting at all. For me, it has always been about finding different parts of myself and using that to create these characters so that people don't believe that I'm acting when they see me. I really am as geekish as Malcolm was in Dope, and I am as confident and as talented as Shaolin Fantastic. But these are all characters that are created by other people. So, once they tell me what they need, I try to pull some pieces from within me to add to the character.
We've been playing some of your music throughout the day, and it made me wonder if being around these great film projects has impacted your personal projects at all.
For sure, because knowledge is power. I didn't go to college, so in many ways, this is my college. So being able to work on movies with some amazing people has been great, because they've all been shot beautifully, written well, and just executed perfectly. Because of that, I now have a standard when it's time to release my project. No visual will be just a regular music video that anyone can do.
What did you learn once you began to study the beginnings of hip-hop?
More than anything, I learned that there is a message in the music. When I was growing up, and really get into hip-hop, it was a lot more about the melodies. Like I would listen to what the people were saying, but it was really about the beat and the world that it takes me to. I didn't really pay attention to what the Ying Yang Twins were saying on "The Whisper Song," or Chingy's "Right Thur." I just liked the way that it made me feel. So what I learned about hip-hop as it was getting started in the '70s, within those good sounds, it was also about knowledge and power. The Black community was about educating everyone that was listening to us. The wordplay was also a lot more clever than it is right now because right now it's not really about that. It's not the same culture — which is sad because I think that the older generation wanted information more than my generation does.
It's dangerous to compare yourself to others, instead of trying to be the best you that you can possibly be. Would you agree with that?
I do, but I think that you first have to learn who you are. A lot of people just don't know [who they are], and I was one of them. I didn't know who I was, I just knew how talented I was, and how talented that I could be. In my mind, I could see my future, but I was way too focused on who my friends were, or how I was being perceived. But once I let that go, and just started focusing on me, and being the best me that I could be, that's when things just started happening. That's when I finally started to become Shameik.
-
CCG