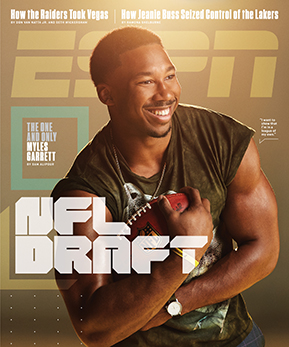 21-YEAR-OLD 6"4' 252 lb. TEXAS A&M Defensive End MYLES GARRETT could potentially become the n#1 OVERALL PICK of the 2017 NFL DRAFT!!!
For that. and so many other reasons, MYLES GARRETT is viewed as
The MOST INTERESTING MAN In The 2017 NFL DRAFT
, and he covers the
2017 NFL DRAFT PREVIEW ISSUE
of
ESPN The MAGAZINE
.
Here are some interview interludes:
THE MAG: What's going through your head these days, just a month shy of becoming an NFL player and potentially the No. 1 pick?
MYLES GARRETT: I didn't know how this would play out when I was a kid. I knew I wanted to play ball, be a paleontologist and write poetry. I thought, "Heck, where will I find the time? Well, football comes first, and I'll just find some time for poetry, and paleontology can come at the end." I made this plan at 14, and dang, it's all coming together. The day I've been dreaming of is tomorrow. Now I have to face it. I'll either attack it and win or get swallowed by it.
By all accounts, your draft prep has been flawless. At the combine, you ran like a running back and jumped like a wide receiver and drew comparisons to all of the physical specimens at your position. Who do you think is your best comparison?
You can compare me to those wide receivers and the great stars of the league, but I want to show that I'm in a league of my own. I don't want anybody to be like me. By the end of my career, I don't want to hear talk of another Myles Garrett. I want to be the greatest. The greatest that ever played, regardless of position or era. They say that's Jerry Rice. If his total greatness is considered the best of all time, I want to exceed that.
One defensive coordinator told Sports Illustrated that the closest player comparison is Wolverine. Your coach Kevin Sumlin used to call you Batman. Which superhero comparison do you like?
[Laughs]
In high school, they used to call me Superman. Around here they call me Flash. I prefer Flash. He's the fastest man alive, but he isn't invulnerable like Superman, he doesn't have all these powers, so he has so much pressure on him to keep up with the Justice League, and he handles it so well. That's my life.
What was your least favorite part of the draft process?
At the combine, you have informal meetings, just a roomful of tables with each team -- scouts, coaches, former players. You're meeting everybody for the first time, and they're all studying you like you're a piece of meat. The formal team meetings made me more nervous, because then you're in this little hotel room with 15 people, and they've got film of you [laughs]. It's hard for me to express myself like other folks.
What was the toughest question you fielded in those meetings?
I'm not gonna say who it was, but my worst one wasn't even a question, more of a statement: "Last year, seemed like you were unstoppable at the beginning, but after that it seemed like you didn't care." I was like, "Yeah, I was hurt."
What career goals have you set for yourself?
I gotta win Defensive Player of the Year, whether it's my first year or anywhere down the line, but that's what I'm going for in my first year. I want to be the sack leader. I want to lead in TFLs. I want to be dominant from day one. I want the single-season sack record.
That's a goal for your rookie year?
Rookie year and throughout. I wanna break the rookie-year sack total as well. And I want to be in the career top 10 for sacks, but I don't know if I'll play that long.
What's the first thing you'll do when you sign your contract?
Buy my dad a car, because what he has right now -- he deserves better. My family deserves better. I'm just gonna focus on spoiling the people that raised me and cared for me. And what I do for myself, that's later on down the line when I feel like I earned it
-
CCG