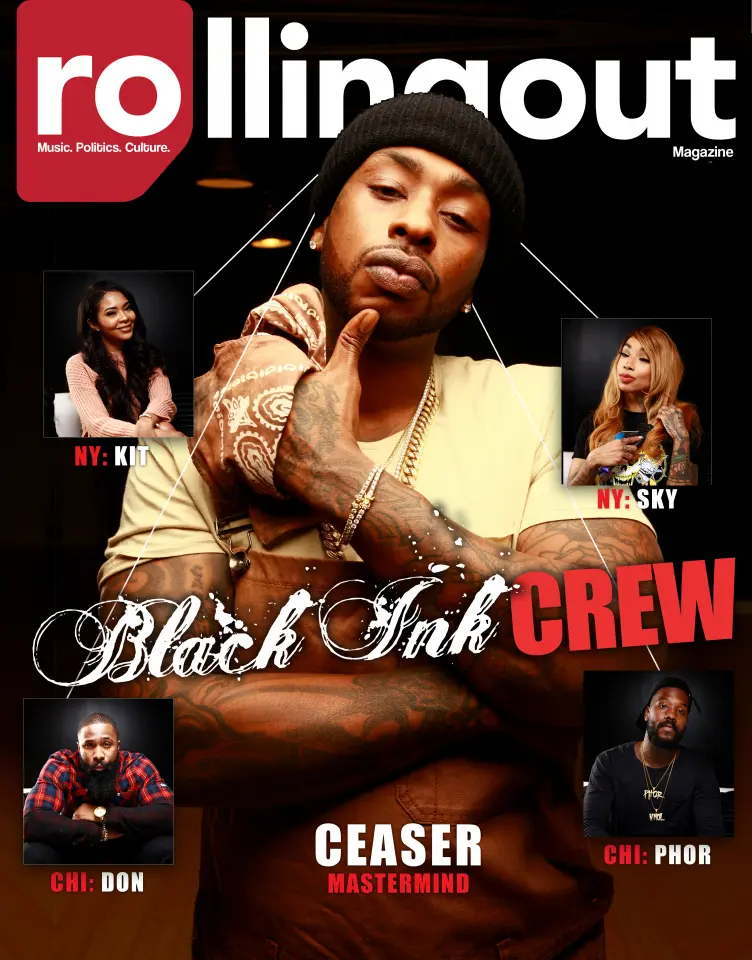 HARLEM, NY-native
BLACK INK TATTOO STUDIO
CEO/Owner CEASER EMMANUEL is also star of his own VH1 RealiTV show,
BLACK INK CREW
, and he covers the new issue of
ROLLING OUT Magazine
!!!
Here are some interview interludes:
On the common misconception that the BLACK INK TATTOO STUDIO was easy to build and open:
"A lot of people don't understand the struggle of this whole Black Ink thing. It didn't just start with me; it was a whole bunch of us," he said. "I pushed it, but people need to understand that it's hard to come out of your comfort zone."
On his motivation behind expanding with franchise opportunities:
"When you see a Red Lobster and a Bed Bath and Beyond next to you, you realize you are a franchise now. That's why I'm expanding the way I am. After I opened Atlanta, I'm now focusing on Orlando, then Houston. My goal is to hit 10 shops. I want to show kids in the 'hood that you don't have to dribble a basketball or go in the studio and rap. Look at me, I'm a tattoo artist, and I'm getting it."
On how becoming known as a public figure has drastically altered his everyday life:
"Having a relationship in the public is one of the most difficult things … it's hard," he said. When a public figure is in a relationship, according to Emanuel, attacks can come from anywhere. There are misleading photographs from paparazzi and untruthful tabloid stories. The young mogul explains that even his cousin was once mistaken for his girlfriend. "Nothing is the same anymore; everything is different. I can't even go to a Walmart because someone might write about me being in Walmart. But why can't I go to Walmart? They have lots of cheap things and I could use the things in there."
On what separates him from others in the field, and;what is unique to the experience he creates:
The fact that I'm a real businessman and not just an artist is what I believe separates me from others in my field. I have seen a lot of artists come and go, but I feel like I'm on a great path crossing urban into commercial. We've brought value to an industry that thought we weren't valuable at all.
On a role model from within his industry:
'
Within my industry, I would say, Mya Bailey, because he was the first tattoo artist I looked up to. He set the tone for the next generation. He documented the history of the Black tattoo artist. He opened my eyes to different things.
-CCG