Chocolate-Covered ABC drama
HOW TO GET AWAY WITH MURDER (HTGAWM)
star AJA NAOMI KING and Singer/film
HIDDEN FIGURES
Actress JANELLE MONAE are two of the five fresh faces selected to cover the May 2017
GLOBAL BEAUTY ISSUE
of
MARIE CLAIRE Magazine
!!!
They other three Cover Stars are Actresses ALEXANDRA DADDARIO, EMILY RATAJKOWSKI, and ZOEY DEUTCH.
Here are some interview interludes:
AJA NAOMI KING on working as a BLACK WOMAN in HOLLYWOOD:
"Maybe I'm outdated in thinking this, but because I'm a young black woman and don't see very many being the lead in a film, I have this fear,
Will I be working?
When I first started in this industry, my goal was to be some best friend. The sidekick. I thought that would be an accomplishment. But seeing people like Viola and Tracee Ellis Ross and Gabrielle Union and Lupita [Nyong'o]—who was two classes behind me at Yale—I can hope for more."
On her role on the ABC hit drama HTGAWM:
"That has been the real artist challenge, being given something so outlandish and then creating your own gravitational pull. But you learn very quickly that you can't ridicule it too much, because it will be harder to honor it and harder to do your job. I am still enjoying it, but it is hard work."
JANELLE MONAE on respecting women
:
"People have to start respecting the vagina. Until every man is fighting for our rights, we
should consider stopping having sex. I love men. But evil men? I will not tolerate that. You don't deserve to be in my presence. If you're going to own this world and this is how you're going to rule this world, I am not going to contribute anymore until you change it. We have to realize our power and our magic. Because I am all about black-girl magic, even though I'm standing with all women. But this year? This year, I am so carefree black girl."
On being strong and in control as a woman:

"It is important to redefine what sexy is. To redefine style… It is important for women to be [in control], especially when gender norms and conformity are pushed upon us. Women automatically are told that this is how you should look. This is how you should get a man. This is how you should get a woman. You need to fit into all these boxes to be accepted. I don't subscribe to that way of thinking. I don't think we all have to take the same coordinates to reach the same destination. I believe in embracing what makes you unique even if it makes others uncomfortable. I have learned there is power in saying no. I have agency. I get to decide."
On the origin of her singular sense of style:

"Being poor helped me be more creative. It was my superpower. I had to get comfortable in my own skin—you know when somebody walks in a room and they have such a confidence that they dare you to say something about them."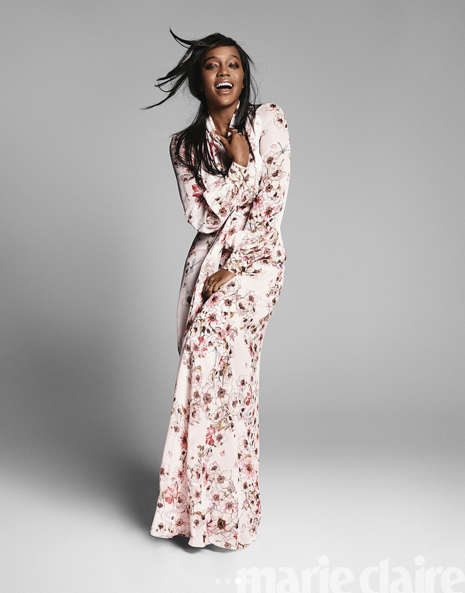 -
CCG
THEYBF