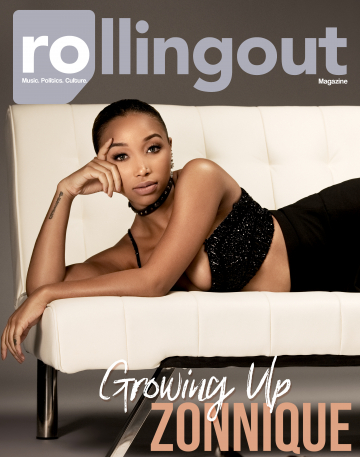 ATLien Singer/RealiTV Star/Model ZONNIQUE PULLINS covers the new issue of
ROLLING OUT Magazine
!!!
Here are some interview interludes:
How was your recent listening session, and this entire process of releasing new music?
It was a really great experience. I was actually kind of nervous going into it. I didn't know if everybody was going to mess with my music. I always want my music to be relatable for everybody, so I just wanted it to be perfect. Everyone that showed up took to it really well. My grandma even had her own favorite, and that's kind of how I wanted it to be. The music is all really different, with every song having a different feel. So you have to go on a journey with me and my music.
As a solo artist, how has this journey compared to when you were in a girl group?
My musical journey so far has been lesson after lesson. Every step that I've taken in my career, from OMG Girlz on through, has all been leading up to what I'm doing now. I'm just really excited that now I'm filling into who I am now as a solo artist, and who I am overall. I think I've just been getting more into myself and really figuring out how I want to do things, and being able to have creative control over everything on my own. It's been really fun figuring it all out. It's also been stressful at times but it's definitely coming together now.
Though you live a pretty public life, you also seem to be an extremely guarded person.
That's so true. I would say that me as an artist is a lot like me as a person. I'm still really secretive, I'm really to myself, and really quiet. But I think that when I'm around my fans or when I Periscope and do little things where I can interact with them, I feel like I'm more open. When I'm on Periscope, I'm really myself and I don't know how that happens. I'll just start talking like I'm really talking to my fans when I'm really just looking at myself on a screen. But I think that's when I'm most open when I get to actually interact. Other than that, I would just say I'm just all around a really chill person.
We've been talking about your music, but you are also branching out into television by yourself. Talk about that.
Well, I just shot for the show "Growing Up Hip Hop: Atlanta." It was different from "The Family Hustle." "The Family Hustle," first off, is more about my parents, and my little brothers pretty much take over the whole show. I used to be like, "I have to do something today. Can I just be on the next scene, or can y'all use all the other kids?" But now, it's all about me and it really showcases me growing up in hip-hop, pretty much just figuring my whole career thing out. I think the show also helped me realize a lot of things that I didn't think about so much, or stress about when I really needed to. I'm a procrastinator, and I think this show showcases that. It helped me to get better with things and get more on top of things. I think when I have to do reality shows, I always want something to be going on so I'm like, "OK let me get this together, so I can showcase it on the show." So, it was definitely different. That's how I would sum it up. But you just have to watch it and stay tuned because there's some drama as well.
Is there a side of you that regrets having such a public life?
I don't think that there has been a time where I really regret the life and the fame in my life. It's also brought perks, as well, which is why I never regret it. And I've never been extremely private to the point where I just want it all to go away. I'm just cool with being private and not caring about people wanting updates all the time, I guess. My fans kill me about Instagram like I don't update it enough. And my mom and my team all say the same thing. It's a little weird, but I don't regret it.
Now that you are an adult developing your own name within the industry, how do you separate yourself from your family name and truly be Zonnique?
Even now, I'm still not separated from them, so I couldn't exactly say how I do it. I feel like that's what I've been trying to do for so long. I think that in time, there will be more of a separation. But I also feel like with me just starting off, it's a little hard to separate between the two. "The Family Hustle" is supposed to be getting a new season, and I don't really expect people to separate me from that right now. But I do expect it to happen when I make a full name for myself. Then I'll be like looking for people to say, "That's Zonnique," instead of "That's T.I.'s daughter or Nique-Nique." It takes time, thoughQ
-
CCG
— Lamar Crumb (@LamarrCrumb) January 21, 2017