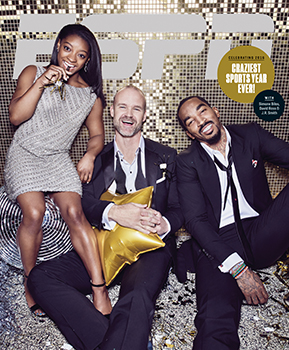 TEAM USA RIO 2016 OLYMPICS GOLD MEDAL Gymnast SIMONE BILES and 2016 NBA WORLD Champion CLEVELAND CAVALIERS Guard/Forward #5 J.R. SMITH are joined by 2016 MLB WORLD SERIES Champion CHICAGO CUBS Catcher #3 DAVID ROSS for the
GREATEST SPORTS YEAR EVER
of
ESPN The MAGAZINE
!!!
Here are some interview interludes:
SS: What's the thing you hear most often when people meet you?
JRS: "Where is your million-dollar shirt?" I'm like, "It's underneath these $25 Hanes T-shirts I've got on."
SS: What about you, Simone?
Simone Biles: "You look taller on TV." I get that all the time. I know they think I'm taller because it's so close and I look stretched out, but I'm just 4-8.
SS: You don't look very tall on TV either, honey. What do you hear most, David?
David Ross: "You're really not that old." You know, the old grandpa thing -- Grandpa Rossy with KB [Kris Bryant] and Rizz [Anthony Rizzo]. That's how everyone treats me. Then I got back to my hometown, and everyone is like, "I wish I could retire at 39." So they put it in perspective.
JRS: He'll be on my slow-pitch softball team.
DR: Yeah, now we're talking.
JRS: My pinch-runner right here [Biles], she's gonna do real good.
DR: I'm gonna DH. I've never been a good hitter, so the DH thing would be nice in softball.
SS: J.R., what's one of the most memorable moments of your title run?
JRS: At halftime [of Game 7], one of our oldest guys on the team, James Jones, came to me, and he's like, "Man, it's time for you to do something. You've been sleeping the whole playoffs, the whole final series." First couple of shots I got coming out, I was like, "You know what, I'm gonna shoot it." Fortunately they fell, and we started making our way back.
SS: Was there any part of the celebration where you thought, "I can't believe I'm here right now"?
JRS: The plane ride back with my teammates. I didn't know how to feel. Did this really happen? What just happened? Of course, I'm still shirtless. I'm sitting on the plane, Tristan [Thompson] and LeBron next to me. LeBron's got his MVP trophy and he's looking at it, and I'm looking across like, "We did it!" Being down 3-1 [in the Finals] was the worst feeling I've ever experienced in my life. I didn't want to talk to my teammates, I didn't want to talk to my wife, I didn't want to talk to my kids. And to come back from that is a lesson that you can come back from anything.
SS: Simone, these two guys broke super-long streaks. You were the favorite all along. What's the pressure like when you have to be the best every time?
SB: I wouldn't necessarily say that. I'm only 19. It's kinda crazy if you're older and putting expectations on a poor 19-year-old. But to me, I go out there, and I do what I trained. We prepare so long for that moment, so it's just kind of exciting.
SS: Is there any feeling of, "I'm 19, I just did the best thing ever. Where do I go from here?"
SB: Sometimes I think of that and I'm like, "Simone, I don't know what else you can do. What more can you do? Maybe you can repeat yourself." I'll take time off, get out more, go outside more, vacation.
-
CCG