Actress RUTH NEGGA portrays
MILDRED LOVING
in the film,
LOVING
, and, she covers the January 2017 issue of
VOGUE Magazine
!!!
RUTH NEGGA was born ADDIS, ABABA, ETHIOPIA to an ETHIOPIAN father and IRISH mother. Due to political violence in Ethiopia, Ruth and her mother fled to her mother's native IRELAND. Her father was not able to leave with them. Politically-unable to leave his country; three years later, he died in an automobile accident.
Ruth was 7 years old.
Here are some interview interludes:
On her biracial identity:
"People have always made assumptions about me. I become very territorial about my identity because it's been hijacked by so many people, with their own projections." Understandably, she doesn't want to be pinned down, reserving the right to change her mind, about herself or anything else. "I don't trust anyone who doesn't change their mind."
On leaving ETHIOPIA at age 4, and; subsequently losing her father at age 7:
"We were going to go to America, but; my dad
didn't get out in time. We found out in a letter and a phone call. This was 1988. There wasn't any grief counseling for kids."
On growing up in IRELAND, and; how moving to ENGLAND at age 11 had her to more acutely feel the efects of racism:
"I remember thinking, I'm just me. When you're a kid, you're just you, aren't you? It was when I moved to England that I felt it, because I was Irish and black."
On discovering the writings of MAYA
ANGELO, JAMES BALDWIN, and, TONI MORRISON as an IRISH BLACK Girl in ENGLAND:
"I didn't have that many black people in my life, so I had to sort of search them out. And I didn't grow up in America, but I identified as much with their writing about the black experience as I did with their writing about the human experience."
-
CCG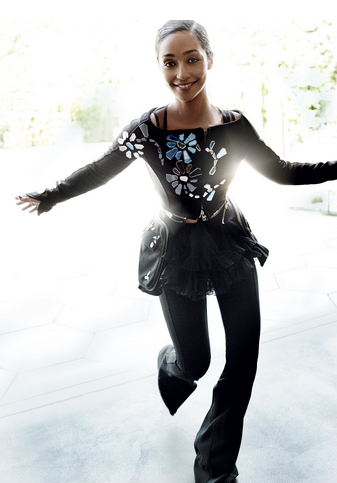 THEYBF