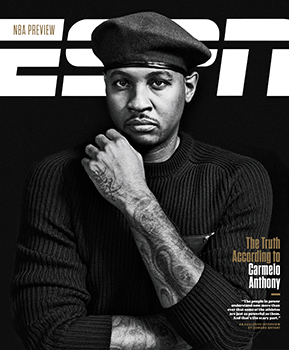 NEW YORK KNICKS Power/Small Forward #7 CARMEL ANTHONY covers the new issue of ESPN Magazine!!!
CARMELO ANTHONY, SAN FRANCISCO 49ERS Quarterback #7 COLIN KAEPERNICK and many other professional athletes have chosen to take a stand against injustice.
HOWARD BRYANT: It sounds like there's a sort of tipping point that's happening around the country. When I talk to younger people, they have this attitude like, "We're supposed to be past this. This is why I'm upset." And then I talk to my uncles and they're like, "See, this is how it is. This is nothing new."
CARMELO ANTHONY: This is the new '60s right here. Everybody I talk to, my mom and uncles and friends, they say the same thing. They're like, "What you're seeing right now, we'd seen it already. It's new to you, but it's not new to us." I think it's bigger and much deeper than just actually seeing what's happening out there. Not just police brutality but so many other issues out there that are being swept under the rug. Our educational system is messed up. Schools are closing left and right.
HB: What you're touching on is the one part of this that's been really difficult for me and people wanting to talk about Colin Kaepernick. They're not focusing on why he's doing what he's doing. They look at Baltimore and they're not looking at the fabric of Baltimore. You have no parks. You've got no infrastructure. What do you expect that to look like if you're taking all the resources out of the community?
CA: When you don't have resources, it becomes hopeless. There's nothing to look forward to. I know when I was coming up, it was after-school. We had rec centers to go to in our neighborhoods. We had parks to go play in. We had football fields to go to. You had different things that you could go do. I always find it fascinating when I go back to my community and kids that I have known, or their parents, just hearing them talk. The one thing I get out of it is they just want a voice. They just want to be heard. It's like, "We want everybody to hear us."
HB: When you talk about this, you're not really talking about police brutality specifically. You keep saying, "The system is broken."
CA: The system is broken. It trickles down. It's the education. You've got to be educated to know how to deal with police. The police have to be educated on how to deal with people. The system has to put the right police in the right situations. Like, you can't put white police in the 'hood. You just can't do that. They don't know how to react. They don't know how to respond to those different situations. They've never been around that, you know? When I was growing up, we knew police by their first name. We gave them the nicknames. But that's only because we related. And when the white police came into our neighborhood, the black police said, "Yo, we got this." That doesn't happen anymore. You got black police afraid to go into black communities now, and the white police are like, "Shit, I'll come. It's a job. I'll go in there and do it." Not knowing what's going to happen.
I think athletes now are just going off of what they're seeing now, which is what? Police brutality. Police killing people. You haven't seen one thing about schools closing. There's no rec centers. You haven't seen none of that on the news. All you see is police killing people. And if I'm sitting there watching that every day all day, I'm going to feel a certain kind of way. Like, against the police. If it was showing schools and why they shut them down and there's no funding for this and no funding for that, you would feel a certain way about that too. But that's not what they're putting out there.
HB: The thing that bothers me most about this is that people believe, especially about black athletes and black professionals in general, "Well, you made it. What's the problem?" They seem to treat you as if having success forfeits your voice, when actually it should empower your voice.
CA: The reason I feel so strongly about my beliefs is that it's been going on forever. Then a part of me is like, "I can't speak up on every single issue because then it'd be like, 'Oh, he's just talking again.'"
But when it's powerful, timing is everything, and for me the Freddie Gray thing was the one that tipped me off. It was like something just exploded. It was like [snaps] now was the time. Enough is enough. And everybody's calling me like, "We should do this" or "We should do that," and I was like, "I'm going home." If you want to come with me, you come with me, but I'm going home. I'm not calling reporters and getting on the news; I'm actually going there. I wanted to feel that. I wanted to feel that pain. I wanted to feel that tension.
HB: Whatever gestures you decide to make this season in support of your message, as a team or individually, what do you expect the reaction to be?
CA: The NBA is very supportive. They want to team up with us and be behind it, but at the end of the day it's still a corporation, so there's only so far that they're going to let you go. And one gesture's not going to change anything. So regardless of if we stand out there and put our arms around each other to show unity and solidarity, on the flip side, at the moment somebody goes out there and puts their fist up, that's going to be something different.
Colin Kaepernick sat down. That caused a different reaction. And people didn't even know why he was doing it. They just thought it was disrespectful to the actual soldiers and people who fought for the country, and it had nothing to do with that.
HB: Have you spoken to Colin at all? What was your initial reaction when you saw it?
CA: I spoke to him that night. He reached out to me that night. And I'm watching and I'm like, "OK." Like, "What's next?" In a very respectful way, he was like, "I took this step and, you know, just wanted to get your thoughts on what's happening." And I said, "Well, you're courageous." I said, "You just showed a lot of courage in what you just did, but now is the hard part because you have to keep it going. So if that was just a one-time thing, then you're fucked. But now you keep it going and be articulate and elaborate on why you're doing it, and be educated and knowledgeable of why you're doing it so when people ask, you can stand up for what you believe in and really let them hear why."
HB: You're talking about issues that most of America doesn't really want to talk about, yet you also just played for your country and won a gold medal. How does being called unpatriotic affect you?
CA: I mean, you hear it. I just think that's bullshit for somebody to call me unpatriotic. That's totally bullshit. I've committed to this country on many different levels. Committing to USA Basketball since I was 19 years old, playing in four Olympics, going to the different parts of the world. Where they were warring, you know? Traveling to Turkey where they were bombing the building three doors down from us. Going to the games where they've got "Down with the USA" signs out there.
You're representing something that's bigger than yourself, bigger than the New York Knicks or any other team. You're representing the whole country. You've got the USA on your chest, and when you hear that national anthem, regardless of how you feel about it, you get a sensation inside you. That's why the emotions came out after the fact, because I knew what was going on back here in the country, in our own communities. And for me to know that and still be over there fighting and playing and representing our country on the highest scale that you can represent it in sports, it was all those kind of emotions.
-CCG