First Lady MICHELLE ROBINSON OBAMA is one of the several covers of the
2016 GREATS ISSUE
of
T: The NEWARK TIMES STYLE MAGAZINE,
and as such; FLOTUS #44 is the subject of four love letters authored by Author CHIMANMANDA NGOZI ADICHIE, Actress RASHIDA JONES, Activist/Author GLORIA STEINEM, and JON MEACHEM for
T: NEW YORK TIMES STYLE MAGAZINE - TO The FIRST LADY, WITH LOVE
!!!
Here are some interludes:
Author CHIMANMANDA NGOZI ADICHIE wrote:
She first appeared in the public consciousness, all common sense and mordant humor, at ease in her skin. She had the air of a woman who could balance a checkbook, and who knew a good deal when she saw it, and who would tell off whomever needed telling off. She was tall and sure and stylish. She was reluctant to be first lady, and did not hide her reluctance beneath platitudes. She seemed not so much unique as true. She sharpened her husband's then-hazy form, made him solid, more than just a dream.
But she had to flatten herself to better fit the mold of first lady. At the law firm where they met before love felled them, she had been her husband's mentor; they seemed to be truly friends, partners, equals in a modern marriage in a new American century. Yet voters and observers, wide strips of America, wanted her to conform and defer, to cleanse her tongue of wit and barb. When she spoke of his bad morning-breath, a quirky and humanizing detail, she was accused of emasculating him.
Because she said what she thought, and because she smiled only when she felt like smiling, and not constantly and vacuously, America's cheapest caricature was cast on her: the Angry Black Woman.

Women

, in general, are not permitted anger — but from black American women, there is an added expectation of interminable gratitude, the closer to groveling the better, as though their citizenship is a phenomenon that they cannot take for granted.
Actress RASHIDA JONES wrote:
The first time I met Michelle Obama was at the White House as part of a mentoring initiative, for which the first lady had brought together a dynamic group of women to speak to urban teenage girls about their career goals. Olympians, actresses, producers, writers, an astronaut and an Air Force general gathered in the West Wing to greet Michelle before we headed out to various local schools. She was warm, gracious and charming. She thanked us for coming, hugged everybody and made us all feel like her friends. As first lady, she has ticked all the boxes: loving wife, protective mother, health and fitness advocate, garden enthusiast and, yes, style icon. These accomplishments have left traditionalists feeling satisfied.
But, as is always the way, her reputation as the perfect hostess invited criticism from progressives. Enter Michelle Obama, outspoken activist, a woman who isn't afraid to remind us she is a proud African-American woman, which is, in itself, revolutionary. A former lawyer who speaks out on behalf of gay rights and gun control, she delivered an unforgettable speech at the Democratic National Convention earlier this year, shining a clear, bright light on our country's shameful history. Suddenly, the progressives were pleased and the traditionalists were confused. The media wants to pin her down — they've been trying since Barack Obama took office in 2009. But you simply can't.
Activist/Author GLORIA STEINHEM wrote:
Michelle Obama came into my life in stages. I knew that, like her husband, she was a Harvard-educated lawyer, but that unlike him, she had grown up on the South Side of Chicago, with parents who had not gone to college. When Barack Obama was a summer associate at her Chicago law firm, they met because she was his mentor. After his successful campaign for the U.S. Senate, I noticed that she chose not to go to Washington. Instead, he commuted to their home and two daughters in Chicago where Michelle had a big job as head of community affairs for a hospital.
But she really entered my imagination once she became first lady, a tall, strong, elegant and seriously smart woman who happened to live in the White House. She managed to convey dignity and humor at the same time, to be a mother of two daughters and insist on regular family dinners, and to take on health issues and a national food industry addicted to unhealthy profits. She did this despite an undertow of bias in this country that subtly questioned everything she did. Was she too strong, physically and intellectually, to be a proper first lady?
After a decade under a public microscope, she has managed what no other first lady — and few people in any public position — have succeeded in doing: She has lived a public life without sacrificing her privacy and authenticity. She made her husband both more human and effective as a president by being his interpreter and defender, but also someone we knew was capable of being his critic. Eventually, she spoke up about the pain of the racist assumptions directed at her, but she waited until her husband could no longer be politically punished for her honesty. And she has always been the best kind of mother, which means insisting that fathers be equal parents. All of this she has done with honesty, humor and, most important, kindness.
-CCG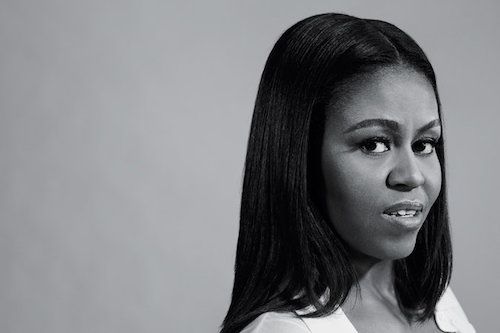 THEYBF