GOOD SUNDAY!!!
While Yours Truly CCG was still on his trip home to New Orleans; Thursday, August 4, took a ride to go on a few errands with Dad. While we were out, he told me that the same gentleman that owns
WINK'S BUTTERMILK DROP BAKERY & BISTRO
has now opened a location that is very near our home..
BUTTERMILK DROP BAKERY
6220 ELYSIAN FIELDS AVENUE
NEW ORLEANS, LA 70122
504.644.4424
MONDAY - SATURDAY: 5:00 AM - 6:00 PM
SUNDAY: 5:00 AM - 4:00 PM
The
BUTTERMILK DROP BAKERY
is conveniently located three blocks away from the lovely green-filled campus of the
UNIVERSITY Of NEW ORLEANS
at the corner of ELYSIAN FIELDS AVENUE and ROBERT E. LEE BLVD. in the Gentilly/Lakefront neighborhood of Downtown 7th Ward New Orleans. For natives and those familiar with the city, prior to HURRICANE KATRINA, it was the location of a
TACO BELL Restaurant
, and long ago; it was the site of the very popular
CLUB NEXUS
.
The
BUTTERMILK DROP BAKERY
is a bakery and so Much MORE. They are also a coffee shop and a neighborhood cafe that now carries a full menu featuring both BREAKFAST and LUNCH. The place is well-illuminated, well-ventilated, and they appear to have comfortably spacious table seating for about 40 - 45 patrons.
While Dad waited in his truck, CCG entered at about 12:30 PM CST to a house that was about one-third full with seated patrons, and had a line of 3 - 5 persons. The line was steady. By the time Ya Boy made it to the counter, there were another 3 persons waiting.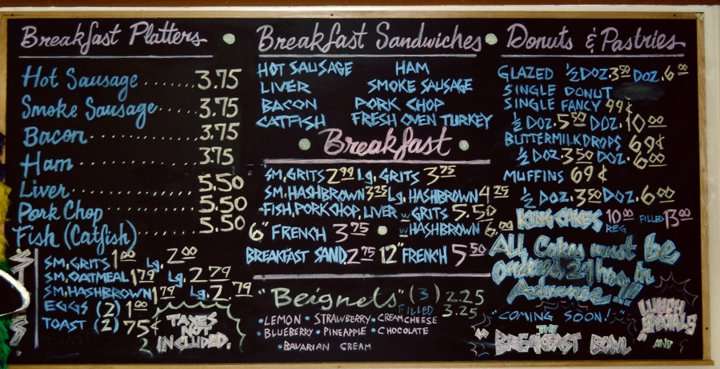 Because Dad had two more stops on his itinerary, CCG decided to get a simple sampling of baked goods. So he requested one dozen assorted donuts, and requested four Glazed Donuts, four Buttermilk Drops, and left the remaining four items to the discretion of the young lady who was serving. She added two Cake Donuts, and two of something else (CCG forgets the last 2).
Because they have a full coffee station, and it was August in New Orleans, Ya Boy decided to go with something cold to drink... a FROZEN COFFEE.
Dad decided to drop-off CCG and the donuts at home, so; it was time to get down with one Glazed Donut, one Buttermilk Drop, one-half Glazed Cake Donut, and his Frozen Coffee.
The donuts were off the rack, but; were still reasonably fluffy, squeezable, and moist. So; why not pop them in the microwave for about 10 seconds???
EVERYTHING warmed up into Melt-In-Your-Mouth GOODNESS, Baby!!!
The Frozen Coffee was righteously icy and coffee tasty. CCG prefers the regular coffee flavor sans any special sweetened flavoring, i.e., Caramel, Hazelnut, Vanilla, etc., so the young barista brotherman got it just right.
GOOD FOOD, GOOD DRINKS, GOOD LOCATION, GOOD SERVICE, GOOD TIMES!!!
-CCG
ZOMATO