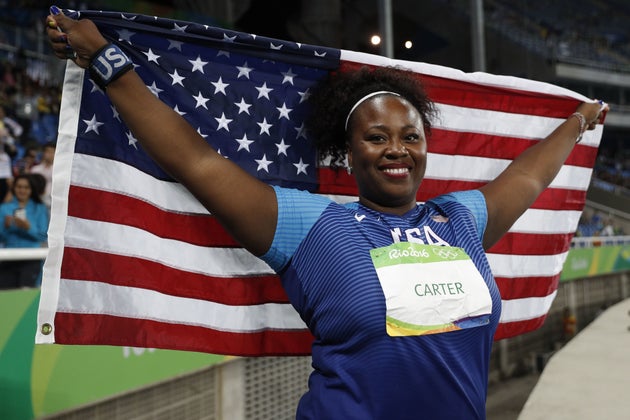 CRAZY COOL GROOVY CONGRATULATIONS goes out to Chocolate-Covered SAN JOSE-native BBW Shot Putter MICHELLE CARTER for making BLACK/AMERICAN/OLYMPIC HISTORY by becoming the
FIRST AMERICAN WOMAN To WIN a GOLD MEDAL for the SHOT PUT
!!!
With crimson lipstick, eye-liner, mascara and a beaming smile, on Friday, August 12, 2016 MICHELLE CARTER won a stunning Olympic shot put gold to sprinkle a little glitz on an event often cruelly ridiculed for the shape of its women athletes.
Holding her nerve, she etched her name in the history books with a last-gasp throw at Rio. Now the bubbly, fashion-conscious American wants to change the perception of her event and the strong women who compete in it.
To put a little icing on her cake, on her final throw, MICHELLE broke the AMERICAN RECORD!!!
HUFFINGTON POST
reports MICHELLE CARTER said;
"I'm in a sport where people don't look at us like women, they don't look at us like being girls, or feminine. But I've been girly all my life and so I couldn't separate... between the sport and being a woman.

I love hair, I love make up, I love fashion and I love throwing the shot put..

One of my sayings is: look good, feel good, do good," she said. "If you are feeling good, you look good, you are confident about yourself, you are going to go out there and you will rock it

It combines two things that are part of me, the shot put and being a Diva. I love all these things: make up, hair, fashion, and just embracing my . femininity, and I put it together.:
The road to Olympic Gold has not always been smooth for MICHELLE. At the BEIJING 2008 OLYMPICS, she placed 15th, and; at LONDON 2012, she placed 5th.
Her coach is her father, MICHAEL CARTER, a LOS ANGELES 1984 SUMMER OLYMPICS Silver Medal SHOT PUTTER and 3-time SAN FRANCISCO 49ER SUPER BOWL CHAMPION.
Coach Dad MICHAEL CARTER said;
"As parents, we jump for joy, are happy, but as her coach, I'm responsible for what happens when she fails. But she finally succeeded.

The coach has retired for this year and the dad is now just walking around happy, with his chest stuck out,"
-CCG
Michelle Carter - 1st US Medal since 1960 and 1st Gold ever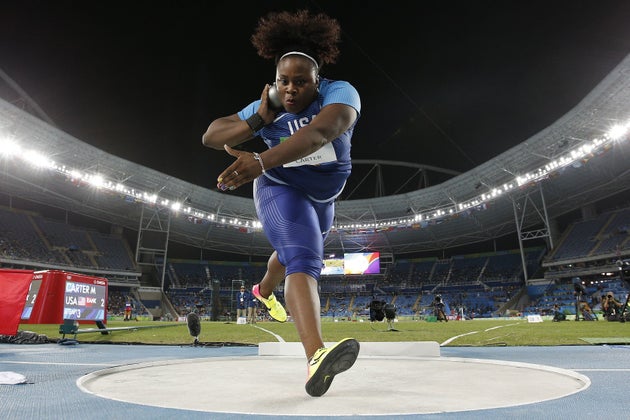 — U.S. Olympic Team (@TeamUSA) August 13, 2016
DAILY MAILl