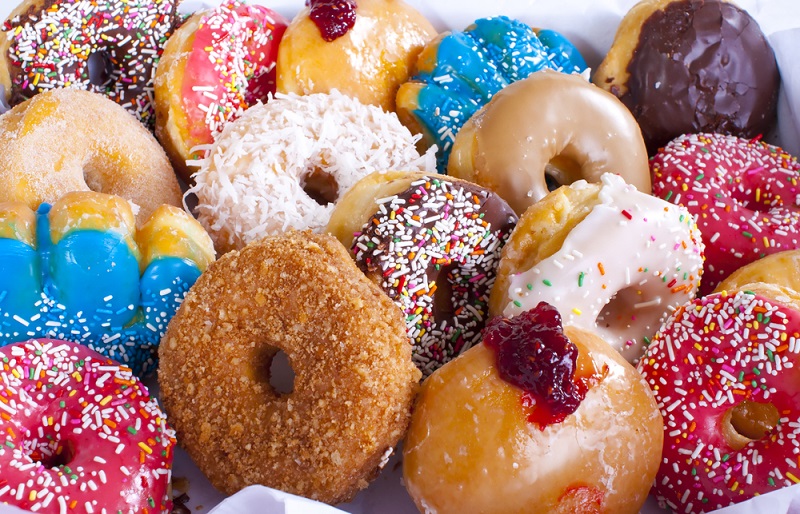 The FIRST FRIDAY in the month of JUNE is
NATIONAL DONUT DAY,
so; this coming FRIDAY, JUNE 3, 2016, is
NATIONAL DONUT DAY
!!!
Courtesy of the very good folks at
TIME Magazine,
here is
HOW YOU CAN GO GET FREE DONUTS On FRIDAY For NATIONAL DONUT DAY 2016
:
Cumberland Farms:
Purchase any coffee or fountain drink between 5 a.m. and 10 a.m. on Friday and take your pick of a free donut.
Duck Donuts:
Go to the
Facebook page
of Duck Donuts—a chain with dozens of East Coast locations stretching from the Jersey Shore to North Carolina—for a coupon valid for a free sugar donut on National Donut Day.
Entenmann's:
A total of more than 150,000 donuts will be given away in more than a dozen cities around the country, including Atlanta, Boston, Chicago, Cleveland, Denver, Louisville, New Haven, New York City, and San Diego, plus Entenmann's is hosting a
sweepstakes on Facebook
with 10 lucky winners getting free donuts for a year.
Giant Eagle:
Every Friday, including National Donut Day this Friday, Giant Eagle supermarket locations offer a half-dozen donuts for free when you purchase a half-dozen.
Honey Dew Donuts:
Purchase any medium-size beverage and you'll get a free (Up)Beat Cancer Donut, which is chocolate frosted, has blue and red sprinkles, and was created to raise cancer awareness.
Krispy Kreme:
Every customer gets a choice of any free donut on Friday, June 3, no purchase necessary.
Lamar's Donuts:
Follow this
Facebook link
to get a "golden ticket" for a free donut on Friday, plus a free 16-ounce Lamar's cup with any purchase.
Randy's Donuts:
Customers get free donut holes at this famous Los Angeles donut shop from 6 a.m. to noon on National Donut Day.
-CCG