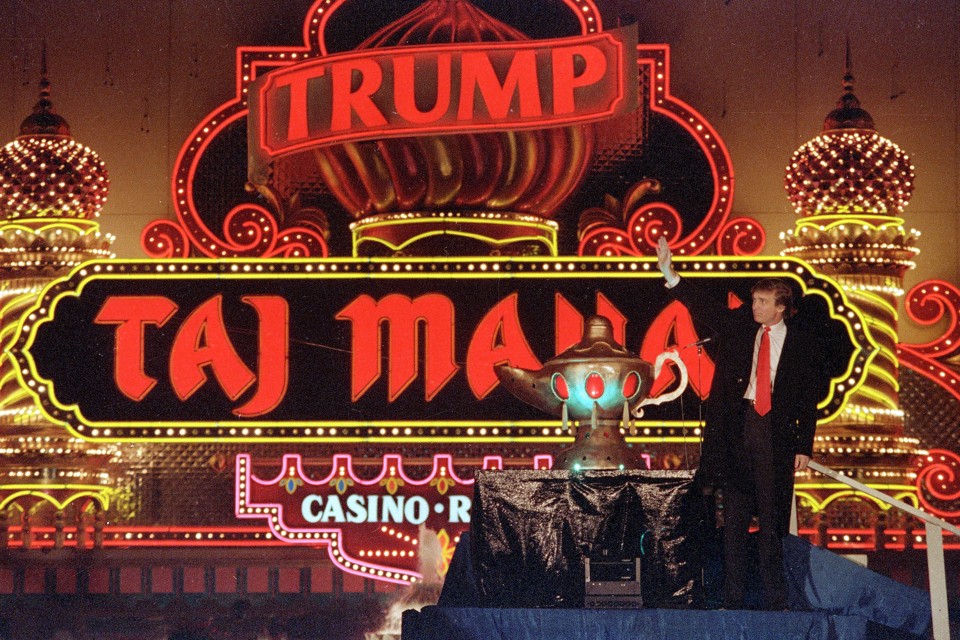 It certainly seems that the 2016 UNITED STATES PRESIDENTIAL ELECTION is shaping up to be the most scandal-plagued national election since the extremely turbulent
1884 PRESIDENTIAL ELECTION: Gov. GROVER CLEVELAND (D: NY) vs Sen. JAMES G. BLAINE (R: ME)
!!!
Democratically speaking, both former U.S. Secretary of State HILLARY RODHAM CLINTON (HRC) (NY) and Sen. BERNIE SANDERS (VT) bring their respective skeletons to the table.
However, REPUBLICAN frontrunner DONALD JOHN TRUMP (NY) is toting around some baggage that has had him to see his fair share of days in various courtrooms.
The breadth of Trump's controversies is truly huge, ranging from allegations of mafia ties to unscrupulous business dealings, and from racial discrimination to alleged marital rape. They stretch over more than four decades, from the mid-1970s to the present day.
RACIAL HOUSING DISCRIMINATION: NEW YORK CITY - 1973 - 1975
The dirt:
The Department of Justice sued Trump and his father Fred in 1973 for housing discrimination at 39 sites around New York. "The government contended that Trump Management had refused to rent or negotiate rentals 'because of race and color,'"
The New York Times reported
. "It also charged that the company had required different rental terms and conditions because of race and that it had misrepresented to blacks that apartments were not available." Trump called the accusations "absolutely ridiculous."
The upshot:
The Trumps hired attorney Roy Cohn, who had worked for Joe McCarthy and whom Michael Kinsley once
indelibly labeled
"innocent of a variety of federal crimes." They sued the Justice Department for $100 million. In the end, however, the Trumps settled with the government, promising not to discriminate and submitting to regular review by the New York Urban League—though crucially not admitting guilt.
LA COSA NOSTRA: NEW YORK CITY & ATLANTIC CITY - 1970s - ???
The dirt:

Trump has been linked to the mafia many times over the years, with varying degrees of closeness. Many of the connections seem to be the sorts of interactions with mobsters that were inevitable for a guy in the construction and casino businesses at the time. For example, organized crime controlled the 1980s New York City concrete business, so that anyone building in the city likely brushed up against it. While Trump has portrayed himself as an unwitting participant, not everyone agrees. There have been a string of other allegations, too, many reported by investigative journalist Wayne Barrett. Cohn, Trump's lawyer, also represented the Genovese crime family boss Tony Salerno. Barrett also reported a series of transactions involving organized crime, and alleged that Trump paid twice market rate to a mob figure for the land under Trump Plaza in Atlantic City. Michael Isikoff has also reported that Trump was close to Robert LiButti, an associate of John Gotti, inviting him on his yacht and helicopter. In one case, Trump's company bought LiButti nine luxury cars.


The upshot:
Though Trump has been questioned in court or under oath about the ties, he's never been convicted of anything. A New Jersey Division of Gaming Enforcement
report
after Barrett's 1992 book on Trump generally found no mafia-related wrong-doing on Trump's part. Trump Plaza was fined $200,000 for keeping black employees away from LiButti's table, at his behest, and for the gift of the cars, though Trump personally was not penalized.
USING UNDOCUMENTED POLISH WORKERS: NEW YORK CITY - 1980
The dirt:
In order to construct his signature Trump Tower, the builder first had to demolish the Bonwit Teller store,
an architecturally beloved Art Deco edifice
. The work had to be done fast, and so managers hired 200 undocumented Polish workers to tear it down, paying them substandard wages for backbreaking work—$5 per hour, when they were paid at all. The workers didn't wear hard hats and often slept at the site. When the workers complained about their back pay, they were allegedly threatened with deportation. Trump said he was unaware that illegal immigrants were working at the site.
1, 2, 3, 4... FOUR BANKRUPTCIES: 1991, 1992, 2004, 2009
The dirt
: Four times in his career, Trump's companies have entered bankruptcy.
The upshot:
Trump is very touchy about any implication that he personally declared bankruptcy, arguing—just as he explains away his campaign contributions to Democrats—that
he's just playing the game
: "We'll have the company. We'll throw it into a chapter. We'll negotiate with the banks. We'll make a fantastic deal. We'll use those. But they were never personal. This is nothing personal. You know, it's like on
The Apprentice
. It's not personal. It's just business. Okay? If you look at our greatest people, Carl Icahn with TWA and so many others. Leon Black, Linens-n-Things and others. Henry Kravis. A lot of 'em, everybody. But with me it's 'Oh, you did—' this is a business thing. I've used the laws of this country to pare debt."
TRUMP UNIVERSITY: ONLINE - 2010
The dirt:
In 2005, the Trump announced an eponymous "university" to teach his real-estate development secrets. Students ponied up as much as $35,000—some after being
suckered in by slick free "seminars"
—to learn how to get rich. One ad promised they would "learn from Donald Trump's handpicked instructors, and that participants would have access to Trump's real estate 'secrets.'" In fact, Trump had little to do with the curriculum or the instructors. Many of the "students" have since complained that Trump U. was a scam. At one time, it had some prestigious instructors, but over time the "faculty"
became a motley bunch of misfits
. (It was also never really a "university" by any definition, and it changed its name to the "Trump Entrepreneur Initiative," because as it happened, the school was violating New York law by operating without an educational license.)
ALLEGED MARITAL RAPE
The dirt:
While married to Ivana Trump, Donald Trump became angry at her—according to a book by Harry Hurt, over a painful scalp-reduction surgery—and allegedly forcibly had sex with her.
Ivana Trump said during a deposition
in their divorce case that she "felt violated" and that her husband had raped her. Later, Ivana Trump released a statement saying: "During a deposition given by me in connection with my matrimonial case, I stated that my husband had raped me. [O]n one occasion during 1989, Mr. Trump and I had marital relations in which he behaved very differently toward me than he had during our marriage. As a woman, I felt violated, as the love and tenderness, which he normally exhibited towards me, was absent. I referred to this as a 'rape,' but I do not want my words to be interpreted in a literal or criminal sense."
OK, so Mr. DONALD JOHN TRUMP has been accused of RACIAL DISCRIMINATION, consorting with the MAFIA, IMMIGRATION FRAUD, EDUCATION FRAUD, and RAPING His WIFE?!?!?
THIS is just the stuff that Yours Truly CCG has listed for YOU.
And THIS is the guy who wants to MAKE AMERICA GREAT AGAIN?!?!?
The ATLANTIC MAGAZINE Journalist DAVID A. GRAHAM has the full 4-1-1 on The MANY SCANDALS Of 2016 REPUBLICAN PRESIDENTIAL Frontrunner DONALD JOHN TRUMP.
-CCG