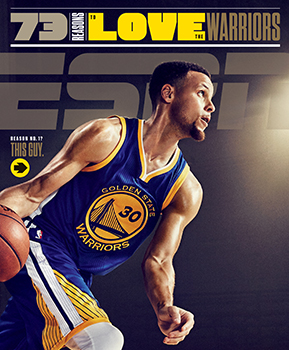 In 2015 GOLDEN STATE WARRIORS Point Guard #30 STEPHEN CURRY was named 2015 NBA MVP, and led his team to the 2015 NBA WORLD CHAMPIONSHIP!!!
With his leadership, the WARRIORS are on track for a 72-victory 2015-16 season.
Because of this, the good folks at
ESPN The MAGAZINE
are taking this issue to explain why
STEPH CURRY Isn't JUST The NBA MVP, He's REVOLUTIONIZING The GAME Of BASKETBALL
.
-CCG