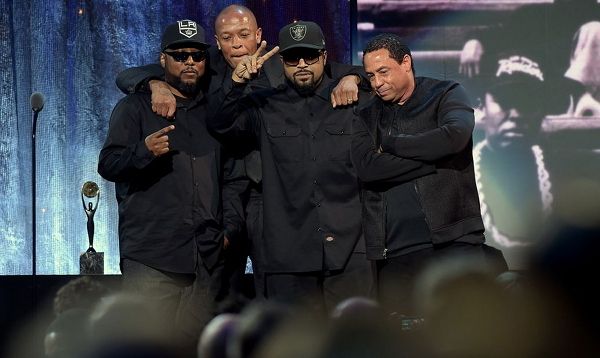 CRAZY COOL GROOVY CONGRATULATIONS goes out to DR. DRE, ICE CUBE, MC REN, DJ YELLA, and the late EAZY-E for on Friday, April 8, at the BARCLAYS CENTER in BROOKLYN, NY, the entire HIP HOP COMMUNITY got a big boost when legendary COMPTON, CA-born-and-based Hip Hop group
N.W.A.
was officially inducted into the
ROCK & ROLL HALL Of FAME
!!!
Here are some highlights from the acceptance speeches:
DR. DRE said:
"...this is proof, to all the kids out there, growing up in places like Compton, that anything is possible. Feel me? Me and the guys standing right here? We're absolutely no different or better than any of you. Feel me. Feel me. You just have to find that thing that's special about you that distinguishes you from all the others and through true talent, hard

work

, and passion, anything can happen. Never let them talk about it!
ICE CUBE said:
"Now, the question is, are we rock & roll? And I say you g*dd*mn right we rock & roll. Rock & roll is not an instrument, rock & roll is not even a style of music. Rock & roll is a spirit. It's a spirit. It's been going since the blues, jazz, bebop,

soul

, R&B, rock & roll, heavy metal, punk rock and yes, hip-hop. And what connects us all is that spirit. That's what connects us all, that spirit. Rock & roll is not conforming to the people who came before you, but creating your own path in music and in life. That is rock & roll, and that is us.
I'd like to thank my parents, Doris Mosie Jackson, my brothers and sisters, Clyde, Pat, Sophie, for putting up with them turntables and speakers and all that d*mn noise we was making. I'd like to thank my lovely wife, Kimberly. Who's been there since day one, through the thick, the thin, and the thick again. And my kids. Darrell, O'Shea, Jr., Karima, and Sharif. Thank you for putting up with this crazy life of mine in

entertainment

. This crazy schedule. You guys make everything normal for me. You guys make everything normal and I love y'all for taht.
So rock & roll is not conforming. Rock & roll is outside the box. And rock & roll is N.W.A. I want to thank everybody who helped induct us into the Rock & Roll Hall of Fame, and I just want to tell the world, "D*mn, that shi( was dope."


"I want to say to Mr. Gene Simmons that hip-hop is here forever. We're supposed to be here." While most of the Barclays Center responded with cheers, a few sour boos could be heard throughout the venue, either in protest to hip-hop or in Simmons' defense.
DJ YELLA said:
"I'd like to thank a couple of women tonight. First of all I'd like to thank Eazy's mother right here. Come up here. This is my new Mom now. I call her Mom all the time. You ready to go to the casino, Mom? And I'd to thank another Ms. Wright, Tamika Wright. I'd like to thank you very much. I'd like to thank my wife, two and a half years… Take a picture honey. That is my soulmate for the rest of my life."
The guys were joined onstage by KATHIE WRIGHT, mother of the late ERIC "EAZY-E" WRIGHT, who accepted his award.
Get a FULL READ of the
N.W.A. ROCK & ROLL HALL Of FAME ACCEPTANCE SPEECHES
.
N.W.A. Spiritual Offspring COMPTON Rapper
KENDRICK LAMAR Introduced N.W.A.
On MC REN:
MC Ren, the m*th*rf*ck*ng – can I cuss? MC Ren, the mfing villain! The name is just not self-proclaimed. It was proven every single time he stepped behind that microphone.
On ICE CUBE:
Cube! Where y'all at? I said Ice Cube? Storytelling genius. Every bar had us hanging over our seats. Punchline, delivery, detailed imagery made you get just a small glimpse of how it was growing up in the city of Compton, you dig what I'm saying? Cube was always proving to be one of the greatest MCs to ever step behind the mic, and on a personal level, my debut album, you was the blueprint on how I went to approach it.
On DR. DRE:
Doc Dre! Dr. Dre! The scientist! The perfectionist. The producer extraordinaire. My mentor, you dig what I'm saying? This dude here taught me a lot as far as never being satisfied with the work you do, on and off the record...

Dre has provided N.W.A with unapologetic production made on high-level soundtracks for hardcore lyrics. You could never press play without having an extra pair of Kenwood speakers. You know what I'm talking about, woofers! You know what I'm saying? Tweeters! You understand when I'm having 'em blown out. Every single hi-hat, snare make you break your neck! I believe Andre to be one of the greatest producers of our time, and still to this day. Believe that.
He wrapped with this ode to hp hop, for those who are still doubters:
Chuck D once said rap and hip-hop was the black CNN. N.W.A represent that to the fullest, am I right? Bringing inner city life to the forefront and making the world pay attention to our realities. Even myself, I look around and I've seen people N.W.A spoke for, whether it was my cousin, whether it was my uncle, they were Compton Crip or Piru, they was all influenced. That's real, y'all probably don't know about that – y'all looking at me like I'm crazy. But they know! It was all influence, and it all had a deep impression. What they know is a big misconception. The impression was just that they're trying to kill people. To be clear, to be very clear, the fact that a famous group can look just like one of us and dress like one of us, talk like one of us, proved to every single kid in the ghetto that you can be successful and still have importance while doing it.
That was N.W.A. That was their true message. And I know each and every one of them said they never wanted to be role models, but look ... The first time I see Eazy bust through that screen out the jail cell on stage on "We Want Eazy," I felt like every single one of them was black superheroes where I come from. Because it shows, like I said, people from our community can be on that television screen, be on awards, and still have their voice and be real to themselves. So make some noise for that because that's the realest thing.

But as you know the history, a lot of people said it was too gangster. It was too much for them. But for me, it was honest. So I'm going to put it like this. Being gangster symbolizes a hustle that you can change your reality. The true meaning of gangster, being able to show what it takes to be the world's biggest music group. Being gangster is forming iconic labels: Ruthless Records, Death Row, Aftermath Records. Being gangster is breaking out to become a

movie

star, a movie producer, and having your own son play you as a retrospect to your career,

Straight Outta Compton

. Being gangster changed the way people listened to music. Being so obsessed with sound that you create your own headphones and force people and fans around the world to listen to deep, intricate sounds the way you outta hear, you dig? Being gangster is partnering with the biggest tech companies and launching groundbreaking music on a whole other platform. So now after 30 years of being heard, being gangster is being inducted into Rock & Roll Hall of Fame. Ladies and gentleman, without further ado, my good homies, N.W.A! What's up!



-CCG