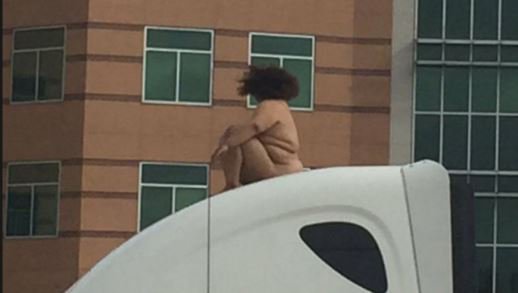 Monday, March 7, a HOUSTON woman dancing nude on the top of a big rig held up traffic for two hours, snarling the mid-morning commute for miles along westbound US-290!!!
HOUSTON CHRONICLE
reports the bizarre incident began around 9 a.m., according to Harris County Sheriff's Dep. Thomas Gilliland, explaining that a 25-year-old naked woman wandered into traffic on US 290 near Huffmeister, causing a three-car pile up.
Shortly after, she climbed onto the top of a large, 18-wheel big-rig, where she remained for more than an hour. Camera footage from bystanders captured images of the woman screaming at authorities, before fire fighters finally coaxed her into a ladder truck basket around 11 a.m.
Authorities closed both sides of the highway while responding to the incident, backing traffic up for miles and baffling commuters.
Gilliland said Monday just after the incident cleared that authorities believed the woman - whom they have not yet identified - was involved in two separate hit-and-run traffic incidents in the Jersey Village just before the highway shutdown.
Sheriff's deputies believe the woman drove away from those two incidents and onto US-290, where she parked her vehicle, stripped off her clothes, and walked into traffic, sparking the pile-up and hours-long traffic quagmire and drawing dozens of spectators.
CY-FAIR VOLUNTEER FIRE DEPARTMENT Public Information Officer BRIAN SHIRLEY said;
"She just crawled up the front of that truck. Up on the bumper, up on the hood, all the way up."
When he first got the call, he thought it was potentially a publicity stunt, but after arriving at the scene realized it was a real life psychiatric emergency, he said.
The fire department surrounded the big rig on three sides to try to prevent her from jumping off and hurting herself, Shirley said.
BRIAN SHIRLEY continued;
'"Our biggest challenge was treating the patient with respect and dignity and getting her down safely. It was really tough trying to keep things calm when people were driving by and yelling and not being very nice about things."
KEATON GRAY said;
"I was shocked. It was kind of saddening .... As time went on it was less funny and more saddening. It was such a precarious situation," he said. "She was on the top of the 18-wheeler and you didn't know what was going to happen."
Gray said he watched first responders negotiate with the woman and attempt to pull her from the truck - even trying to use a lasso to confine her.
Two crews from the nearby Cy-Fair Volunteer Fire Department that responded to the scene were finally able to pluck her from the top of the truck at around 11 a.m.
The woman is currently being evaluated at an area hospital.
-CCG
— Sal Guerrero (@SalDGuerrero) March 7, 2016
— Jace Larson, KPRC (@jacelarson) March 7, 2016
KHOU 11
NYDN