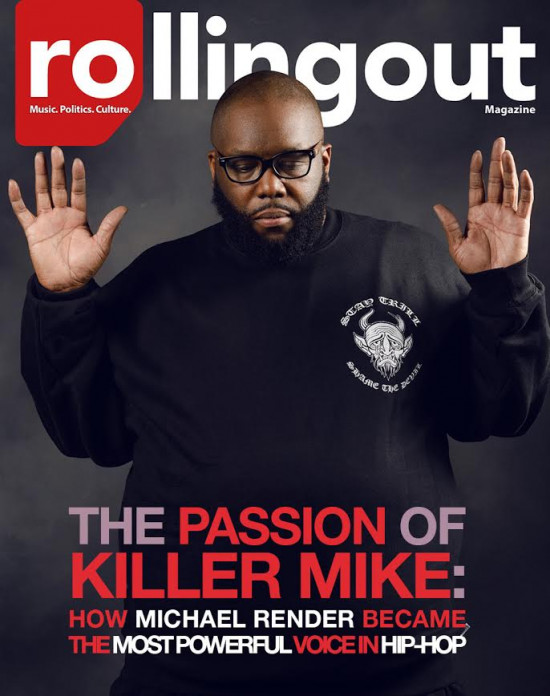 ATLien Rapper/Activist KILLER MIKE covers the new issue of
ROLLING OUT Magazine
!!!
Here are some interview interludes:
On being from ATLANTA, studying Rev. Dr. MARTIN LUTHER KING Jr., and supporting Sen. BERNIE SANDERS:
"I'm from Atlanta and I've been trained in Dr. Martin Luther King's philosophy. I lay down Dr. King's social justice platform and I look at every politician's platform and lay it out on paper. Whatever politician hits the most marks, that's the politician I vote for and Sanders is that guy. We've been taught to revere these civil rights leaders, [however], oftentimes, we have so much reverence for the human being that we ignore the philosophy and the message. I don't see how there's one civil rights leader who marched with Dr. King or came after that who would support anybody but Bernie Sanders. If you truly believe in what Dr. King said, [Sanders] would be the only choice."
On BLACK PEOPLE needing to study the historical significance of presidential political ideologies:
"Black people are deaf, dumb, and blind, because Americans are deaf, dumb, and blind," Killer Mike says. "We're just the ones that people can point at and say, 'Black people are silly for trusting the Clintons.' But there is no difference between them and people who are trusting a member of the Bush family. It's an oligarchy. It's two political families just taking turns running your country. And beyond the president that's running your country, look at the people around your presidents. Why is Donald Rumsfeld around more than one president? Why is Karl Rove around more than one president? Why is Henry Kissinger around so many American presidents? You need to start asking yourself these questions. Who really controls the Democratic and Republican parties? If you have an elected official that gets out of office and immediately takes a corporate job and starts taking millions of dollars in speeches, that's a bribe. It's a deferred bribe, but a bribe is a bribe."
On growing up in and around the ADAMSVILLE neighborhood of ATLANTA:
"Adamsville and the Martin Luther King Drive main strip was pretty wild. Drugs hit the main strips hard and in other Black communities all around the nation. But the communities that made up Adamsville were still middle-class and working-class Black communities. I saw Black store owners and Black-owned gas stations. The backyards aligned on my street had farms, gardens, and farm animals. It was what a Southern suburb would be even though it was in the city. Drugs were running rampant on the main strip, but it was still a pretty diverse neighborhood in terms of a Black economy. We were working class, but I grew up in the front streets of Collier Heights. Collier Heights is now a nationally historic neighborhood. It was a neighborhood built by Black people for Black people. It's pretty significant growing up in a neighborhood like that because you grow up feeling empowered. So even when I was in the streets, I was never in the streets for life. I was never married to that lifestyle. It was just a means to an end for me."
On the historical significance of OUTKAST and the DUNGEON FAMILY for the HIP HOP CULTURE/COMMUNITY:
"When you listen to Kendrick Lamar, it's obvious that you're listening to someone who is an admirer of the Dungeon Family. When you listen to J. Cole, it's obvious you're listening to a kid who grew up in North Carolina, who was influenced by OutKast and the Dungeon Family. For me, I'm influenced by them. They are truly unsung musical legends."
On the backlash of BEYONCE' and her performance at #SUPERBOWL50:
"Jim Brown said the most dangerous racist is not the one who calls you n—-r and threatens to hang you. The most dangerous racist is the one who says, 'I'm liberal, I'm nice, you should appreciate me.' And if you don't appreciate them, they bring the hammer down on your a– angrily. I think Americans accepted Beyoncé and didn't see her color, which really means they didn't see her culture. They just saw someone to entertain them and just be brain fodder. Honestly, the song sounded to me like she was talking to Black people and telling Black people, 'Get out of my business, stop asking about my child's hair. I do this because I'm country. I'm beyond Black. I'm unapologetically Black.' White people, and people who are more conservative, took offense to it because she put power in their face. They took it as if this power was against them. But it isn't against you; it's just a celebration of her ethnicity."
On the #FLINTWATERCRISIS:
"The governor should be arrested. If it's found out that he knew that water was bad and hid it, he should be arrested and there is no other way around it. If he isn't, people should burn. You can't even call that wrong; it's just evil. If we said any other leader in any other country allowed poisoned water to be given to children, there would be comparisons to Mussolini, Hitler and Idi Amin. You would hear it compared to the worst. I would hope that whoever could do something about it will hold people accountable for what's going on in Flint.
-CCG